Get a fake phone call from Elvis, Batman and Ninja Cat with latest Cortanium update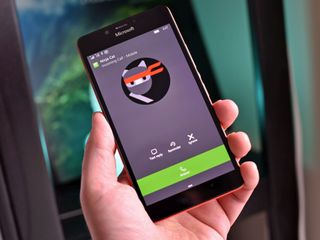 Liquid Daffodil has updated its Cortanium app for Windows 10 on PC and Mobile. The new version lets users send fake phone calls with a Cortana command, with a lot of different people to choose from.
Here's how the developer describes this new feature:
Liquid Daffodil is currently taking requests from fans on which people they should add to Cortanium's fake call list.
Download Cortanium from the Windows Store (opens in new tab)
Windows Central Newsletter
Get the best of Windows Central in in your inbox, every day!
no commenters , everybody is busy with the update :P , however this app is nice :D

The question is.... WHY? Posted via the Windows Central App for Android

One cool feature is to, for example, ask Cortana to have Bill Gates (or someone else) call you in 10 minutes if you are going into a meeting and you want an excuse to get out...make sense? Most of all it's just really FUN to have these folks call you to impress yourself and others. :)

To be honest, while I am happy that developers are interested in W10, I see that as a complete waste of time. That's something that you'll use twice, get a cheap laugh out of it, and never use it again.

Oh wow, I don't see that at all...I see it as a 100% go to app forever...especially for meetings, etc.

...and the great this is this feature is only 1 of over 47 commands available in Cortanium, not the entire app. :)

You just described Pokémon Go and countless other mobile "games".

Good thing your opinion wont influence developers or users to do what they want

Yup, that's really a good thing. Because all we need are fake phone calls, flashlight apps, and the like.

This is genius. Who cares who the call is coming from. Maybe your going to a neighbors to watch vacation videos, or somehow find yourself at a multi-level marketing presentation at a Panera. This could be the savior we all need for awkward situations.

So.. people are complaining there are no apps being developed (even the fad and non mainstream ones) then when something like this comes along.. people complain.. I am beginning to see a pattern here. People just complain about everything no matter what.

Agree, which is why we need to keep smiling at them until they CRACK! :)

I tell you. I develop for a firm. It was all good going. App has pretty neat downloading and great rating. (4.5). Somehow, last update went wrong. (not downloading for some) and there they are. A lot of 1* ratings and comments flooded. I mean where they hide when app is doing good?? Irony is, they never update their review, even it's fixed.

I tell you. I develop for a firm. It was all good going. App has pretty neat downloading and great rating. (4.5). Somehow, last update went wrong. (not downloading for some) and there they are. A lot of 1* ratings and comments flooded. I mean where they hide when app is doing good?? Irony is, they never update their review, even it's fixed.

The issue is when somethings works well people don't think twice about it as it's taken for guarantee / expected. However when it does not people will seek answers / vent their frustration.

I agree. Our society has become a bunch of whiners. I don't like this or I don't like that. Man I'm tired of hearing people complaining on this site. People should vent their complaints directly to the developers and MS forums where there's a greater chance it will be positively received and maybe, something good would come out of it, like more apps for W10 phones. I for one salute Liquid Daffodil for continuing creating apps for our WP community.

You have NO IDEA how much we appreciate hearing this. We ONLY create apps for fun so fans will love them! :)

They use the same arguments over and over. WP doesn't have any apps, but then it passes a million apps on the store. So then they claim that none of them are quality, but when you point out that the same apps are available on iOS/Android. So then they say that the common apps (Facebook, for example) are not on WP. When that app appears on the store then they claim that there are no original, exclusive apps for WP. When you show them exclusive apps then they claim that there are not many apps on the store and they start the argument over again.

I know - you are an Android user so every app that is on Windows that is not on Android or iOS (even though these types of apps are on iOS/Android) need to be questioned for their usefullness. If Andoid/iOS has them it is great because it just shows how devoted developers are to those platforms and makes the ecosystem better, but the app is on Windows then it needs to be questioned, needs to be mocked, need to tell people that it makes WP look bad, and any number of other useless arguments against WP that you people have manufactured to make yourself feel better about your choice in phones.

I develop for all platforms and can tell you Windows and Windows Phone are EASILY way more powerful platforms. Just Marketing fools down level users.

Yay, more fart apps for Windows Phone. While legit ones keep dropping support.

Exactly my point. Why are you even here? Could it be you bought a very cheap phone and never pay a penny for an app and expect the world on a plate?

Can I get a fake phone call from Daniel Rubino?

Adding it right now! Give me 10 minutes...

Okay you can now officially get a call from Daniel Rubino...just start Cortanium once to get the refreshed list. Enjoy!

Interestingly enough he is now between Daenerys and Darth Vader. Makes sense!

Please tell me I can have "Santa" give me a call, when the kids are acting up.

Adding that right now! Awesome!

Is it possible to add custom contacts so I decided who can call me? :D

OMG you are the best, if I can get Daenerys and Vader feel me it's a top app already

That would be a good one I can use!

I'm sorry - that's the greatest 'Get out of a boring meeting' tool ever! - App Bought!

I'm getting "Cortanium not available" error. Is it US only?

It's EN-US, GB, AU, IN, and CA. Tell me your Region and I'll see if I can make sure it pushes to your Region.

I'm not sure if it would work in Hungary or not, because we don't even have Cortana :S But I'd buy this app if it would :D

Yes, when Cortana is live in Hungary, we'll make it happen!

So we're waiting for MS :D They better hurry than :D

You have Cortana. Cortana is region unlocked with the Anniversary Update. Just select a supported language and keep region set to Hungary.

But I don't want to change the language of the whole OS :S It's just weird for me, using it in English :D Wish the Cortana language settings would be separated from the OS language settings.

Oh, crud, we don't have any commands in Portuguese...maybe you could translate all the commands?

Yeah! Sure. It would be great

I can translate to IT-IT!

Please add NL-NL (Store) region. English language is fine. Just the Store region will do.

Question, if I add NL-NL will your machine be set to an EN-xx? Otherwise commands will not register...

Yep, Machine is set to en-US.
Get-WinUserLanguageList
Region is set to Netherlands so publish the app 'worldwide'

Would like to see this for Germany.

Buying this today. Would like a call from Leonard Rockstein, more commonly known as Dr. Rockzo, the rock 'n roll clown, from famed glam-rock band Zazz Blammymatazz.

What happens when you answer the call? Silence or some pre recorded message?

I hope a message at least., whoever don't like this app has no sense of humor.

Nothing. It just dismisses.

Will you make it free for a period of time anytime soon?

No, however we will always offer a 100% refund if users are not satisfied. We do have scenarios where if you content support directly they will often hook users up with a promo code, though. :)

It's a little hard from Iran to buy stuff from store. Possible, but hard. Btw, i've started to learn C# and UWP. Do u have any advice for a noob? :D


Shoot us an email at support email address you can get from app description and we'll hook you up with FREE WintellectNOW training!

Thanks! Got a promo code. :)

I am interested to know how do you do it (refunding). I mean that is Microsoft's job and you don't have any data about the users unless they somehow need to register in the app to use it and it doesn't feel right for this app, and I can't see how one couldn't register multiple accounts either. So I guess that either you do something foolish and risk a flood of unsolicited emails, or you have some genius tactics I would really really like to know.

Nothing genius, totally on the honor system. I do request users to communicate via the app, though, that typically has unique information in it. And then (although we lose our 30% Microsoft cut) we do a snail mail or PayPal full refund. It almost never happens, but we will always offer it. We ONLY want users who love our apps... :)

Also, paid apps need to offer a free trial. How am I supposed to know if I'd actually use the app, and have it be worth the price?

Liquid Daffodil doesn't offer trials any longer for a few reasons, however to do always offer a 100% refund for users if they aren't 100% satisfied.

I would love to receive calls from Professor Charles Xavier aka Professor X. I really feel like mutant in this Android/IOs filled world with a Windows Phone.

Can you add WC writer Paul "Avocado" please?

I just updated to 2016.816.2.0 via the store and cannot find the option for the fake calls on my pc or Lumia 950XL both are on fast ring?

Tap + in Appbar and select Fake phone calls command. Tap configure icon to view. Email us at support if you still have issue finding it. We'd love to help!

Thanks that worked, could you please add an elf on the shelf and a the fairy from your fairy door calls. The kids would love to see a call from them. Great app and thanks for developing it.

Can I get Donald Trump to call me? ;)

Edited: I saw this was an app done by a app dev so my rant may not be that fair to him as it is against how Microsoft are handling its ecosystem. Good work by the app dev to do something fun with the system. How about getting Cortana outside the few core countries? At least some kind of digital assistant with basic functions? Cortana's litle sister maybe? How about spreading some of that inovation that the core countries are getting outside big few. Leaving Windows Mobile for Android when my Note 7 arrives in a couple of weeks. Getting pen support, the swift keyboard (why is this Microsoft service availeble in the Swedish market for Android but not Windows Mobile?). All keep my old Lumia 830 and keep close watch at Windows Mobile in hope of that Microsoft gets it's act togather but I'm not holding my brief. It will be a intressting year or two visiting the Google camp, thankfully I'll have the suppor of Microsoft's excellent apps and services.

Could you also add a Dr Who fake call, thanks

Thank you so much I really appreciate it.

Sherlock Holmes please (the Cumberbatch one of course)

Few ideas: Liam Neeson from Taken? That would be fun lol. Ray Donovan as Liev Schreiber

Perfect for baling on those boring dates.

so this app works only if u have cortana enabled only? but i live in finland and here we dont have cortana x(

Worked like a dream for 5 minutes and now just does a web search for anything I ask - have to keep going to update in fake call settings every time

Could you email us at support and see if we could figure it out? It should always work...shoot us an email! :)

the app description also says you can send fake calls but it does not tell you the comand to do this, any ideas people
Windows Central Newsletter
Thank you for signing up to Windows Central. You will receive a verification email shortly.
There was a problem. Please refresh the page and try again.