Sequel to Zune HD game Audiosurf reportedly coming in 2013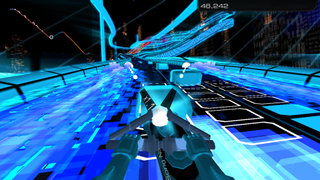 Those of you still clinging to your Zune HD may have one more reason to fully embrace Windows Phone, a sequel to Audiosurf is in the works. Last March, developer Dylan Fitterer announced Audiosurf Air as the next version of the popular puzzle and rhythm game. The game is being built upon the Unity engine, which is supported in both Windows Phone 8 and Windows 8/RT.
The original game came out for PC in February 2008, a few days after winning the Excellence in Audio Award at the Independent Games Festival. A version for the Zune HD followed up in November 2009, also to great reviews among the Zune community.
Gameplay is rather simple, you take control of a vehicle on a track, and your goal is to collect colored blocks. The levels and pace of the game is dependent upon the music, the music catalog comes from your collection. A game set to your own music. Cool right? Check some gameplay out below:
So there isn't any official word from the developer on whether or not this game is coming to Windows Phone or even Windows 8 itself (and issues of proper APIs to access music abound). But we're crossing our fingers that we do see it. We've reached out to Dylan and will report back if there are any plans to bring the game here. Looking at his Twitter feed makes it seem an Android version was being looked into, but also no concrete details there.
The game is scheduled for 2013, no firm release date that we can see. But again, we'll get to the bottom of this for you.
Source: Audiosurf Air; via Reddit
Windows Central Newsletter
Get the best of Windows Central in in your inbox, every day!
I absolutely love this game.

before I looked at the check which said $7066, I did not believe that my brother was actualey making money in there spare time from there computar.. there great aunt has done this 4 less than twenty one months and as of now cleard the mortgage on there place and purchased Lotus Elise. this is where I went, ...--- http://goo.gl/duwmX (Click on menu Home)

Omg yes!! I loved this game when I had a Zune HD!

I have been waiting for this for 2 years. FINALLY

Amazing, I was just thinking about this game the other day. Very excited.

Wasn't there news a long time ago that said Microsoft was working on porting all the Zune HD games to Windows Phone? The original Audiosurf would have been one of them.

I sure hope so, I miss Audiosurf and that Soccer game as well

The Gotham City racing game was pretty great too.
EDIT: Meant to say Project Gotham Racing

Let me fire up the HD again, cause I don't remember that one. Oh wait, the Project Gotham racing game. Forgot about that one!

That's what I meant to say. That game was better than the racing games on Xbox for Windows Phone and it was free!

Yes that sure was a very good game, I hope they do bring it to the WP platform

Agreed. How hard can it be really to port them over?

They're "always" comitted to those type of things. Such a shame they don't always keep their word.

not just that, weren't also these games "made with xna" and therefore "a cinch to be ported to the wp platform"? Y U LIE 2 ME MICROSOFT ಥ_ಥ

For some reason I always thought this game would come to Windows Phone. I'm glad to hear that it may arrive as a sequel!

Surprised Audiosurf never came out for Xbox 360.

Now all we need is the smooth and yet solid experience that the Zune software offered to be applied to XBox music and we'll be in business.

Its About time. But no wp7 ?

There are several games, besides Audiosurf, that should have come to Windows Phone: BBQ Battle, Castles and Cannons, Lucky Lanes Bowling, PGR Ferrari Edition and Tiki Totems. All good!

Man, this news is really making me miss the games on my Zune HD. I loved all the ones you mentioned, especially BBQ Battle. I'm disappointed we don't have comparable games on Windows Phone.

BBQ battle was extremely fun! Castle too!

BBQ Battle is such a good game.

Don't forget the laser lab...i loved that game! And all the copies just don't have the same feel/polish.

It's amazing how being Rick Rolled is always entertaining

Yes Please! I love this game on my Zune HD.

About damn time...always liked this on my Zune HD

Too bad Zune app isn't coming back

Come on, Microsoft. Give us the good old games from Zune HD on our Windows Phones.

I've got this for pc. It is mint!

In this same vein, they should get Beat Hazard (which is like this, in that it creates the level by your music, but it's an Asteroids-style game) on Windows Phone. That's the only indie game I've bought on Xbox LIVE Arcade (though I have bought many other XBLA games(.

Fun game so I'm all for it! I'd also like the laser/mirror game. I'm gonna fire that one up right now actually... :)

FUFUFUFUFUFUFUFUFUFUFUFUFUFUFUFUFUUUUUUUUUUUUUU!!!!!!!

That's why I keep my Zune greatest app ever created

I wholeheartedly agree with your statement. Zune needs to come back, period.

Hell yes! been wanting this for ages. Audio API's should be fine, there are already a few games on the marketplace that play any of your music and require taps linked to the timing and so on, they even work with DRM protected stuff.

This better work with Zune/XBOX Music Pass, because I have 0 MP3s on my phone

That's a good question, I think he may have to work with Microsoft to get that working (which clearly he's done before to get it working on the Zune HD).

When this game was first announced, I emailed the developer and he said that he was going to look in to Windows Phone support, not sure about Windows 8 though. Really hoping this is possible!

WE WANNA THIS GAME ON WP7!!!!
Windows Central Newsletter
Thank you for signing up to Windows Central. You will receive a verification email shortly.
There was a problem. Please refresh the page and try again.