SHAREit launches an all-new 'official' Windows Phone app, old version is now 'unofficial'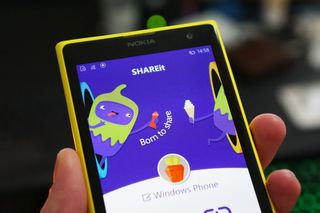 A SHAREit version for Windows Phone has been around for a while, letting people transfer files to other devices via Wi-Fi. Now the SHAREit team has released an all new 'official' Windows Phone app, and have relabeled the old version as 'unofficial'.
There's no word yet on why the decision was made to launch an all new version and keep the old one in the Windows Store, but that's apparently what's happening. Let us know what you think about this "official" SHAREit app in the comments.
Thanks to everyone who tipped us!
Download SHAREit Official from the Windows Store (opens in new tab)
Get the Windows Central Newsletter
All the latest news, reviews, and guides for Windows and Xbox diehards.
By Jove that makes my day!

Sounds like former contracted developer and ShareIt have severed ties to me. New app is probably published directly or via new developer.

Good observation. Although, it seems like a bad deal if Shareit couldn't get back their pub rights from the dev.

It's useless because it still has no Wifi Direct support. In fact there is not a single app in Windows 10 Mobile that supports Wifi Direct. Probably because Windows 10 Mobile APIs don't allow Wifi Direct.

Mobile 10 mobile api don't allow wifi direct? So is it even implemented?

It works with wp 8.1...which i guess means its not making use of the win 10 mobile APIs...
I guess they will add that feature as soon as win 10 mobile gains a significant share...

No. The WP 8.1 version doesn't have Wifi Direct either.

I meant the app is made for 8.1 meaning it's probably not using win 10 APIs just yet...

The APIs do exist for Wi-Fi direct.

https://www.microsoft.com/en-us/store/apps/zapya/9nblggh3v9m6 THNX me later as it does not work . MSFT has not activated the feature in w10m builds

i think u dont know how to use the app. Switch off ur wifi router and simply turn wifi on in your phone. goto the app and create a wifi direct group in it. I have tested this app personally and shared files over a GB with an iphone ;) (no internet required)

I think WiFi direct is not something revolutionary. It's just a piece of software that manages activities like creating hotspots and connecting to WiFi for file transfers automatically. In the absence of WiFi direct, we have to do those tasks manually as in Windows phones. I use Easy Transfer by the way.

I am already using ZAPYA which uses wifi direct to share files NOT HOTSPOT. So think twice before u comment

Does it works like android version at least now?

No it doesn't. Windows 10 Mobile isn't powerful OS like Android.

Ok calm down now...read my reply above instead of making your own conclusions...

They haven't launched the final version of Windows 10 Mobile yet..

I don't know why you people start making your own conclusions and judgement before that thing is fully matured.

https://www.windowscentral.com/e?link=https2F%2Fclick.linksynergy.co...

Link not showing in app. Also, the app icon tells me it's a WP8.0 app, in alpha. As well as the name "Offical".

This.. is even worse than the last one!

I don't like that they removed the wallpaper section.

Links are broken in the app dan

I doubt if it is the official version. Coz the spelling 'official' is incorrect

It's 'offical' not 'official'.

I'm talking about the name of the app in Store.

I'm unable to receive through PC.
Hope they fix this in another update.
Anyone here facing the same problem ?

I hope that this app is universal. Them we can transfer files between laptops and smartphones, wirelessly. We can do it now also using Easy Transfer but only through the use of a browser.

You can already do so, without the use of universal app. Just download the SHAREit desktop client and dhare files easily on wifi

Device discovery is better... New color... UI is tweaked a little... Notification is new...

Finally!!! Posted via moto x play

Still can't share through Bluetooth..!!

Why this app in not found when we simply search the market? It seems like they neglect the market to be error free. First of all there is so much app gap, and when too the app is released you can't find them on store!! Simply awesome. All the works are half hearted and we the MS and windows lovers scream so high seeing windows phone market share falling. Wake up

Android smartphones are full of loopholes.... Am proud of using Windows Phone!!

I am use FTP server to transfer file and its enough for me

The new ZAPYA can do wifidirect transfer. I like better

And i thought dat it is permanently removed ...

I think this app is fake. Its not real because: - 1) Its named offical not official
2) The official versions on playstore and itunes are made by Shareit Techologies Co Ltd not Shareit Corp
3) Shareit.lenevo.com still points to Shareit 'unofficial'
4) If you scroll down to the learn more section on the app page. the email shareit support points to share.it.team@gmail.com, don't know what their official emai is, but certainly it won't be @gmail.com

yeah I also noticed that Shareit.lenevo.com still points to Shareit 'unofficial'

Works great shared 500mb muvi file frm android phone in just 5mins

why can i only send but never be able to receive on my lumia. wait since when they are part of lenovo now? scary, lenovo is controlled by PRC government.

Crashes a lot while selecting files

Can send and receive file to other OS like android and ios using this app?

also shareit.lenovo.com directs you to the unoffical version of the app

Windows central has fallen for a fake app I downloaded it and it was totally fake only advertisements , keep the old app the unofficial version is official

Can't send/receive any file... Need update