SHAREit version 1.4 lets you share files over Windows Phone hotspots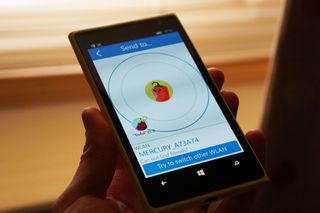 SHAREit is a file sharing app for Windows Phone that has just been bumped to version 1.4. This latest release introduces some handy features for those who wish to quickly share files between devices, but don't have an active cellular or Wi-Fi connection. It's now possible to share files over a hotspot created by a Windows Phone.
As well as hotspot support, the new release also comes with a new inbox features to really let you know what you receive and improved performance. Here's the full changelog from the store listing:
Add "inbox" to help you looking up what you got.
Add "Pictures wall" to provide you more picture.
Support transmission via hotspot that created by Windows Phone device.
Support set a custom storage path.
Improved performance
Fix bugs.
It's a solid update to an app that's worth downloading should you require such a solution. Check the Store for updates, or click the link below to download the app and let us know how you get on in the comments.
Thanks to everyone who tipped us!
Rich Edmonds is Senior Editor of PC hardware at Windows Central, covering everything related to PC components and NAS. He's been involved in technology for more than a decade and knows a thing or two about the magic inside a PC chassis. You can follow him over on Twitter at @RichEdmonds.
but how to create hotspot from the phone when cellular data is not on?

LOL that BEACH ANGELS VIDEO :P

Easy transfer is the best for transferring files in the world and its exclusive to Windows phones... Suck all of you android mofos....btw shareit sucks to the core in windows phone

Switch on your cellular data. Switch on internet sharing. Switch off cellular data.

But it'll cost money for switching on the data. How to avoid that

Add cellular data and internet sharing toggles to the action centre. Then quickly perform this: turn on cellular data, turn on internet sharing, turn off cellular data. Just do it quick enough and the phone won't get enough time to actually use data and cost money. This is a workaround, but it does the job.

it's really good...but my bad luck is that i can't try it...i am on win 10 tp...:(

What phone do you have, on my Lumia 1520, Cellular data can not be add.

i currently have lumia 520 it allowed cellular data toggle after denim but now i moved on to windows phone 10 so again cellular data option disappered.

wth?! the spelling of "receive" in the app is still wrong.

It still says it doesn't support WP wifi hotspots in the overview page also. Someone really needs to edit and update that listing.

I just tried it..i switched on cellular data.connected other device via internet sharing.and voilà.it works very good.
P.S. I didnt have data. So you don't have to worry.

So can we receive the same way

Oh yes. That's what I just said isn't it??

Waste app bcoz android have xender and Windows have nothing

Waste android because it has malware apps and windows has nothing.

Maybe it's a waste of breath because everyone you know owns an Android, Mohmed Mogal?

What a poor attempt at trolling

WP is cool and android is kitch

Super Beam is better than Xender in Lagdroids... :P

Lolz noon windws have share it and dukto dumb noob sender sux

Still trying to Decipher the CODE :3

on an Android, you have to constantly manage memory allocation as well. Stopping services, or cleaning temp files, or uninstalling/moving apps IF you are allowed. There are preinstalled apps on Android devices that you CANNOT uninstall unless your jailbreak them or gain root access. Android devices are just an electronic handheld billboard for ads that Google wants you to see. you actually PAY Google for this privilege.

Why can't they make it like the app in Android????

Why don't you try to? Andy apps use Wifi direct AFAIK. We don't have wifi direct on wp!

WP has WiFi direct. See in diagnostics app.

Why always have to be something like on Android? And when Microsoft try to make it like on Android (hamburger menu) everyone goes crazy because they thing they will lose Pivot control which is native only to WP. Just try to enjoy in your device and stop being grudgy.

Cause Android is 100% pure scam shit.
Anyway, binding the hotspot feature to a data connection in wp was a very stupid idea....An 1% in Microsoft must be iDiot too... :(

How does this app actually work? Has anybody used it?

I like wallpaper download.

I m not able to download in Lumia 525

I can? I have the same phone. What OS version?

Windows 8.1 with denim update

What region? And what error?

unstable on 1520 as well. just exit the app

Massive typo in a core app function - should say "Receive" - makes me lose confidence a lot in app developers if that kind of thing gets through. Shame.

When u are a developer the thing u mostly care less about typos and grammatical errors.

"Receive" IS the correct spelling :/ You saying it wrong doesn't make it so :P

Dukto is waaaay better, and is also universal...

Why did they even develop this app when wp has no wifi direct capability

It has. See in diagnostics app.

You mean this? http://www.windowsphone.com/en-us/store/app/diagnostics/93a560c9-1b50-41...
It is not available for download from the store... Where is WiFi-direct?

Ohh the hardware supports it but there is no software to use it

Why does people behave like fanboys when a genuine comment is posted. I think Microsoft should really think of making a Wi-Fi direct file transfer app. It should only work on WP to WP.
Android has xander and that's really cool. Try sending an HD recorded video via Bluetooth, would take like hours. Seriously stop acting like fanboys and respect all pros and cons of windows and android.

Hey,
Is In this version we are able to send and receive videos from other phone(Androids,IOS) ?

I'm not sure. But I use easy transfer, and we can send and Recieve videos from Android and IOS in that app

Does the Androids or IOS users have to have installed Easy Transfer too? Most of them simple use Shareit. SO?

No, any one of the devices should have it. If you have it in your WP, you can transfer files b/w iOS or Android devices. Not only that, you can also transfer files with your PC or MAC,

Sharing apps doesn't required data connection in Android....and we can share movies within a minute..... I don't know why developers are not making that kind of apps for windows phone....

Use easy transfer. Doesn't require data connection

Actually do u know ab easy transfer... I have been using easy transfer from months it requires wifi to send or receive the files.

Dude it just uses wifi but not data connection. I've been using it from months.

I have been using "Feem" from about a month, I'll try "easy transfer" also. I have been sending videos of many GB's within few minutes, from/to android,iOS and PC's also

It sends data at "30-40 mbps"

Not genuine shareit app. Fake one

I am not able to find hotspot option even after the update

Hey there is no option called hotspot in windows phone... There is a option called "internet sharing" in the settings...u need to enable that.. Then only u will be able to share the data...

Turn off data after turning on internet sharing. :)

I did the same but it shows no device while sending and notify to connect to WLAN..

1.Turn on Internet sharing
2. Connect other devices to that shared network
3.Turn off mobile data
4.open shareit on both devices

Hey guys use the app easy transfer...better than shareit

It does the work but slow while transferring video. WP really needs xender.

I find shareit more easy to use ... And works well with android and iPhone.

Cool! That's means potentially we could make our own local netflixes and podcast stations. I like this idea of sharing files and media this way, this way someone always has something interesting to share. That's potentially a great social function when cellular and wifi is not at hand. Nice! Is it only sending of data or could it also work as streaming data. The latter is the interesting part.

interesting that this app is from Lenovo. I wonder if this is adware?

WinPhone to WinPhone is now working.

Nice update.. Hope soon they will bring app sharing too

'Easy transfer' all the way.

Lets try: To receive a file
turn on wifi In both devices
open shareit in both devices
click receive in WP
in other device click send and select files you need to send
in WP open WLAN
connect Wi-Fi network provided by other device and press back
in other device click Apple phone icon at the bottom
it will automatically connect to hotspot provided by WP
Tab avathar icon in another device
click windowsphone avathar in another device..
So we received a file from other device.... It's work on my Lumia 520... But not working for sending a files to other devices.... Of someone knows lets share details...
Thank you...

For sending you will have to on internet sharing, not wifi.

Tried but not working....explain in step by step

Crashes sometimes on Lumia 520

Hello, I'm using Lumia 535. I tried to follow the methods. But I failed. I can send files by connecting to other's hotspots. I can even recieve file by connecting to their hotspots too, but it's slower. But when I tried to recieve files by allowing them to connect my WP hotspot ( though I need to enable the cellular data connection in order to continue running the hotspot, not even then), it fails. Can anyone help me with this?

i want to know the update of <a href="http://www.galaxys7cases.com/ " >galaxy s7 cases</a>
Windows Central Newsletter
Get the best of Windows Central in in your inbox, every day!
Thank you for signing up to Windows Central. You will receive a verification email shortly.
There was a problem. Please refresh the page and try again.