Sheltered brings post-apocalyptic survival to the Windows Store for PCs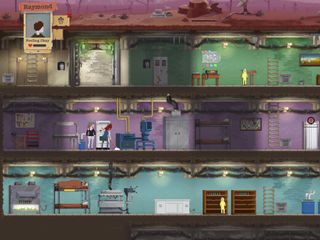 Sheltered, the post-apocalypse sim game from developers Unicube and Team 17, has been released in the Windows Store for Windows 10 PC gamers for the price of $14.99.
The game was first released for the PC, via Steam, before its launch on the Xbox One and PlayStation 4 consoles. Here are some of Sheltered's features:
Family comes first: Keep your family alive and protect them from the ravages of the harsh post-apocalyptic world.
Make the shelter a home: Maintain your shelter - keep it secure, habitable and make sure that the family have enough resources to survive. Protect your shelter from hazards and infiltration!
RPG mechanics: As your family develop, their stats will adapt with an evolving experience and trauma system. Attributes, strengths and weaknesses will dynamically change based on your choices.
Crafting system: Create comforts for your family's shelter and weapons for combat.
Exploration: Send out your family to explore and gather resources for everyday living and crafting.
Recruitment system: Recruit outsiders with different personalities, integrate them into your shelter life and earn their loyalty.
Dynamic encounter system: Your family will encounter various threats including roaming factions and feral beasts.
Turn-based combat: For those that cannot be reasoned with, violence can be used as a last resort. Your family may depend on it.
Pets: Your pet is family too. Choose between the dog, cat, fish, snake or horse.
Vehicles: Make exploration quicker and safer.
In addition, the Windows 10 version supports Xbox Live for features like achievements, leaderboards and more.
Download Sheltered from the Windows Store (opens in new tab) ($14.99)
Windows Central Newsletter
Get the best of Windows Central in in your inbox, every day!
Do people really buy games from app stores not focused on gaming? I read somewhere that even on iOS it's no point trying to sell a game nowadays.

You read it somewhere? you sure it wasn't actually nowhere?

Lol that's not true. Game troopers made 1 million dollars a month from windows store alone when they launched tiny troopers game! ~DheeraJ~
Lumia 640XL 10586.218

What is the price of that game?

It's free, but has in-game purchase Posted via the Windows Central App for Android

They made that amount in the first month, not every month.

I'm slightly confused... Are you stating/asking if people still play games on mobile devices? Phones/tablets?

No, I'm asking whether people still buy games for their phones/tablets vs. free(mium).

Less than an hour ago you stated you "read somewhere" people don't buy games in app stores. So which is it? Do you know, or not know?

I buy games for my Android phone. Nothing wrong on spending money if you really want something. I do stay away on freemium online games like CoC and Clash Royale but if its an offline game I usually give it a shot. Posted via the Windows Central App for Android

Id personally rather buy a game than the freedom bs any day... but that me, the minority... tired of this ad crap... and once I buy it, i need an app locker or a way to truly download so of is ever removed, i can still have it... on top of that... i want my app locker to be version controlled, so I don't have to have the latest,crippling version ... Well... that's pie in the sky... i miss the old days ;) Posted via the Windows Central App for Android

This is a PC game. Not some app for a mobile os. People actually pay for games on PC, regardless of store.

The biggest profit in mobile is gaming. Apps barely touch profits. Majority of ios profits are games.

Looks like a fallout shelter rip off

Buying it. If for nothing else then just to support developers making games for Windows and actually using XBOX capabilities.

I an doing for the same reasons. And game sounds like fun.

Like I wrote below, the game is super fun. BUT achievements are nowhere to be found :/

I'd buy it if it was for phones as well.

I will buy it on my surface... i don't game on the phone or have time for my Xbox... so PC/tablet will be for me Posted via the Windows Central App for Android

It will be interesting to see what happens to PC game dev support in the store vs steam when 25% of Win 10 market share is >steams 120M userbase especially with a potential $100 Xbox on the market soon supporting UWP.

Will it run on Surface 3??

There are hardware requirements in the store listings. Why not check them out ;-)

Runs on SP3 i5 without any problems, it seems like a low-requirement game.

I have a SP3 i5 and the game doesn't progress pass click to continue, the menu doesnt show, what windows 10 version are you running, i'm on 14352?

I'm not in the Insider program on desktop, have all the available updates installed. But it is weird that it would be a Windows problem... Have you tried tapping the text as well? I did have some issues where I had to clik multiple times, but nothing that would disable me from progressing past the screen. Good luck, hopefully you get it sorted out!

The game really is great, I just spent about 5 hours in a row playing it! However, I cannot see Achievements, just Leaderboards - so the "XBOX features" are pretty limited it seems. Any info on that?

EDIT: the achievements indeed ARE THERE and unlock in the XBOX app, but you cannot view them anywhere within the game itself and neither do they pop up as notifications when you unlock them. A bit weird :)

Thanks for the info! I'm getting this game.

Forza has been weird at times with achievement notifications too. Usually get them on my phone before the desktop.
Windows Central Newsletter
Thank you for signing up to Windows Central. You will receive a verification email shortly.
There was a problem. Please refresh the page and try again.