Shift, a casual game of Tic-tac-toe for Windows Phone 8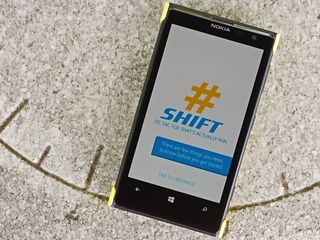 At first glance, the Windows Phone game Shift may not be very impressive. It is a game of tic-tac-toe so it cannot be that challenging of a game, right?
While Shift is a tic-tac-toe game for Windows Phone 8, the game adds an interesting twist to the game. Game play is done in match style where you have to be the first to win three games, but you have to win by two games. Game play has a continuous pace until someone wins the match, which gives Shift that twist to make it stand out a little.
Shift is a fun, casual game for your Windows Phone gaming library and the twist in game play helps give the game a little staying power.
Game Design
When you first launch Shift, the game will walk you through a series of tutorial screens that outline game play. Shift is a simple game of tic-tac-toe with each game win earning you a point. The goal is to be the first to earn three points (or wins) but you have to win by two points.
You can play against the computer or enjoy a two player game (pass and play style) and as one game of tic-tac-toe is complete, the game board will shift left, right, up or down to create a new game. The game will automatically shift when a draw or "cat's game" is reached (no winner).
The game shifts can leave player's marks on the board, which at times can give one player an advantage over the other.
Game Settings
While game play is simple, yet challenging, Shift does have a settings menu that is accessible from the gaming screen (the gear symbol in the bottom left corner).
Settings for Shift include switching from the two-player and single player game, increase the computer's gaming skills, turning on/off the game sound and re-play the tutorial.
The 'bot skill level is set mid-level by default and moving it to the extreme or "bring it on" side of the scale is almost punishing. The easier or "take it easy" side of the scale is perfect for younger players.
Overall Impression
Shift is a simple game of tic-tac-toe and the shifts that occur during game play helps give the game a slight edge. While Shift may not be your first choice of games when you are in the mood for lengthy gaming sessions, it isn't a bad choice when you need help passing shorter bits of time.
Shift is also a good gaming title for your Windows Phone Kid's Corner and the two-player mode may save you a few napkins at the restaurant when your child challenges you to a tic-tac-toe match.
While the game may not have a lot of bells and whistle, Shift is an entertaining version of the classic tic-tac-toe game. Shift is a free game that is available for Windows Phone 8 and you can find your copy of Shift here in the Windows Phone Store.
Windows Central Newsletter
Get the best of Windows Central in your inbox, every day!
George is the Reviews Editor at Windows Central, concentrating on Windows 10 PC and Mobile apps. He's been a supporter of the platform since the days of Windows CE and uses his current Windows 10 Mobile phone daily to keep up with life and enjoy a game during down time.
Woah, this is slick! Original too. Great job devs!

Temple run 2 is available for low ram devices

feel sorry for you mate. you are being too optimistic here..

That's old news, been reported on wpcentral already

Windows sucks! Every apps in it sucks. For example whatsapp. Idiots choose windows phone.

Maybe right for someone, but even Windows? :P

Like you are sucking windows ass? By the way I hate android

you can bro! But there is something that you have to accept. windows sucks really and. lemme tell you why. 1. even symbian platform have better whatsapp than windows phone and once you will check whatsapp on iphone and android you will come to know what you are missing. 2. no video player at all. now on this don't give me bullshit that we have this paid version and that one is good. well all sucks. none of them supports dual language support as well as adding subtitles. you should checkout mx player before commenting on these. 3. camera app is dam slow compare to iphone. here i am not telling about quality so don't misunderstand that. 4. after 8.1 video player sucks. once you open it you have to wait to sign in. now dont tell this is developer version real version will be good. well guess what it won't be. i have tons of examples to proof windows phone sucks. now someone will say it will be resolved soon. NO!! sucker it won't. i am feedup with the word soon for windows phone. and yeah soon windows phone will get BBM. suck it! it won't until this year. and yeah i have 920. :)

"no video player at all"
You have got to be kidding me.
Also, learn to type.

Anwer? Wtf is that? Dude your name sounds like "Buffy the body" flapping her butt

Did you just say "no video player at all" then proceed to say "after 8.1, video player sucks"? You're doing an awful job trying to bad mouth "windowsphone" (you don't seem to know the difference between windows and windows phone *sigh*). If you dislike WP and Android, then stay away from news related to both of them. Your opinion(people that choose "windows" are idiots) means nothing to most of us here. Have a seat

windows phoe won't be better by twisting my sentences

You know, WhatsApp team has a major update ready (with features for people like you, all missing features) since 3 months or so, rolled out to those in private beta. It would come anytime soon. Till then brush your teeth as you mouth is foul at present.
Oh and btw, camera app is fast enough, native one. The time it takes to click photos, its due to the autofocus. Try manual focussing to see the speed.
We people here can counter any reasons you give to prove windows phone is useless. We all are here because we do think it is great. If you want to see how, try writing some more reasons, we all would surely have answers to them here.

yeah! this comming soon tags!

We people here can counter any reasons you give to prove windows phone is useless. We all are here because we do think it is great. If you want to see how, try writing some more reasons, we all would surely have answers to them here.

Dude, you should've known that before you switched to WP, anyway let's get started on what you said.
1- WhatsApp : This is more like WhatsApp's devs fault this has nothing to do with WP. Those devs are just too lazy to give us a good app because of our low user base of WP. And that sucks on their behalf.
2-Video Player: This will be resolved when VLC releases its app. I guess that's the best answer. VLC is THE BEST video player on earth.
3- Well , I'm willing to sacrifice some waiting time for the best quality photo on the planet. I mean when the iPhone or Galaxy series come close to our camera quality with better speeds of taking the shot that's when I'd be worried.
4- Well I have 8.1 developer preview too, and I've never signed in the video player so I don't know what you're talking about.
Dude, I switched to Windows Phone to take step by step with the OS and see what they have to offer. Always best innovations come from still-to-grow OSes I mean look at Cortana, I don't think any other assistant has had the ability to remind you something based on location or person, and that's a thing Windows Phone has done and others haven't. Look at offline maps. We have the best GPS-mobile devices that others envy. There is huge potential for WP. Anyhow if you want an already full developed OS, switch. I'm here to enjoy the ride.

I reposted I thought posts I replied to went under that post. Ah, well..

Exclude apps and WP is the best OS.

Wonder why someone comments on wpcentral who doesn't like WP.

At least show some respect to your first name before using such bad language. If you really hate WP then simply move on instead of posting such comments. Nothing is perfect in this world and nobody can like the same thing.

Tic-Tac-Toe is just Tic-Tac-Toe but Shift is more Tic-Tac-Toe

We call this game noughts and crosses

My day is boring without WPCentral news... :/ Thus I sometimes hate weekends.. :P

Dude switch off your phone and take a walk or party.. It's weekend for god's sake. World is beautiful outside :) :P

Lol I didn't mean it that way.. Obviously the world is beautiful! :D Plus there's friends and family to hang out with right? :) I just meant that my phone becomes boring on weekends.. :P

I have followed wpc for more than 7 months now. I have gotten used to it. :P Wpc writers do have lives and I respect that.

Md Anwer, just has an itching behind. Cortana doesn't love him back after trying many many times. So he's mad. Kissi kissi poe poe.

So its the operating systems fault WhatsApp didn't design an app on the level of Android? Is it the operating systems fault the camera system technology used is Zeiss which is Nokia/Zeiss tech? If you don't use WP the shut the f*ckup and get out of here as I heard from an iPhone 5 user yesterday that the camera sucks (5+ year user at that) and I told her I thought that the iPhone camera was okay, but she insisted it was horrible. You're just a bitter person who apparently notices that WP is gaining traction so you hate it. I also have a coworker who purchased the 1020 which he loved but missed some features but he traded with a friend just before spring break. Since 8.1 came out, he got it back; he loves Cortana, message center, as well as all of the other features, quiet hours, project my screen, WiFi sense, b battery sense, etc. So while you have a misguided negative opinion, there are others from other platform who think differently. As stated, get the f*ck out of here with the nonsense.