Should you buy a PC test bench case or build one?
Test bench cases are ideal options for PC builders who want to frequently switch out hardware without having to tackle countless screws, panels and more. But should buy one or build your own?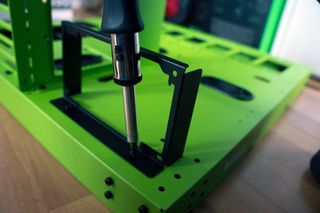 There aren't many PC test bench cases available today, because consumers generally enjoy putting together full tower cases and taking advantage of unique designs. Thus, the ones that can be purchased tend to be expensive. We're not talking $30 or $40 but somewhere in the $100 region. That's a lot of money to spend on a case that essentially has less metal and protection for components. The other option is to go the do-it-yourself (DIY) route.
Pre-built PC test bench
There are a handful of cases from different manufacturers that would allow for convenient access to internal components. But as mentioned, you're looking at a hefty price tag, starting from around $50 for a stable construct, and even then you're not getting the absolute best in case construction and quality. Here are a few examples:
The main advantage of pre-built, open air test benches is that they're designed to be put together and used immediately. There's no time spent measuring components, heading to the local DIY store for materials, or an investment in power tools should you not have an equipped workshop.
If you're not an experienced system builder, a pre-built system is generally out recommended option, and this is no different with test benches. Manufacturers also have years of experience with designing and producing PC cases so you know the test bench you purchase will not only look good but will be functionally adequate.
DIY PC test bench
If you'd rather not part with $150 for a test bench case you could create your own. All you'll need are some tools, the know-how and an affordable (or spare) case you're willing to use as a project. This route will require planning, measuring, and steady hands. You might need to cut through metal, drill out rivets, screw or glue materials together, and put that inner creativity to good use.
This path requires experience with building PCs and confidence with working on electronics in an unknown environment. There's no handy manual that will walk you through your new project. Some of the things you need to take into account:
Where to install the Power Supply Unit.
How SSDs and hard drives will be attached to the bench.
How you'll go about keeping the system cool.
Whether you'll simply short out the power button connectors or attach your own buttons.
We're currently taking apart the NZXT S340 (opens in new tab) in an attempt to transform the attractive ATX mid-tower case into a test bench. Stay tuned for progress updates on whether we're able to succeed, and the end result. If you have the time, equipment available, resources and patience, building your own test bench is a great DIY project, which will also save you money.
Rich Edmonds is Senior Editor of PC hardware at Windows Central, covering everything related to PC components and NAS. He's been involved in technology for more than a decade and knows a thing or two about the magic inside a PC chassis. You can follow him over on Twitter at @RichEdmonds.
i am never built a pc but i am thinking of building one so can i have some advices before i make one?

Make sure u use a power supply tool to make sure you get an appropriate watt power supply newegg has a good one. Other big thing is make sure you get your airflow right because it can make or break your build literally. Another tip is to make sure your ram is all the same brand, speed, and size. Having matching brand mobo, and graphics card makes things easier also but isn't necessarily needed. If you're planning to get a high end video card don't get integrated graphics on your mobo. That's all I can think of other people might have other advice.

I'd like to hear about your results trying to turn the NZXT case into a test bench. In the past I had better luck doing that sort of thing with a cheap case, of course i was into overclocking back then and the only way out of a bad OC was to use the reset jumper on the motherboard. Now there are even cases that have switches to access reset jumpers on the motherbaord.

Cooler master HAF series is a good multi use case for test bench and regular pc. http://www.coolermaster.com/product/Lines/lan-box/

Although they look cool open, I would avoid them if you have children in the home.... I've kind of always wanted a clear case but, scraches would kill it, Even though my current system would look really nice (it's a nice looking motherboard and a huge fan)

I had a clear acrylic computer case years ago but with kids and pets, it was impossible to keep clean.

So I don't do bench-marking, but I do a fair amount of hardware testing for good/bad parts at work and on the side. After looking at several of these I ended up going with a removable back-plane (I think from an old LanLi case) that I found on ebay for ~$10. It just holds the mobo and cards, everything else just sits on the table. Very handy if you need the occasional open air system for testing and swapping out parts easily. If doing real testing all day every day... then ya, getting something like a test bench would be better. But for once a week parts testing this had worked out great!
Windows Central Newsletter
Thank you for signing up to Windows Central. You will receive a verification email shortly.
There was a problem. Please refresh the page and try again.