Show your Lumia pride with these great lockscreen wallpapers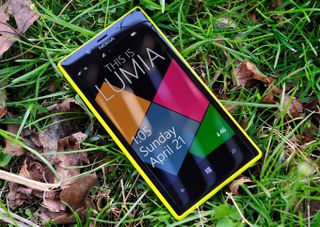 If there is one thing Nokia Lumia owners have, it's immodesty when it comes to their brightly colored phones (often to the chagrin of Samsung and HTC fans, ahem). So why not take it a step further with these handful of wallpapers?
We haven't covered too many wallpaper packs since Windows Phone 8 came out, mostly because we rely on our various apps to now rotate 'em on a regular basis. But there's something to be said about picking your own, especially if they're done right. These six "modern" Lumia themed wallpapers do the trick for us (there's even two non-Lumia ones for those of you on Samsung or HTC) so we feel alright passing 'em on to you.
Designed by Carlton Lindow, we're told we can expect more designs in a few weeks.
Source: SkyDrive; via Gadgetized.net
Daniel Rubino is the Executive Editor of Windows Central, head reviewer, podcast co-host, and analyst. He has been covering Microsoft here since 2007, back when this site was called WMExperts (and later Windows Phone Central). His interests include Windows, Microsoft Surface, laptops, next-gen computing, and arguing with people on the internet.
I would show my pride if I would have the 928!

Love my new lumia 820. And windows phone is just so smooth and buttery.

Fellow Lumia 820 owner. Welcome to the club pal!

The Lumia 820 is a great phone. It's just the battery and the camera that suck the most on it. Only if it had a 2000 mah battery

I second that, my 820 battery sucks so much

Yep, the battery sucks but luckily for me, I am not a road warrior. So the phone is mostly plugged to my work PC :)

talking about butter, I remember there is a project butter, which is to add 4 more cores.

Why not use these on my Lumia 620? /downloads

I'm sorry but these are terrible.

OK. I wasn't trying to be a jerk...these aren't the greatest wallpapers I've ever seen, but at least Carlton put himself out there...just my 2 cents.

it was just for fun, took like 2 mins making each for myself and after I was like what the hell why not share them, if you have any ideas I would like to hear them

+1. Also, "Lumia is life?" My phone is a great tool, but it's not life. Give me a break.

Yeah. That was a bit over the top. I have a Lumia 920, but at the end of the day it's a phone, despite how great it is.

ha, i knew it was a bit over the top but I also know that there are some extremis aka (die hard fan boys) who like that kinda stuff...so there you go. if you don't like it, don't use it

As a graphic designer, I totally agree. These are really ugly. And they have nothing to do with the Windows Phone 8 or Lumia image. Also... "Lumia is Life"... Really? WP is about "put people first", not "put your phone first".

well as a graphic designer you should make some better ones or give ideas on how to make the next set better

Thanks for the wallpapers!

Hi Carlton, about giving ideas to make better ones, well... It takes three years in college to become a graphic designer, it's not something you can learn from a single comment on a blog. But the basis is to at least make sure you use the official font for whatever you're doing and use it in a way similar to what Nokia does for their publicities. And even though it's only a lockscreen wallpaper, it takes a lot more than what I could write in a comment to make a good design. You don't become a graphic designer overnight.

nice speech. it's a good thing i'm a graphic designer already, oh and the fonts are pretty similer

To the OP, you don't have to have a degree in graphic design to dabble in designing graphics, but it probably doesn't hurt. A degree in graphic design is not going to make you a more creative/talented person. I have some non-engineer friends that are better at engineering things than a few pretty crappy engineers (my degree) that I went to school with. Anyway, Carlton, your font may be "similar", but the font that should be used is Segoe WP, which I think is freely available online or maybe I got it with MS WP Developer Tools...and I would say that using the exactly "correct" font is important unless you are going for a different look, and then it is worse to use a "similar" font than to use a font that is significantly different. It's like picking paint colors to match and using two colors that are slightly different...usually looks terrible.

I guess that was my speech :)

Great, now I must apologize. I'm going to keep my speech up for the info on the font if that is helpful for others, but I was just screwing around in Photoshop, and it appears that you did use Segoe WP (light)...sorry. Not sure what FFugue was getting on about (maybe because you used light instead of regular).

Im really surprised so many people are complaining about this.. Especially the "Lumia is life"
It doesn't have to be taken in a literal way, and who really cares.. If you don't like it, then don't use it. Make your own if it hurts you so bad.

Where can i find these then??

Follow the links that say Source? (If using our app, hit More, View Links)

Links in app only gets you low res pics though

shame they are not designed well for the weather apps. But they are good and nice looking.

It'll be another lockscreen for me ;)

You can use Phototastic to make a collage and display all of them on your locks screen at the same time.
http://www.windowsphone.com/en-us/store/app/phototastic-free/3ad9a37f-4e...

I know its special skill set one might need. However, these wallpaper makes my lock screen look inferior due to bad quality. Back to Bing Wallpaper

Nothing can beat Bing wallpapers.

sorry, I went with 480x800 cuz thats the size of my L710 screen, the next set would have higer quality. thx for the feedback

That seems tacky. I like how little branding is on the 920.

Here in Brazil only Black and White Lumias are sold. Its a shame! :/

In such a colorful place? What a shame!!

I could be the carriers fault. You guys have to give them feedback about what you want if they aren't smart enough to know. Remember, they're all stuck on Android..

Meh. I have the yellow 920 and like choosing lockscreen images with a splash of bright yellow somewhere. Currently have a piper cub j-3 on. I also used to choose lockscreen images that matched my tile settings.

Needs higher quality for my Lumia 920!

Is there a way to delete my post? I put it in the wrong place.

So not impressed by those wallpapers, sorry.

I love my lumia but why on earth are we talking about this lol

Happy bday Mika Lammaassaaarrriii :-|

I show my pride by flashing my bright cyan phone and rocking my cyan headphone at the gym

Hey guy, Carlton here, if cool if you guys don't like em, I open to any new ideas you guy have to share! Thx

What size/resolution would I have to make an image if I wanted to design my own lock screen images? Is there a preferred format, too? I have a 920 if this makes a difference.

To look best, you have to make the wallpaper at the native resolution of the target device's screen.

I have the HTC 8X so I know this is off topic, but on the photo I can see some sort of temperature app notification... How do I get that?

I believe the app that does that is called LockTemp.

EDIT: Yup, I remembered correctly. Here's the article talking about it. http://www.wpcentral.com/check-current-temperature-your-lockscreen-locktemp

I understand that they do it for the look and to show off the features, but it seriously irritates me that that phone has 11 unread texts.

I tried to donwload the pictures on the Skydrive link but the pictures are only 480x800. Doesnt look good on my Lumia 920.

Yay! (Small geek waving a flag in a crowd) :D

I put one of these on my L920, and must admit it is ridiculously ostentatious. Do I and others around me really need to be constantly reminded, Sparta-style, that this is indeed, LUMIA?

@BigGlade THIS...IS...LUMIA!!!!! Just kidding :P

I don't see how these got their own article. Much better wallpapers out there.

Yeah, like the ones I made for you guys with my name, and face, all over them.. Those are the most beautiful!!

Boys I love my 920 Lumi Lumi

My first reaction to "This is Lumia" wallpaper - You don't Say?

I had the 820, and then switched to T-Mobile, and got the 810. It's practically the same phone, but the battery seems to last a lot longer. Bigger battery?

Well, to be fair, HTC released a lot of colorful WP8 phones, so it is not really justified to bash them for not having enough color (HTC S, come on). Samsung are the ones who deserve a little scolding, but HTC has done a great job with the colors.

Thanks for sharing your work. I am using the lockwidgets app which uses the Bing picture and changes daily which I find very nice as these are mostly really beautiful.

No, thanks! I have better lockscreen wallpaper. I thought that it was about moving lockscreen wallpaper.

These are awful - I'm no graphic designer but thank goodness for graphic designers like Simon C Page - without doubt the best wallpaper to hit a digital screen:
http://simoncpage.co.uk/blog/

Can comeone tell me how to get the thermometer/temperature icon in the lockscreen as shown in the first image?
Windows Central Newsletter
Get the best of Windows Central in in your inbox, every day!
Thank you for signing up to Windows Central. You will receive a verification email shortly.
There was a problem. Please refresh the page and try again.