Sky Cups, another popular Android game, arrives on Windows Phone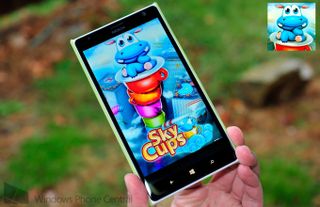 There's never too many of casual games to pass (or waste) time, right? Here's another one for Windows Phone users now. The popular Android game – Sky Cups – has arrived on the Windows Phone Store now.
Sky Cups reinvents the classic Match 3 genre with an innovative vertical gameplay. The game brings together the best elements of popular games - Match 3, Bejeweled, and Fruit Ninja. It features over 90 levels, with more promised in future updates. There are five different worlds with unique gameplay features and several gameplay modes like arcade, puzzle, bubbles, and jewels.
The game is easy to start, and quite addictive. It's also, in a way, very quick. It jumps from levels to levels very fast and has hurried gameplay transitions. That's a good thing since you end up playing several levels in a short five minute break.
The game is available for free for Windows Phone 8 devices only from the Windows Phone Store. It's quite popular on Android with a 4.8 rating with 426 reviews. Try it out, and let us know how you like it. Which other Android game would you like to come to Windows Phone soon?
Source: @WPScoops on Twitter
Get the Windows Central Newsletter
All the latest news, reviews, and guides for Windows and Xbox diehards.
We need that candy game though...oh yea candy crush...sorry to be that guy today...

Haha, don't understand why people play that game. But yeah, it's an important game I guess.

Cans crush gets pretty addictive. When I first watched my wife play it, I thought it was stupid. Until she told me to try it. Its challenging.

Every female in my family from kids to adult plays candy crush they really need to get that game on WP

Yep. I agree this is a big one that we need. By the time we finally get it if ever it will be old news though. That has happened with several games now.

#1 game on mobile candy crush

Hill climb racing is here! http://www.windowsphone.com/it-it/store/app/hill-climb-racing/eac80a1b-5...

Thanks for the link :):):)

It's a shame most developers are choosing not to use Xbox integration.

It's usually not an option for indie developers. As I've heard, Microsoft has tight and sometimes unrealistic restrictions for Xbox games.

It's understandable for the indie devs but big studios are choosing not to publish with Xbox certification. Disney games for example should all be Xbox certified.

Stupid shit XBOX shit. Microsoft let it die. So be it.

Bit cramped under the bridge today?

Missed your meds today you have.

Hill Climb Racing just arrived too. :)

I really want SubWay Surfers... Any news? Someone call 'em mfs..

Downloaded this game last night and so pleasantly surprised! Kinda disappointed that it's an android game though. Thought it was a WP indie game at first, but oh well

Candy crush and subway surfer needs to come to WP plz

Where the hell is Minion Rush my god!!! We need that game. And Candy Crush, and finally Temple Run 2. Make it happen finally.

Temple Run 2 and Despicable Me Minion Rush! We need those games. Also, Asphalt 7,8 and Fruit Ninja need to become free! Why are they free on Android but not on Windows Phone?

Fun game! Can anyone fill me in on what the frozen cups do? I can't figure it out and can't find a guide online.

You can CRUSH frozen cups by Multy Taping on them. Tap fast and crush them fast :)

Awesome! That's very handy; thanks :)

Awesome! Glad to see another game, but 1UPing android by making it an Xbox game would be even better!

Not available here in Brazil. :(

change your region bro, download it and then switch it back!

Hill climb racing arrives for WP!!! ^.^

Sky Cups is Amazing game! Definitely new and fresh..

I want subway surfer
And I'm crying for it

I'm glad to see more steam on the games but we need MORE Xbox Live enabled games :( It better be on Minion Rush and Temple Run 2.

We need temple run 2,candy crush,subway sufrers to be released on windows phone......i m waiting for dat.....

But overall if we talk about skycup,it is addictive..nice

I and my wife we love this game :-)