Sky releases official NOW TV app for Windows 8.1 in time for the holidays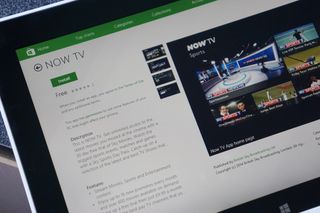 Sky has today announced the arrival of NOW TV on Windows 8.1 with an official app ready to go on the Windows Store, just in time for the holidays. Those who have Windows 8.1 installed on their tablet, laptop or PC will be able to enjoy their favorite entertainment on-demand. Content available through the service includes latest blockbuster movies, TV shows, as well as live action from Sky Sports channels.
NOW TV does require a subscription, starting from £6.99 a month. Three separate packages are available, one offering access to TV, another to movies and the third to live sports. There is no contract to sign, however, so feel free to try one package out and see how you go. It's worth noting that NOW TV is not yet available on Windows Phone.
Check the press release below for more details, as well as the NOW TV website (opens in new tab).
Online TV streaming service NOW TV is now available on PCs, laptops and tablet devices that run Windows 8.1, taking the total number of devices supported to 60.
The arrival of NOW TV on Windows 8.1 means customers have yet another way to enjoy the latest blockbuster movies, live action from all seven Sky Sports channels and must-see shows on 13 of the best pay TV channels from NOW TV. The app can be found in the Windows Store to download.
Gidon Katz, Director of NOW TV, said: "We're excited to launch on Windows 8.1, giving customers yet another platform to watch NOW TV this Christmas, whether that's watching the latest Christmas movies like Disney's Frozen, festive favourites like Elf and Home Alone, or starting a new Box Set such as the complete series of Mad Men."
NOW TV offers flexible ways of watching the latest movies, exclusive live sports and must see TV shows all without a contract at a great value price.
The NOW TV Entertainment Month Pass is £6.99 a month and provides instant access to must-see shows like Agatha Raisin and the Quiche of Death and Olive Kitteridge, and 13 of the best pay TV channels. Plus box sets including True Detective (series 1) which is available on 12 December, An Idiot Abroad (series 1-3) and Game of Thrones (series 1).
The Sky Movies Month Pass is available for £9.99 a month (after a 30 day free trial) offers and over 1,000 movies, from big Hollywood blockbusters to cult classics and top independent films. As well as unlimited access to the latest films such as Warner Bros © The LEGO© Movie, Disney's Muppets Most Wanted and Marvel's Captain America: The Winter Soldier all available this Christmas.
The Sky Sports Day Pass at £6.99 (24hrs) and Sky Sports Week Pass at £10.99 offer a flexible way to watch Sky Sports and keep up with the biggest matches and events live across all seven Sky Sports channels including the 2015 World Darts Championship.
Rich Edmonds is Senior Editor of PC hardware at Windows Central, covering everything related to PC components and NAS. He's been involved in technology for more than a decade and knows a thing or two about the magic inside a PC chassis. You can follow him over on Twitter at @RichEdmonds.
Windows Phone apps now, please!

They need to now concentrate on sky go for WP!

Im not so bothered about skygo, but I want the sky tv guide app, so I can record remotely. You cant even use the web based version on wp, as it doesn't let you zoom out, and the record button is just off the screen!

I would have been more excited to see a SkyGo or NowTV app for Windows Phone. There isn't really a problem with accessing NowTV on a PC - you can use a browser (only IE, I guess, due to Silverlight). Unless this app allows you extra functionality, like downloading to play later for slower connections, what's the point? So, go away Sky. Come back when you have some Windows Phone apps.

Exactly. Also needs an Xbox One app, and for it to output in full 1080p not 720p (Amazon and Netflix manage it, don't see why Uncle Rupert can't).

yep STILL NO FECKING SKY GO and getting the web based version to work is a bit of a pain. SKY really are the sh1ts

Great for surface 2 though..

What about Xbox One? I think that's more important than windows phone personally. But yeah I agree with you.

Why could they not make this a universal app?!? Gah!

Why could they not make this a universal app?!? Gah!

Couldn't have said it better myself!!!

Sky Go is needed on WP, NOW!

What's the point. Would have been better spending time getting this and sky go on windows phone.

Is SKY for real with their "Unsnap to browse and watch content" BS. What a crap app...I wanna frigging snap the app, you morons at SKY. I use NBCSN without issues and it's the first time I've seen an app that doesn't support snap. MS needs to restrict such apps from the store. F U SKY... <knowthat>My Rant is over, back to work guys</knowthat>

No Silverlight on Windows RT tablets (e.g. Surface) so app is a welcome addition, but should be launching same for Windows Phone and Sky Go for both.

Does it run on Windows RT?

Thanks, just downloaded :-)

This would be great if you could access it in Canada. Is it available outside the UK?

I thought that wpcentrall was al about windows phone and so now and then a sidetrack....but it's more and more just plain windows.....

Did you miss the renaming to WINDOWScentral?

is it THAT Sky that sued MS because of 'sky' on old SkyDrive name?

I was wondering the same thing. Oh the irony.

What sky need to do is get all their apps onto windows phone ie sky go, sky+, super 6

What a surprise sky put new customers (NOW TV) ahead of existing ones (SKY GO) and make their own lives harder by not building universal app. to think this company used to be a tech leader when original sky+ box came out!

One would have thought that Sky was going to call it's app SkyDrive Now, or something. ;-)

Does this mean I can now watch Sky F1 from the USA?

If the USA is in the UK, yes.

Yay!! Happy that I can now watch on my surface 2

I wouldn't use any service provided by Rupert Murdoch even if he paid me...

Bring on Amazon Instant Video!!!

But still no skygo app for xbox or windows phone. :-/

Total BS isn't it!! I'm fed up of giving money to sky, when they won't repay long standing customers with the decency to provide an Xbox one Go app.

Hmmm.. It must not work on Windows 10?

I would've been interested if it was a Sky *GO* app for Xbox one and windows phone!! Why should I have to pay more for now tv when I SHOULD be using sky go??!!! This is a deal breaker for me, and I'll certainly be leaving sky over this.

So as its a UK app it must be in time for Christmas then. Not "the holidays." Don't lose your identity, Rich... ;¬)
Windows Central Newsletter
Thank you for signing up to Windows Central. You will receive a verification email shortly.
There was a problem. Please refresh the page and try again.