Skype adds free group calling support for Windows 8.1 Modern app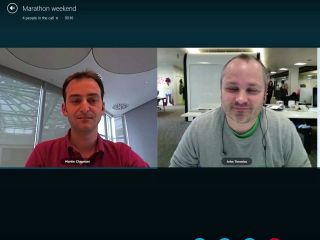 Microsoft has announced that the "Modern" Windows 8.1 Skype app now supports free group calling for the first time with its new 3.0 update.
Microsoft added free group chat to the Windows desktop version of Skype, along with the Mac and Xbox One ports, back in April. In today's announcement, Microsoft stated:
Sadly, there's no update from the development team on when the free group calling feature on Skype will make its way to the Windows Phone, iOS or Android platforms. In the meantime, the updated Windows 8.1 app is now available for download in the Windows Store (opens in new tab). What do you think of Microsoft adding group chat features to the Windows 8.1 version of Skype?
Source: Skype (opens in new tab)
Windows Central Newsletter
Get the best of Windows Central in your inbox, every day!
Better late than never I guess.

Hey at least iOS didn't get it first.

They'll get it before WP though. Count on it.

They just announced it.. they didnt push it out yet.. the other two platforms might get it sooner :)

Why don't they trying creating the Skype app as universal ..??

it says it's a universal app on my phone :/

Well..no file transfer on my phone

No reliability on phone either. Crashes 4/5 times I try opening the app.

Not even able to delete chats

He means an actual universal app, not a unified app. Icon in the store: Unified app
Same/shared code base using new MS tools: Universal app (contrary to an article posted here a while back which got this distinction wrong)

It's available in the Store. I didn't get an update for it but saw 3.0 in the store. Uninstall your version of Skype, close the store and Install Skype 3.0 from the Store.

Still skype is shitty for Windows Phone, these redmond nerds dont get it

Just add fycking time stamps to each and every message already, jeez! Even the new android app has it.

Get the tissue out because sound like you need it again. Ms can't win for losing with your guys. First it was, "why should Apple and Android get it first", now they don't give it to them first and it another complaint..... Let them work through the issues left behind by Bates.

meanwhile our skype wp version very sux

Cool. Anything to combat the usage of Vidyo software in the enterprise.

Hmm.... This may finally let me get rid of the desktop counterpart.

Don't. You will regret. It still lacks. You cant edit, rename contacts. You cant view Facebook chats via Metro app, screen sharing etc. being only a few I can think of.

I still don't think you can edit or delete previously sent messages. I use both all the time, usually metro version but then open desktop app for advanced functionality when needed.

What's the value of Skype Premium now then?

dont know dont care, premium skype was retarded anyway.

Hope this feature comes to WP before iOS and android

Hope they will release an update with screen share feature soon!

At least iOS or Android don't have it yet before Windows Phone...

I wonder if I'll live to see the long awaited skype update for windows phone.

I'm even concerned if our next generation will.

This time they ll make it first for wp

I see you are an optimist.

May be he's new to Windows phone

Ive been with lovely wp for two years. Im getting sick of this shit, is like if my dad gave better birthday presents to my neighbors than me.

I still can barely make a Skype call. I seriously do not knownif its my connection, phone, app, or my other sides connection, phone, or app.
I hate it, but I have to use it.

Try looking up on official Skype forums. I think the problem is not generic. Some people even suggest getting rid of Lync got their Skype working.

I couldn't make Skype calls either once I upgraded to Windows 8. The issue was Kaspersky anti virus. After I removed Kaspersky with the Kaspersky removal tool, Skype worked again.

At the same time, updates for News, Weather and (was it?) Travel.

Nice to have new features in the "modern" version. Any features. My big request is that they add screen sharing support in the "modern" version (already exists in the desktop version). If they would do that, my Surface RT would be used a lot more. Skype just keeps getting better. Faster Microsoft.

I wish its improved with 8.1 on Windows phone, sometimes it takes so long to load on my L720 and when switching between the apps.

Just in time!!! No seriously, I use group video calls on my Xbox One every week and I found out last night that Windows 8 Skype didnt support group video calls....so I searched for other alternatives, even signed up for another service this morning! Back to Skype we come!

Windows Phone 8.1 Skype update is a topic being ignored like plague.

It sure is...the app is so terrible, I lost my temper. Never before I had been so infuriated with an app in my life lol.

My loyalty towards a brand is being raped everytime I ask anyone to call me on Skype. Its plain embarrassing even talking about it.

Well only if my surface pro 3's microphone would work on Skype, that'd be great -.-

Since the windows phone app is a universal app, maybe just maybe we will see this on windows phone first. But I'm not holding my breath, as it is attrociously basic compared to the other platforms.


I hate the modern app in my windows 8.1 - I can't delete contacts

uhm yes you can. click the contact, swipe up to show the app bar(or right click), press delete.

Now we need for windowsphone

I bet you that iOS and Android get the updated Skype app before Windows Phone does, if it ever does. The WP version of Skype still can't even do attachments, a total joke for all the stated 'integration'.

Skype is really better now...it now syncs well with the windows 8 app.

About time this is well needed so no one have to use that stupid Google hangouts.

If at all MS wants windows phone to survive, all the wp8 app developers @ microsoft should be replaced with these awesome & windows phone crazy third party developers like Rudy Huyn, Anand Prakash (the Verge), Hidden Pineapples, timgabrhel (Divvy for YNAB), Ryken apps (MyTube)... etc

What a waste of an acquisition. Skype used to be so popular that it was synonymous with video calling, the same way Google = web search and Xerox = photocopying. MS has pretty much done a great job of killing it.

Telepathy! Was thinking about the Skype yesterday about what new can be improved.
Infact I was about to write the letter to Microsoft about this, but it turns out to be reality.
Want to add one thing.
On universal experience of Skype desktop version which is,integrated with facebook and twitter where we can see the live feeds in one glace and chat with Fb friends.
I would like to see Microsoft redesigning, this Skype app for windows and windows phone especially by removing what's new hub from me tile and add it in Skype where we on the phone can scroll the feeds from the accounts intgrated with and awide tiles to pin them on start screen and more innovativly allows to use it as a universal messanger app which is right now with fb and google chat which we have on outlook.com right now in future.

Your telepathy may never come true.....

Skype is the worst app on Windows phone. not the worst as the worst but it's actually the app that must have the best service and team of developers to push updates often when there's almost none of these.... Microsoft should be considering this pretty much as it's so important.. plus it burns the battery so bad! :(
such a pity..

I really really hope that the next Skype headline reads: Skype - now reliable on Windows Phone. To be continually crashing 4/5 times is unacceptable for what MS touted as a HUGE part of Windows Phone back when WP8 was announced. Why can't a company owned by MS figure a way to make an app that actually works for the WP platform? Why do we have to wait so long for something that was promised years ago. Why am I still on WP - Android and iOS get better support from MS... It's becoming more and more apparent that if we actually like MS (apps and mobile products) and were smart we would all be on Android or iOS...

did they fix the main problem with this app? it is a battery killer. I guess no. Although in a survival situation, just make a skype call to start a fire and call for help at the same time. The metal disc on the 1020 gets so hot when using skype I really think it will burn somebody someday.

I don't like when services (like Skype) segment based on device. If group calling is free, it should be free no matter what device you are using!!

Finally. Waited foe this for quite a while

This "feature" should have been available for "Free" day 1.

Skype on my Lumia 920 is a joke. Skype on my Surface 2 is way too quiet, despite volumes all turned up to 100% Skype on my Desktop is now contaminated with ads. Skype is also attached to NSA. I certainly will stop using Skype and use SIP Providers instead.