Skype offering free calls to France after violence in Paris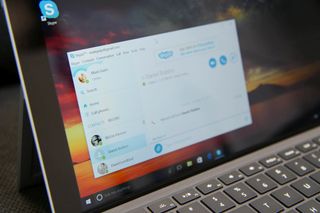 In addition to cellular carriers waiving fees for international calls, Skype has announced that it will be making calls to landlines and mobile phones in France free for a few days. This move follows attacks that took place in Paris on Friday night.
From Skype:
This offer is not extended to calls made to premium services or to non-French phone numbers inside France.
Source: Skype (opens in new tab)
Windows Central Newsletter
Get the best of Windows Central in in your inbox, every day!
But Americans think France is in Connecticut

No, we know its above Spain (which is beautiful). And no, we don't think Spain is in Mexico...

A great way to help those affected by this devastating event. Support for those affected is a good cause.

I wish peace for every one.

epic...now isis can call their agent for free in paris

You shouldn't be making making jokes on a tragic event Posted via the Windows Central App for Android

Isis is a terrorist group

children and women are engaged in terrorist activities

Why not ? First of all, I don't think it was a joke. Second, I'm french and think that if someone has a good joke to crack, they have every right to do so. It'd be bad taste to do it in front of a grieving mother whose son loved Eagles of death metal for instance, but for fuck's sake, let's not that shit change who we are. Finally, the joke's Microsofts "gesture". No infrastructure was hit, so there's no reason VOIP should be favored over an actual call. Actually, a call would be more reliable as it'd work with 2G network. If you have someone to call, you probably can spare the cost to check if the person's ok. If not, it might not be such a close relative. Microsoft is doing that as a publicity stunt.If they want to help, they can pay their taxes in here. Quite a bummer to see my VAT going to ireland when I pay office 365.

I gave the tip , but that's ok.

You should aim higher in life..

Good for them, a nice gesture on their part at a time of tragedy. The last sentence makes them sound just a little cheap though. Posted via the Windows Central App for Android

Did Skype offer free calls after the April university massacre in Kenya???? Posted via the Windows Central App for Android

Or the suicide bombs in Lebanon on Thursday or any other non-white dominated country where a terrorist attack took place. Such hypocrisy.

Why does it have to be in response to a terror attack? Skype was free to Nepal and they are a "non-white" country. Don't blame others for your racist views. Not everyone looks first at race.

Microsoft and Facebook do. Posted via the WC App for Galaxy S6

I don't find it to be hypocrisy, we are here for our people. As for that, i don't see arabian lands, hack i don't see any middle east and africa parts giving a shit for the terrorism in Europe, and i don't accuse them of hypocrisy. If civilized countries pay tribute to their people whom life were taken by fanatics are hypocrits? What can i say. This type of thinking is more hypocryte;). So, take a better look in the mirror and tell us. Who is hypocrite?

I love when big companies show that they can do things right! Just no one abuse the free minutes, it's free but not 300TB free.

Dude seriously, people died and you're being a low piece of shit.

You're being oversensitive.. He didn't say something that makes him look like a "low piece of shit"

No, trying to complain about losing a few GB and comparing it to a situation where so many people died is pretty low.

My fault. It was insensitive of me. My intent wasn't really to make fun of those who are affected by the horrible acts of terrorism. I was making light of another situation that at the time I didn't think would hurt people. I wasn't thinking. I apologize.

Thank you for being sorry about it. Saying sorry is a rare commitment you find on the internet nowadays.

Very genuine of you to apologise mate...all forgiven...:)

you are wonderful person to apologise... But I have no clue why it should be an insult. Why you say is true, someone may take advantage of someone else' situation. I don't think there is any need to apologise. But great of you

Now everyone wants violence and death to get free calls... wow. I don't know if this applied when my sister called her friend, but I guess I will find out when she gets her Skype credits.

Paris, the city of...terror.

Seriously??? This isn't something to be funny with Posted via the Windows Central App for Android

A really nice gesture. Kudos MS.

Makes me a proud owner of MS.....my condolences towards who died in terrorist attack

Wow. You're going that low for a joke?? You have no heart Posted via the Windows Central App for Android

Thank you Microsoft and Skype team :)

What about Lebanon? Or Iraq? They were attacked too.

They get attacked every week. Paris doesn't. Posted via my Motorola Startac.

Ok, so what about the russian airbus 321 exploded in egypt week ago? We don't have 300+ people including 20+ kids killed at once every week, but no one offered free calls to egypt or coloring fb avatars into russian flag. Actually, i don't specially sympatize to that people neither in paris nor in the airbus (if your government supports a war in a country, dont go for a vacation to that country and nearby, and stay far from refugees from that country), but don't tell it's about how often paris is prepared to attacks. You are like saying "ok, americans already got 9/11, they will be ok with everything else". No, this is about france being part of the "1st world" and others suffered being not.

You're an asshole Posted via the WC App for Galaxy S6

Why none wants to say that thousand and thousand by day is killed Christians in Syria because of France, America and other west countries

No one says it because we all see it for the nonsense that it is. OTOH, the leaders of those countries are largely doing nothing about it simply because they are Christians.

War... War never changes...

Going for the fallout reference's? Posted via the Windows Central App for Android only because the screen on my 1520 broke.

Microsoft yet again showing they truly care for mankind instead of just their investors...unlike some rotten fruits.

where are free calls to Syria?

Hello! Thank you for your article. I'd like to try to compare it to my previous experience of learning french lessons through Skype on online classes for free. I did around 10 conversations over Skype with a native speaker from http://preply.com/en/french-by-skype. And I was pretty satisfied with their Quality. I think they have a strong teaching quality,They teach in a way any kid will easily understood.Following their course curriculum now I can speak french like a native , but I Want to try another option.
Windows Central Newsletter
Thank you for signing up to Windows Central. You will receive a verification email shortly.
There was a problem. Please refresh the page and try again.