Skype Qik for Windows Phone updated with quick flick instant replies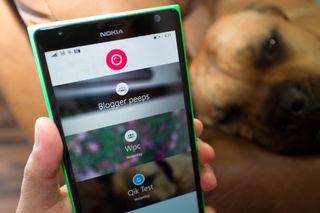 Skype Qik for Windows Phone has just received its first feature update. The new app from Skype launched on Windows Phone, Android and iOS one month ago as a fun new way to send quick videos to your friends. No more text messaging, just instantly send them videos. Today's update adds a new feature called Qik Flik.
Head into the Windows Phone Store and you'll see Skype Qik at version 1.2.1.158. Today's update doesn't include a changelog yet, but it won't take long for you to notice a new feature called Qik Flik.
Qik Flik allows you to have your replies ready to fire. All you need to do is record a bunch of five second Qik Flik videos. From there, you can drop them into any chat at any time.
Just tap the new smiley face next to the record button, and you'll be able to record and access all your Qik Fliks.
Try out the new feature and let us know what you think!
Thanks for the tip Travis!
Windows Central Newsletter
Get the best of Windows Central in in your inbox, every day!
Really love this app. Glad to see this new feature. Wish they'd fix the 'camera / restart' bug. It's still there after the update.

I get the same problem on my 928. Haven't used the app at all since I'm not gonna restart my phone everytime I want to use it :-\

@Sam Is that your dog in the picture? He/she doesn't seem impressed! ha ha :)

It should be Mark's (Guim) dog as far as I remember from the reviews and videos :D

That dog is the sample video in the app. It seems when I make a new conversation and invite people, that first video never makes it, just gets stuck on sending. Videos after that work.

Why in God's name would they release an update with such a glaring (and evidently known) bug? It makes no sense. I am seriously starting to think that Windows Phone doesn't have much of a future ... Mary Jo Foley and Paul Thurrott almost seemed to hint at this in the last epidode of Windows Weekly. It really is a nice OS, but if fundemental features are going to be treated in this manner, it really does make me a little worried about the future of the platform.

The app is broken on my 920, doesn't even send videos properly. Hopefully this update fix that too

Does this update maybe bring background upload/send?! So we can send a qik and go out of the app and expect that it will upload it and send?! Because the last version needed to be open to send the video...

MORE IMPORTANTLY - it fixes a bug that finally lets me send my first Qik video. There was a bug that if you had too many contacts, that it would just crash when trying to access them. That has been fixed! WOO HOO!!

Lol i have 1627 contacts, finally I got an explanation as to why it kept crashing on both my 920 and 930! Thanks for that, so it's working properly now? (still updating)

The app crashes all the time. Especially while selecting a contact to send to. Also the camera/restart bug is too frequent. Hope they fixed it now.

Would be to awesome to eventually have the ability to add vdeo clips from other sources as a Qik Flick.

Also, am I missing the option here or is there not a way to swap cameras (rear/front) while recording? They highlight that feature in the original demo video thing, but they showed it on an iphone and an android. I'd hate to think this was another case of WP getting the less-than-full experience on an app that MS technically owns!

Finally someone brings this up! I have to believe we just didn't get this feature, which is crazy! I can't pause or switch cameras, what gives!

I am so taping that smiley face :)

it's good to see many updates this weekend :)

It's a nice app, but too unreliable. I wish it would note when the videos were sent / received / and watched by any members of the group. So far I have about a 70% success rate that a sent video will actually be received by the recipient, and the only way I know is by talking to them outside of QIK. This is not acceptable.

New update and it still won't let me send a video, it's hard to get my friends using this if it doesn't even work for me

So this update basically brought the WP version on par with Android and iOS.

Not quite. We still can't switch cams while recording. :/

Haven't had any of the issues you guys are experiencing. I use the app with my sister all the time and she is running an Android device. Works fine between them, every time.
+Icon

Is this the feature that iOS and Android had from day 1?

Yep, and we still can't switch cameras while recording like iOS and Android.

I was looking forward to this!

This was already available on IOS on Android
Windows Central Newsletter
Thank you for signing up to Windows Central. You will receive a verification email shortly.
There was a problem. Please refresh the page and try again.