Skype releases Bollywood Mojis to bring fun and drama to your chats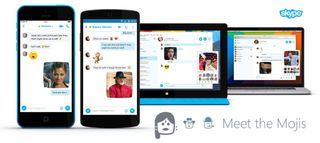 Skype has announced the availability of Bollywood specific Mojis, bringing more ways for Skype users to express themselves in Skype messages. Mojis are short clips from your favorite movies and TV shows that you can put directly into a Skype chat when words just aren't enough.
Bollywood, or the Hindi film industry, influences life and culture in India, and the new Bollywood Mojis aim to bring the drama, love, and dance of Bollywood to your Skype experience.
Skype has partnered with Indian studios Yash Raj Films and ErosNow, the on-demand entertainment platform of Eros International, to develop custom Mojis for Skype users. In addition to the existing worldwide Mojis content, users can now react to Skype messages with clips from their favorite Bollywood movies and actors.
Additionally, Skype has also created new emoticons highlighting some of the food, gestures, and daily expressions honoring the Indian culture Bollywood stems from.
Gurdeep Pall, Corporate Vice President – Skype, was in India to make the announcement and said,
Both Bollywood Mojis and emoticons are available worldwide in the features tab of the emoticon picker on Skype for Windows desktop, Mac, iOS, Android and Skype for Web. Unfortunately, the Mojis aren't rolled out for Windows Phone just as yet, as the team is working on getting the experience right for Windows 10 mobile. All the new features should be ready by the time Windows 10 mobile reaches consumers broadly.
Windows Central Newsletter
Get the best of Windows Central in your inbox, every day!
That's it I'm ditching Hangouts this is great

Like all other products from ms Windows phone last

Yeah I don't understand this, they say they are putting us first, but still most of their product see new features and better functions on other devices while we just hang on to our bug fixing updates. I have no idea if they are just waiting to finish up Windows 10 for mobile before really doing it, but so far it seems like even they don't like their own platform.

It's little bit sad... :-/

C'mon this is cheesy. What else will they stuck in there?

You know more options is a good thing right?

Yea when it's reasonable.

You don't have to have fun with everyone, you can just enjoy your dull Skype experience as you were.

Fun with Bollywood... Sure.. Get a life dude.

Umm why the hate ? If you don't like it don't use its just as simple as that Posted via the Windows Central App for Android

Of course everywhere but on windows

Wow! skyp will be popular in India.... I know some of the movie stars in southern India are worshiped like god!

Skype is actually going to be the default SMS app in W10M, only in a different form. So you bet it will be popular!

Exactly!! They putting new features in other devices so that it becomes popular until Windows 10 mobile installed broadly... So everyone with every devices enjoy skyping!!

South Indian movies are better than north...Bollywood=glamour only.

South Indian movies are better? Physics will commit suicide man.

Then y u remake most of south Indian movies and beg for southern directors.

True that!! Bollyhood thinks they are with par to international movies ..actually they are not south Indian especially kollyhood is making much more quality movies than others ..Bollyhood just glamour n entertainment simply wasting money.

Movie making is shit ..story line is great ..fast moving camera and one dick head fighting with thousands and cars suddenly start flying ..u cant call it movie making ...but their concept and stories are awesome .. Bollywood is already dead as they are just copying hit movies of south ...filmer makers hv stopped thinking ...they just copy south movie and out of three 1 is hit ..

I am not talking about the top heroes kollywood movies ..Nowadays there are bunch of short film directors turned into full length movie directors ..They are thinking out of the box just a single or two songs in the whole movie that too mostly background ones along the movie ..Hardly no fights or hero centric!! You got to watch those movies ..The ones Bollywood remakes are just commercial box office hits n are just fan centric movies!!

Nobody said that Mojis will be coming to Windows 10 Mobile (messaging app) but hopefully I will be wrong.

+old and trusty 920 Posted via the Windows Central App for Android

"..aim to bring drama, love, and dance.." how about fighting? Nothing beats Indian kung fu :))

I will fuck them. If they don't bring it to windows..phone.

Hehe, I thought the same :-P

Just as everyone else do, don't advertise WP.

The last update messed up my Skype experience on my Lumia 930 .. Now I have to restart the app to send and receive messages. Will try reinstalling

Anyone else has problems with these new animated emoji? Sometime there is no preview or they don't play when you click play, what's up with that?

On all platforms... EXCEPT YOUR OWN FREAKING MOBILE PLATFORM! WTF, MICROSOFT ?!

You mean when in windows phone ? Posted via the Windows Central App for Android

New emojis in skype have been so much fun!

Still no update to Skype on my windows phone 8.1 ...

Rather than unlocking all this fun, MS could direct a bit more love to the new W10 (M) platform. Just some questions in that regard: - From a roadmap point of view, as soon as W10 Mobile is on the market (which is reportedly pretty soon with 950 / 950 XL), a Skype app should be available, and a decent one too. Wouldn't it be logical to have a working dev preview of such an integrated and important app pretty soon now? I'm afraid the actual app isn't able to show these Mojis.....
- Developers at Skype are obviously directing consistent manpower to iOS and Android App improvement, as seen per the last updates. Since Skype is MS, they arbitrarily did not direct at least some more dev power to get things finally done for their OWN platform. Why?
- How committed is MS with W10? 100 Million users have updated? And a consistent chunk of them, if they previously had the W8.1 modern UI app istalled, have seen that they awkwardly did not get the same app, but had to download a "button" which downloaded the x86 Skype program. I mean, how does MS think about those millions? That they are dumb and do not get what is goin on??
How long before the W10 launch did MS know they would need a new Skype App? Doesn't one year suffice to develop that App?? Want to create more Mojis instead of using the Manpower to please loyal WP 7 / 7.5 / 8 / 8.1 and soon W10 Mobile customers?? https://twitter.com/Mkeallison/status/659800687136624640/photo/1?ref_src=twsrc%5Etfw

Just on another, more general note: I have the impression that the Windows Central Team seem to avoid "negative" messages from the Microsoft world. I do not see any criticism towards the actual status of W10 Mobile, and how MS does negate preferential (and not even offer equal) treatment to their hardware (Lumia) customers, as they do with other platforms. Where could I place this criticism without hijacking?

Same here bro... We can understand that Microsoft is software company.. For them the user base of software & services matters the most .. But they should realize that responsibly of the windows mobile likes which them.. They are answerable to all those using Windows Phone... Windows phone users .. Aren't experimental rats.. On which Microsoft keeps trying different strategies . .. Nothing is more cruel than sabotaging your own supporters

I cant see my contacts online on Skype mobile,even though I have one online in front of me,I cant call,I cant chat.Is Skype totally broken on windows phone?

"Getting the experience right"....right.

Any clue when existing windows phones like Lumia 930 will get windows 10 update?

How about a halfway decent universal app for windows??

Switching from one chat to another in Lumia 822 is dream ..it takes ages ..before message load and I can reply ..other person goes offline..

O people,,the two chiefs for two tech giants google and Microsoft are Indian,,so it's normal to bring Indian things into ur eyes whether u like it or not..that's the nature of Indian..!!

Coming soon™ for Windows (mobile) Phone...