Skype UWP Preview version 11.6.72 for Windows 10 Mobile leaks out [Updated]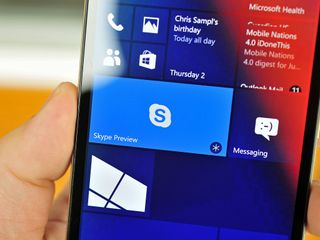 Keeping you in the loop regarding all things Windows 10 Mobile, a newer version of the recently leaked Skype UWP Preview for Windows 10 Mobile has leaked onto XDA courtesy of a user called "snicker", with today's leak bumping the version number up to 11.6.56.
Update: Now even a newer version has been posted: 11.6.72, which is now live and available in the same thread. Once again, no new features outside of a few cosmetic changes, performance improvements, etc. but it should deliver a more rewarding experience.
This new version is much better in terms of design, with dark mode actually looking pretty good now. There are still a few oddities with how some UI elements look, however, but that's to be expected with internal app leaks. The hamburger now has a nice slide-in animation, and the app overall feels much more stable.
Since this is a leaked app, installing it isn't as easy as downloading via the Windows Store. Not to worry, we've already written up a guide on how to install these leaked .appx files, so make sure you check that out if you're interested in grabbing this latest leak!
Windows Central Newsletter
Get the best of Windows Central in your inbox, every day!
Zac Bowden is a Senior Editor at Windows Central. Bringing you exclusive coverage into the world of Windows on PCs, tablets, phones, and more. Also an avid collector of rare Microsoft prototype devices! Keep in touch on Twitter: @zacbowden.
Welcome to Windows Central @ZacB_ Posted via Microsoft Halo Phone

I hoped they would have added the app with the 14364 build, but sadly,no.

Amigo ... ¡¡La 14364, no es acumulativa ... ¡¡Sino es estoy mal, la 10586.420, sí lo es...¡¡¡

Off topic bt Subway lovers will happy
I mailed to Kiloo Games about Subway Surfers & they replied that "The next update is currently in test & we expect it to be out soon"

Are they bringing support for pc?

They didn't mentioned about PC version, they just replied in one line as above. Posted from Nokia Lumia 730 Dual SIM
Windows 10 Mobile
10.0.10586.420

Ok.. But Game is still laggy on 1gb ram devices! Each time they just changes themes and do nothing! I've mailed them many times but game performance is very poor!

I just mailed them about PC version too, & don't loose hope, we may see a improvement in performance, because they took so much time to develop it. ;) Posted from Nokia Lumia 730 Dual SIM
Windows 10 Mobile
10.0.10586.420

Dude, when you said Subway lovers would be happy, I thought you meant we had a new app that would let us get a free Subway Sandwich. LOL

You still mail them about UWP app, who knows they may give a free or discounted sandwich as a app launch offer ;)
Btw we should "disturb" to every company's support team by asking for UWP app. This may bring some app flows to W10. Posted from Nokia Lumia 730 Dual SIM
Windows 10 Mobile
10.0.10586.420

So I can download again subway surfers?
I delete the app when I had joined the insider program and from then I can't download it again.
Lumia 640 xl DS 10.0.14364.0 I need Turok at Xbox one.Plz.
Posted from a T-Rex.

Yes u can download it again !! U at least played it on W10M insider build, but I didn't played it once after officially upgraded to W10M since march. Posted from Nokia Lumia 730 Dual SIM
Windows 10 Mobile
10.0.10586.420

Is it just me or does subway surfers not work on Win10Mobile? I've been waiting for it! Posted from Windows Central App
Windows 10/Mobile, L830

It is not you it doesn't work for anyone even it is not available in store for Windows 10 Mobile & one more news is that they replied me that, there is no plan of PC version of Subway Surfers for now.
Now I asked them about, other game's availability & XBOX Integration for Subway Surfers. B)

Thanks for the update! I'll mail them too, hoping to persuade them to speed up bringing the game to Win10Mobile :) Posted from Windows Central App
Windows 10/Mobile, L830

finally Subway Subway Surfers is coming to Windows 10 Mobile on tomorrow, I got the reply from them for the same today.

nice ui but a little confusing

Wish it works & have features better than whatsapp

Only thing i hate is we can't delete those conversation forever. Hope they'll change it.

i know how frustrating it is. But here is the trick, do it in skype web. It is the cloud, sort of, which keeps pushing the messages back to your device. So cut it at the source. All the best

This does feel snappier, I noticed that the messages from the person I'm chatting to don't have the speech bubble around them in this version so they are just floating, I think this is probably just a mistake in the early leaked version. Coming together really well. It does support SMS and calling phones from the app too using Skype Credit (And did in the previous version) the only gotcha is you need to send a message or call the landline from the desktop version of the app to make the number appear in your recent conversations. I sent myself an SMS (using Skype credit NOT integrated into the phone) on desktop to try, then I could send more SMS and call my mobile from this preview app. Great to see that is supported, they just need to add in the keypad page etc. so you can type the number. This is important for those with Skype minutes who might want to use them to call worldwide, also one of the few Skype specific features that I think they should keep.

I don't think they will add keypad into the app. I think you will be able to select app to call from in regular "Phone" app.

I think it's a good idea to have that option, but the Skype app should definitely be full featured and work stand alone as well like on other platforms inc. WP 8.1 - Overall loving what they are doing, SMS and Calls using Skype credit are some of the unique things they have over other messengers, but maybe they aren't as popular these days, if so then adding them in the app directly could be considered cluttering it I suppose

I​ haven't though that it's UWP app and therefore needs SMS and calling support using Skype credits directly in the app as it'll also run on PC where Phone app should be gone. So essentially you are right :)

None of the new UWP apps integrate into the OS anymore. How would Skype change that. If all they would replace the phone's dialer and make it the Skype dialer.. So it would default using skype credit and you can select to use the on-board Radio

Microsoft owns the OS. They can make API for anything they want. If they need ability for other apps to plug into Phone's app dialer they can do it.

Implying you would have seen any improvement on Skype side we could thank to Microsoft owning it. Also they have API to integrate Messengers and People hubs.. no... noone cares about those anymore.. not even facebook.

Hope i can add a contacts with this update. Installing now

Plz can you mail me this app? I'm not getting it from link..!

If you can wait i can send you. Im at work now

Struggling to download here...

So now we have regular leak updates instead of actual updates. LOL.

Well that way they can alpha test it. Probably not much worse than the first previous Skype version but now noone complains about how unfinished Skype products are

A lot of MS employees are gonna get fired at this rate!

You can also install on PC. It is newer version than the current one.

Guys I have a problem had to unlink my email from skype. I had these contacts on People contacts that I couldn't delete. How can I continue to use skype but don't have skype contacts showing on my People contact?

Is this safe to install? How do we know that the leaker hadn't changed the code to do something malicious (stealling passwords for example)?

Right click on the package, go to Properties, click on Digital Signatures. It is safe to install. ALSO, changing something on a .NET Native compiled package without blowing it up is close to impossible :P

Yes, you are right. The signature is ok. I didn't know it was .NET Native and compiled anyway.
I installed it on my 640, and it works much better that Skype on my 950XL. Thanks for the leak! You are the leaker, if I am not wrong.

11.6.56??? *****, please... http://www.windowsblogitalia.com/2016/06/skype-uwp-11-6-63-0/

.72 is working great, thanks! Sent from my Lumia 950 XL

Good news good news, hope it will be bugless and useful onse Redstone is officially launched

I hope they have a Skype for Business UWP.

Me too, not heard anything about it so far but I do use it in work and having better performance + inline replies would be fantastic. I rely on it a lot when working remotely

Damn, they constantly ruin landscape mode:
build 26 - landscape as in messaging with contact on left side (make it slightly narrow and it will be perfect)
build 36 - chat in landscape takes full width, no contacts
build 56 - no landscape at all. I hate when they removed Skype from messaging and I had to type only in portrait in old skype, and now again. Should I use Feedback option before release?

In .72 landscape mode seems fine, UI wise is very nice with the Hamburger menu icons on the left.

Thanks for comment, I haven't seen that article was updated after comment. Will try at home Checked .56 after few phone reboots, an I see same as you described, but still not so useful as list of chats like in messaging. Column of avatars(like in online skype integrated in Outlook/Onedrive) will be much better than now

I guess we stil canot get the old Skype app back.

Hmm, why would you want that? It's absolutely terrible, for instance if I receive an IM and I click on the IM in the toast or action center. I have to wait a few minutes before that message loads... sometimes the person who sent that message thinks I'm ignoring them lol. This just one short coming of the Old skype app...

I know. It was not perfect but I would at least like the option to rollback, if I wanted.

You have an actual dial pad in the old version, that is a reason to want to if you use skype to call non skype contacts.

Does this app replace the Win 8 app when installed? I had tried to install the first leaked version and it replaced the existing skype app. After that I couldn't download the original skype app from the store.

That is correct. It will replace the old Windows 8 Skype app, and, so far, you don't seem to be able to go back without a factory reset.

Wish they would publish it on the store.

It has to be soon, surely.

Thank's much :-) maybe transparent tile soon?

looks nice though, can't wait for the final polished app .

I don't understand why Android version it has more features (like file share) than on Microsoft's own OS.

This app isn't even officially in Preview yet, this is a leaked preview of an in-development app. I'm sure they haven't forgotten this they are just working on the app over time.

What is wrong with official instagram app. It is showing that my phone doesnt meet hardware it requires. I am using lumia 640xl on windows 10 . Can anyone please help me?

Few people on Twitter have mentioned this, I think there are people looking into it. Can you re-download from the Library page in the store at all?

why they dont use w10 iconography its over my head....-_-. i get that they use the icons in circles as a skype design language. but those icons from withing the circles could be wireframe just like windows 10 design language.

But it still looks beautiful anyways. I believe we should give some 'freedom' to developers to design in their own style - this looks good on WM10 even if it's not 'strictly' the same design language

Can anybody set this Preview to appear on their lock screen? Sure I had it showing on there at one point but it's not in the list anymore.

Just installed .72 build. Nice visual improvements but it seems my conversations get scrolled to top every time I open them. Swiping down to newest message takes ages. Anyone else experiencing this?

I have this. It's really frustrating. :(

Wish Microsoft to release a Windows10 rom for OP3 ;)
My dream phone in the making!

I keep getting the old file 11.6.26 to download. How can I get the latest one Posted via the Windows Central App for Android

Go to the thread listed and click on the link for 11.6.72 and then download it...

Can this make video calls yet? I seem to remember the first leak not being able to.

Does this benefit anyone who doesn't use skype credits lol... I ask because I know skype is supposed to basically be the default messaging app eventually. Or is this app useless for someone who only uses traditional texting

Is there any indication that Microsoft will implement a message read receipt/indicator in any of their messaging apps (SMS app, Skype, etc.)?

I cant find skype uwp on my pc. I am insider and just had to re download the insider build. Now i dont have skype uwp where to get?