SkypeCentral may be the new name of Skype for Business [Update: It's not]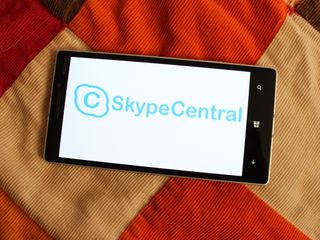 Update: We have heard back from Tony Eversole in regards to the post, and it seems as though things were misunderstood.
There you have it, folks. Skype for Business is still the name.
Original: According to a post that was discovered, it appears as though Skype for Business may be changing its name to SkypeCentral. The post, which was found on Microsoft's TechNet Blogs, was made by Tony Eversole, and it is listed as a "placeholder entry for Skype Central Universal Windows 10 App." The full post reads:
The only other post made by Eversole reads "Test of live tile update," which was posted just a few hours after the post above. In addition to the text, Eversole has uploaded some new images which show off a potential logo change along with the branding change.
Source: TechNet (opens in new tab); Via: WinSuperSite
Jared started off writing about mobile phones back when BlackBerry ruled the market, and Windows Mobile was kinda cool. Now, with a family, mortgage and other responsibilities he has no choice but to look for the best deals, and he's here to share them with you.
Oh poor MobileMations.
Why didn't you trademark "Central"?!

That's...odd. I could see that as the brand name for the management software for Skype for business. Admins and whatnot. But if Skype for Business is rebranded to this, that is odd to me.

I agree. Since they just rebranded Lync less than 6 months ago. It seems more likely that this is a name for cross communications between Skype and Skype for business or a management console.

Skype for Business is a stupid name. So is Skype Central. You know what was a good name and a good service for businesses? Lync. Why they ditched that name and branding is beyond my comprehension.

I agree. Though I do understand why they did. One brand for a full unified communications platform. Again though, I did like the Lync brand.

The Lync branding was good in my eyes too but we still get users submitting tickets about"why does this Lync thing keep popping up when startup my computer?" Their brand recognition for Lync was no good. Skype for Business does make more sense, even though I'm not the biggest fan of it either.

Yep, we are in transition from Lync to skype now too. The Skype brand allows users to know what the software does by name. For some reason my machine is still Lync though. Super big company, it takes time to roll to everyone, I guess....

Well, that is a frightening anecdote. I can't believe that 1. none of these confused workers are intelligent enough to open up IE and Bing "Lync" to find out what Lync is, but, more , 2. it marks a huge failure for a company if they didn't take the 1.3 seconds necessary to inform their workers about what Lync is.

Windows central should sue MS..

Put a hole in the plate that fed you?

@Malcolm Rodrigues:
Never bite the hand that slaps you...

lync was still a better name

Funny how they didn't even complete the rebranding to Skype for Business and now they change it again. Or is the central a hint to a unifyed app for Skype and Skype for Business?

first make the skype work better on WP then we can think about naming.

They've already stated they're working on a first class Skype experience with Windows 10 Mobile.

they talk the talk but do they walk the walk?lets wait and see..hope they will be best on w10m

@Nicholas Maguire:
Oh come on! You cannot be serious!
Skype tells us for many years now that they prepare a 1st class experience fo Windows, but in fact treat Microsoft's own OS like an afterthought...

Didn't they only just rebrand from Lync to Skype for Business? This is way too soon for another name change.

Why the F do you need to rename it for the 3rd time? Keep it like it is, its fine for business

@Martinspire:
Exactly. Stop the branding mumbo-jumbo and get back to Business.

Thought it was a new website for you guys

Doubtful you're looking at any renaming here... Instead, I believe this is more likely an app to access an informational site ABOUT Skype for Business. PFE is an acronym for Microsoft's Premier Field Engineering team - they often build blogs and collateral to inform about engineering details of products.

Was just thinking the same thing. Then, even in the article, this seems to be more the case. Sounds like a central blog for all things Skype.

I don't see this pointing to renaming Skype for Business to Skype Central at all? Sounds like an application for monitoring this shared blog (kind of like Office 365 Admin app). This post should be updated. :( Scott

Finally, someone who has actually read the mentioned post and haven't just given in to WC's stupid sensation hunt. I salute you, sir.

just ignore it guys.. They will keep changing it every year.

What's with Microsoft and naming apps anyway!?!?!?
Groove music?!
Skypecentral?!!?
Msn app-->Bing app-->Msn App-->Etc
Nokia camera-->lumia camera--->microsoft camera -->microsoft Nokia lumia camera beta :P
The beta thing is something else too :D

Microsoft Camera is Windows Camera now.

Please don't rename it again!

Windows Central may be yhe next name of Windows Enterpise :D

They should've kept it as Lync. Skype for Business is a goofy name.

Looks like Microsoft has formed a new division in their business model: RRD (Renaming Rebranding Division). People working in there have one full time job, Rebranding and Renaming everything. LOL.

"SkypeCentral may be the new name of Skype for Business". Yeah, and it "may be" a great many other things. I think its a bit of leap to take from that post alone that Skype for Business is renaming again. It's only just renamed from Lync. That Skype Central Universal Windows 10 App could be any number of things. Also the same blog post even says that this app is to have "release information, and anything to do with Skype for Business". My guess is that Skype Central is the name of their new Skype blog, and the "Skype Central Universal Windows 10 App" is just an app for accessing that blog.

Lets have a Lync meeting. Fine. Lets have a Skype for Business meeting. What?? Lets have a SkypeCentral meeting. What??? Why does Nadella has the urge to destroy everything good in Microsoft.

I used think IBM was bad in terms of how the chronically renamed their products, but Microsoft is clearly giving them a run for their money here.

Skype for Business is a perfect example. Product name with no less than 3 words. And confusing as hell in normal use what is part of the product name and what is not. Patently Nandela.

and maybe you like WC and Neowin and winbeta are jumping on conclusions early over a blog post that was nothing but a placeholder, it was obvious... but it seems some people wanted click bait news. Maybe with this you will learn the lesson about how you should wait for an official word from Microsoft and stop pretending you know everything and "Microsoft is clearly" blabla when it's not the case. they just went from Lync to Skype for Business (just like how they made onedrive for business, because it's used for companies not individuals). think about it...why would they rename it again?

Jump to conclusions much? Because they created a blog for Premier Field Engineers called Skype Central, you think they are going to change branding for Skype for Business? They just went through a branding change to change Lync over to Skype for Business and to also be consistent with OneDrive and OneDrive for Business. Why on earth would they change the name of the Business line to Skype Central? It does make for a good name for a blog though...haha.

Sorry to disappoint (or maybe calm) but the post entry on TechNet was a placeholder for a Universal App I am developing. There is no name change for Skype for Business, it is a placeholder name for the app and a new blog/rss feed that will be fed to the app. This has no relation to the Skype for Business product and is not tied directly to the Skype Product Group. I a glad you like the name though, me too!

I think it was obvious from the content of the placeholder post. You guys should learn not to prematurely ejacupost and be overly excited.

I'm like windows phone plees I'm like Urdu keyboard pilers

There you have it. Can't always jump to conclusions folks.

If Skype is a noun and a verb, what is the verb form of Skype for Business? I used to be able to Lync and Skype. Now I have to use some really strange phrases, like: Skype Colleagues with Regular Skype and Skype for Business Colleagues with a Message and Skype Central Colleagues the documents. "Hey when you are out of your meeting Skype for Business me.Don't use my personal Skype." I want my old Skype and Lync verbs back. Posted via the Windows Central App for Android

Instead of Skype for Bussiness or Skype Central they should use a catchy single-word phrase. How about Lync?

Lync, I like that name! Posted via the Windows Central App for Android
Windows Central Newsletter
Thank you for signing up to Windows Central. You will receive a verification email shortly.
There was a problem. Please refresh the page and try again.