Slack beta app for Windows Phone gets updated [Update with release notes]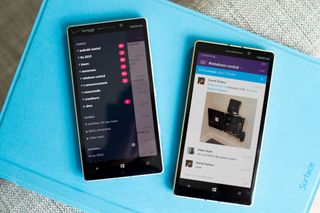 Slack is offering Windows Phone beta users a new update to the company's business-themed messaging app.
The new version number for the app is 2016.226.0.0. Here's is what's included, according to the release notes:
WHAT'S NEW
The engine at the heart of the Windows Phone App is ready for its first public roar. Like most engines it might not look like much, but every nozzle has been buffered and every piston twinkled within an inch of its… fine we don't know anything about engines. But the app has had performance enhancements, an overhaul and a lot of hard work.
WHAT'S FIXED
Fixed: In rare cases users would get endless loop while loading. We improved our loading you shouldn't get stuck anymore.
Fixed: Some notifications didn't lead to the message they were notifying you about. Honestly: They had ONE job. They now perform it.
Fixed: Text predictions for comments on uploads now work as expected.
Fixed: The nagivation has been tweaked so we remember where you came from, and where you want to go.
Fixed: Anyone carrying out a tricky combo of actions risked seeing an old error message when signing in after trying to with invalid details. Folks in this unfortunate quandary at least deserved a shiny new error message (but we fixed it instead).
Fixed: Sometimes, in an unfortunate case of The Mornings, the app would show an error message when waking from a dormant state. No more.
Fixed: A thorough flushing of the pipes means you should see fewer error messages overall.
And multiple performance enhancements mean we've cut down on the amount of time you should spend staring at infinitely spinning spinners. Because nobody likes infinitely spinning spinners. Or even ones that you suspect might be infinite if you had the patience to find out.
KNOWN ISSUES
WM10 most likely still have notification issues where they sometimes don't trigger a change of channel.
Download Slack beta for Windows Phone
it is great how they abandoned WP for long time, and then offer an app + updates There's hope always!

They never left the WP app unupdated for long.

actually, WC team had to carry lagdroid/IOS to use this service :|

Which are 100000 times better than CRAPDOWS PHONE :-)

And that's why you're being a troll on a windows site.. Go to android central you will get much needed love there

Unfortunately, there is no Android Central in this crapdows phone so I cannot download it, maybe it can come by Project Astoria.. Oh.. Wait.. LOL. It died yesterday.. I wish I could install Android central..

It's called Lawn Mower or something like that or it was Grass bot, ah yeah greenbot

Somebody please ban this guy. He's trying hard to become a troll and he deserves the award for trolling now.

When you guys can troll iOS and Android then why you can't tolerate Windows troll?

He trolled Windows here on WC, I believe he can troll windows on his site :|

Then WTF are you waiting for, buy a crapdroid

I will soon. Just let these exams get over.

You have exams and you've no other work except to troll on WC ;)

Nope :P because I'll fail anyway. :P

Lol. You might be trolling but it's a level 2 trolling. It's not bad. But study hard so you don't fail your exams so you can get a great job and buy the best flagship out there so you don't have to experience lagdroid any longer than you have too ;). Posted via the Windows Central App for Android

Because this is a windows based site?
Are you, like short of common sense or something?

I don't troll Windows, I troll the Phone OS.

Yup it's called windows 10 Sure, it's maturation still going forward but to call it Crapdows,lol Posted via the Windows Central App for Android

Nope. It's not the same thing.

Can't wait for the witty change log. Hopefully they have added faster background message updates

Well, they certainly seem faster.

People app hot updated as well, and I hope it's my imagination but the pictures seem smaller Posted from Windows Central for Windows 10

Those release notes make it seem like they're trying too hard to be funny

For me they are indeed funny. So they succeeded for some people (or at least 1 person).

At least they made an effort

Hey slack, I love you and I'd volunteer to port this app to UWP

My favorite part of the changelog is the sarcasm. Is that a bad thing? No. Definitely not. Windows Central Universal Application for Windows 10; Nokia Lumia 830; Microsoft Lumia 640

Yeah, I like the sarcasm too. It shows that no one takes WP seriously.

Lol they don't take it seriously? They updated the app and described the fixes in length...what kinda dev develops an app to troll the OS?

You, sir, clearly do not understand sarcasm. You're also evidently a pessimist.

New build is great but it broke the Jump to last Unread feature for me. :(

Support for Continuum yet?

Love the update notes. Always funny to read. Posted from Windows Central for Windows 10

I always love their changelogs....and their apps too!

Great App, equally great ChangeLogs. Wunderlist used to do similiar ones, well, until Microsoft got hold of them.

The guys and gals at slack are hardly slacking off with the updates :P.
Windows Central Newsletter
Thank you for signing up to Windows Central. You will receive a verification email shortly.
There was a problem. Please refresh the page and try again.