Slack for PC update includes reloading improvements and much more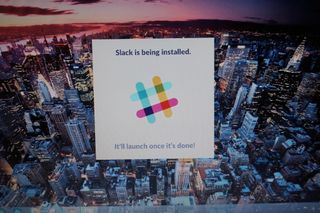 The most recent update for the Slack business-themed messaging service on Windows includes some app reloading improvements along with some notification changes on Windows 10
Here's what's new and what's been fixed in Slack 2.2.1, also known as "Tempest, Teamwork, Triumph [At Sea]"
What's New
Rather than reloading the whole app, View > Reload now reloads just your current team. We're pretty sure that's what you meant.
What is that beacon of pure white light? Oh! It's the Windows 10 Action Center, with the rubbish–err, notifications–taken out. Whenever you switch channels, we'll dismiss notifications in that channel from the Action Center.
Use Help > Report Issue to send feedback or file a bug. It attaches your log files automatically, because who has the time for attachments?
So, you want to memorize every hotkey? Of course. Consult our ever-expanding cheatsheet, now available from Help > Keyboard Shortcuts.
Fixed
Blank white apps as a result of network troubles should be a rare circumstance. It was rare before, but now it's like, extinct. Or endangered. One of those.
Launching the app from the Windows command prompt should work more reliably. Before it was, well... we don't want to talk about it.
On Linux, you can now use Ctrl-W to close the app window without quitting (quit–why would you ever do that?)
Because we missed it earlier, we will also post the change log for Slack's previous PC app update, 2.1.1, also known as "Champagne Supernova":
What's New
We've rebuilt the ability to spell-check from the ground up. This edition is steadfast in its red-lining, is flexible if you happen to switch languages apropos of nothing, and should keep you from typing pure nonsense. O frabjous day.
Fixed
A pesky focus issue that had some customers typing their email or password into the message input if they had tabbed away from the app during sign in has been, thankfully, remedied.
If you were signed into multiple teams, we were doing one additional redirect for some of them. This expenditure, though small, was unnecessary and so we whittled it away.
We now move fewer things around during installation, causing antivirus programs to panic erroneously a bit less frequently.
A crash on startup that would happen if someone dropped a folder into the app's log directory. Why would a person do such a thing? We're not sure, but we are humbled by their bravado.
On Linux, licenses weren't loading in the new About Slack dialog. Voilà! They're back.
There was also a bug fix for the "Champagne Supernova" update that was released later (version 2.1.2) that resolved an issue with the new spellchecker that was causing fragments of the messages it checked to be logged on the user's local PC. The bug fixes has wiped those logs.
Windows Central Newsletter
Get the best of Windows Central in your inbox, every day!
Haha, like their style =)

What time is it where you are, John? Late post on West Coast. DaWheels0nDaBus

Is Slack sustainable? Hundreds of millions spent and wealthy suitors are not too keen to save it.

Great update, BUT slack for W10M is still beta and it's been forever since it was updated.