Slack for Windows desktop update brings the classic icon back on Windows 7 and 8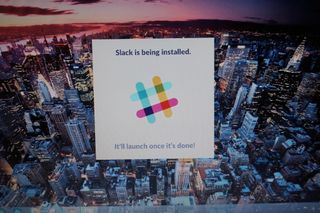 The Slack business messaging service may have started their beta for Windows Phone, but the Windows desktop version is getting some love as well. The company recently update that version to 1.2.1 with a few small changes, including one that might please Windows 7 and 8 users.
Here's the change log for version 1.2.1, which gets the label " Straight West":
The classic icon is making a comeback for users on Windows 7 and 8 (so that, you know, you can see it). The white icon remains, contentedly, for those on Windows 10. (Pssst, if it's stuck, try re-pinning it!)
After each app update, tray icon settings would be forgotten. We have now written them on the back of the app's hand with magic marker and all should be well, cross fingers.
Windows App preferences now apply to all of your signed in teams, and changing one of them will change the others. Hopefully this makes all of our lives a little simpler.
Fixed: We've made it more difficult to open more than one instance of the Slack app at a time. Research suggests that having multiple Slacks open does not improve productivity.
Fixed: It was a long time coming: civilizations rose and fell; continents drifted; children grew up, grew beards, grew old and returned to dust; eons passed, but finally — finally — the icon in Add / Remove Programs has been updated to match our installer.
If you are already using the Windows desktop app just hit Help > Check for Updates…> Update Now to get version 1.2.1.
Source: Slack
Get the Windows Central Newsletter
All the latest news, reviews, and guides for Windows and Xbox diehards.