SmartThings plans monthly updates for Windows Phone app going forward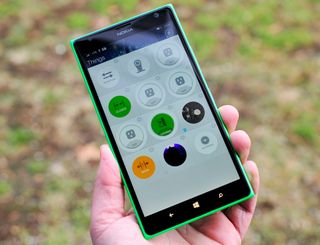 SmartThings has taken to a blog post to talk about its plans for its Windows Phone app going forward, noting that it expects to stick to a schedule of more consistent minor updates rather than the occasional big, sweeping overhaul. Specifically, SmartThings has committed to new releases roughly once per month. From SmartThings:
This should be great news for anyone who happens to use a Windows Phone and any SmartThings connected home products. As for when you can expect the first of those monthly updates, SmartThings says it expects to release one "in the coming days" that will bring the ability to group your connected devices by room.
Do you use SmartThings devices at home? Let us know what kinds of features you'd like to see in future updates!
Windows Central Newsletter
Get the best of Windows Central in in your inbox, every day!
Dan Thorp-Lancaster is the former Editor-in-Chief of Windows Central. He began working with Windows Central, Android Central, and iMore as a news writer in 2014 and is obsessed with tech of all sorts. You can follow Dan on Twitter @DthorpL and Instagram @heyitsdtl.
I'm going to be looking at their stuff. I hope they have a thermostat and a front door lock.

Same here. I am even more interested in SmartThings since they are going to support Windows 10 Mobile. I was afraid the next thing I heard would be about them discontinuing their app. Since they plan to continue support, I think I will be selecting them as I have been doing a bit of research. For my needs, they will fit quite nicely into my plan.

The best thing about this article is that beautiful **** green Lumia 15 damn 20!
......
Gonna listen to "Glory Days" by Bruce Springsteen on my way home.. Lol.

They don't have to. Any Z-Wave service can be supported and some ZigBee. Even WiFi devices. If the manufacturer didn't make the interface code you either have to find the code someone else wrote or create the code. I even was able to add my Liftmaster garage door open which doesn't have a Windows Phone app by adding another person's code to SmartThings. Now my originally unsupported device works directly integrated into SmartThings.

The good thing about Smartthings is you dont have to buy "smartthings" branded stuff to work with it. And it is community powered as well, so if there is a smart device out there, you can just about guarantee someone in the community has written a device link for it. for instance, nest isnt supported by smartthings, however people have written device types to the nest api, so i have full automated control over my nest. It sets to away when i leave the house, and the better part, when i leave work it sets to home so it will warm/cool the house before i get there. I use similar community device types for my garage door.

The fact that the WP app has been absolutely broken for 4 months now doesn't make this all that reassuring. Like, you literally have to hit the back button 3 or 4 times to try and go to the previous screen. And so a once a month release pattern is supposed to make up for that? If you want to use SmartThings, have a backup Android/iOS phone sitting around for the configuration parts of it. Plus, the platform as a whole is completely unstable. Don't expect anything time (or sunset or sunrise) related to work reliably. I started using SmartThings with v1 of their Hub, and since upgraded to a v2 Hub (maybe for a combined two years now?), and there have been more days it's been broken than days it's worked. But when it works, it feels like absolute magic.

The update was pushed out today and fixes both the multiple back button presses problem as well as the Device ID issue they were experiencing. Overall, the update appears to do exactly what they said - fix bugs, improve performance, and add the Rooms feature.

I have been using it for a few months now. For simple smoke detector monitoring, motion detector and light controls its working great. The app isn't fantastic, but refreshingly its no worse than their iOS app. Looking forward to more updates. Also for anyone using SmartThings the SmartTiles web interface is fantastic. And completely cross device and platform since it runs in a browser: http://www.smarttiles.click/

I've been using Smartthings for months because of their support and flexibility to add devices that aren't directly compatible with Windows Phone. It makes me wonder if the app would fall behind with the smaller team. However if they supported Windows 10 via a universal app then it would include over 200 million possible devices maybe giving reason for a larger team.

Certain aspects of the current app have been broken for over a month. Many customers are pissed. That's probably what triggered this blog post...

Including myself... The Windows mobile app is terrible compared to the Android app. In fact, I have to use a crappy Android handset to manage my SmartThings home system. If I use the Windows mobile app, it takes hours due to all of the retry and crashes. I'm presently using HomeRemote (thehomeremote.com) to control virtually all aspects of my home and combined in one customizable interface. My list includes: Nest, SmartThings, Sonos, MyQ Gateway, Philips Hue Hub. The developer for that app platform has put a remarkable amount of work. Lets hope Samsung puts in at least half as much and we'd be in great shape!! Until then, HomeRemote will do just fine on my Windows 10 Mobile Lumia 950, 640 and even Surface Pro 3. Now, just time to find a crappy Windows 10 tablet I can use to mount to the wall exclusively for this purpose! SmartThings is so dang extensible, so this is exciting!!! Cheers!

I've started looking into that app but felt overwhelming...are there any tutorials or is it actually more straight forward than it appears?

At least they are updating their App. Insteons doesn't work at all on windows 10 mobile. It just crashes. No response from them at all. I might have to switch.

I had Insteon and last year they said they were working on a fix but nothing is changed. I ended up dumping them because all they did was spam me about all their new Apple Home kit enabled stuff. Posted via the Windows Central App for Android

I've been waiting until the so gets updated before I jump into the platform. Ok wait for this next update before grabbing a hub

Isn't that Smarthings belongs to Samsung?

Yes, but it is very clear that Samsung's priority is spreading the reach (to TVs, for example) rather than stabilizing the platform and optimizing what they already have. It doesn't seem like they're giving SmartThings much in the way of resources.

I just thinking, this might be a sign that samsung plan to release a win10 mobile device. They are doing win10 galaxy tab already, so maybe next would be win10 mobile Galaxy.

I wish Twitter was like this

Months ago I began my foray into home automation. As a Windows Phone user, I focused on Insteon, of course, but later discovered Smartthings had an app as well. I noticed Insteon was not responsive to the customer base, and although being tabbed as the preferred option for Windows users, they seemed to allow the app to lag behind their iOS and Android counterparts. Well, that's when I stumbled across Vera. They have a universal app still in its beta phase. It has been great for me. I have a Vera Edge with Foscams, door locks, lights, switches, energy monitors, etc. They all work flawlessly, and the app is better than their iOS and Android counterparts. Camera controls are good, and video quality is excellent as well. I would encourage any Windows user to try Vera before making the plunge. They have done a good job, and their dev team is very responsive.

Does Vera controller also work offline? Can't find it on their page

Yes, you can manage it locally

I was thinking Insteon as well. Glad I read this! Smartthings or Vera right now.

I am an Insteon user and they say they are working on fixing their app for win10 mobile, but they don't appear to be in any rush. I went with them after they announced their partnership w MS Posted from Windows Central for Windows 10

This app can't be used anywhere except the US & UK. So it's not usable for me.

Awesome, I just bought one today

I wish I would have invested in smart things rather than Insteon. I'm stuck with no access to my home while mobile because they have no Windows 10 mobile support. I waisted a few grand in switches just because they worked on every platform a year ago.

Try the homeboy app. It's not perfect but does work with w10 mobile

I have been looking for a solution to use Insteon butI ended sending back the kit I bought; It seems that an ISY controller with an Insteon modem plus the Snap View app is a winner solution for Insteon devices. ISY controller seems to have a Zwave or Zigbee add on too in case that you go this route. ​ISY controllers are around $200 and the modules are around $60 but from what I have read they give great support and works like a charm. ​One limitation seems to be that programing is done in a Java app but once the programming is done you can control everything from the Snapview app. Check the forums at Universal Devices. ​I'll wait until the end of this year to make a selection and if Smarthings doesn't fulfil its word I'll get the ISY controller with Insteon hardware.

This is great because I use it but the windows phone app is so terrible that I downloaded blue stacks just to fix the mess with the Android app. Grouping isn't new in the app but the commitment is nice to see.

I hope they update it to UWP so i can have it on my laptop, or a tablet. Really wish they would create a good "home dashboard" page. The app interface requires too many clicks. If any of you guys use it on android i recommend installing the widget app "Snap" which lets you slide down a widget from the top of the screen. I have my hello home actions in there so theyre quick to get to.

That is the hope for me, as well. I would love to have an app for the Surface, though SmartTiles works fairly well.

Definitely try SmartTiles - it creates an awesome home dashboard page for SmartThings that can be accessed any device (it creates a unique & secure webpage). I actually use SmartTiles to control everything, and the SmartThings app mostly just to set things up. http://www.smarttiles.click/

I've just got an update an hour ago for the Smartthings App (now at version 1.6.0.1830)... I haven't played much with it as yet and will do more once at home tonight, but an apparent fix is the back button...
The fact that you had to push the back button 3 to 4 time before the app reacted and change page was driving me crazy.... Now, this works flawlessly... There is now a dedicated page for Room and for Things from the home screen... Thanks Smartthings team... Keep the update coming please! Tony

While I agree that there are problems with the app, my wife and I both use Windows phones with Smartthings, and really haven't had very many major reoccuring problems. Overall, we use SmartTiles for daily control and just use the Windows app when adding devices. The only large problem that I've had has been the current naming issue for devices, but since I haven't been adding many devices lately, it hasn't affected me much personally. Overall, I give Smartthings a hearty thumbs up and highly recommend it to other Windows Phone users, especially once they fix the naming problem!

The update today included rooms and the nicer "Things" list like iOS...yes!!!!!

Just got the bundle. Great timing
Windows Central Newsletter
Thank you for signing up to Windows Central. You will receive a verification email shortly.
There was a problem. Please refresh the page and try again.