Smash Cops Heat - a smashing game of cops and robbers for Windows 8 and Windows Phone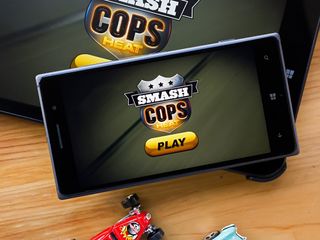 Smash Cops Heat is a fast paced, intense action game that places you behind the wheel of a police cruiser where you have to chase down the bad guys, respond to emergency calls and test your skills against traffic cones.
The game has plenty of power-ups, upgrades and missions to tackle. The graphics are nice and game play rather challenging. You also have one of the more unique driving controls with Smash Cops Heat. The game is available for low-memory Windows Phones and Windows 8 devices and after playing the Windows Phone version over the past few days, Smash Cops Heat comes across as an entertaining title to have in your Windows Phone gaming library.
The main menu for Smash Cops Heat has a host of options that include:
The game's missions
Access to the game's settings
Access to the garage where you can upgrade your vehicle
Access to the game's store where you can purchase power-ups and paint jobs
Smash Cops Heat's settings covers options for game sound levels, steering controls and screen layout. The game offers two steering controls, which includes your traditional on-screen joystick and a push control. The push control has you steering the police cruiser by tapping/holding the screen behind the car and sliding your finger in the direction you want the car to go. Lifting your finger will decelerate the cruiser.
The push control is the better of the two options but does take a little time to get used to. Don't be shocked if you run over everything in sight until you get the hang of things.
The game is played from a slightly overhead point of view (much like you would see from a news helicopter covering a police chase) and the screen layout options give you the choice of placing the boost options in the left or right lower corners of the game screen. I'm right handed and found having these controls in the right corner worked best but your experiences may differ.
As far as the missions are concerned, Smash Cops Heat has three different styles of missions. All totaled the game has thirty-two missions with six bonus missions available with the first two missions being training oriented. The gaming styles include:
Pursuit: This is the game where you get to chase the fleeing felon and ram his car into submission.
Emergency: Here you have to race through the neighborhood to respond to an emergency call for service. You will need to get to the scene as quickly as possible.
Challenge: This is a road course where you have to navigate through a maze of orange traffic cones. Ideally avoiding hitting any of the cones.
The game screen is laid out nicely with your speed and power boosts (increases your speed) in the upper left and right corners of the screen. Your Ram boosts are in the lower corner of the screen, depending on which screen layout setting you choose. The Ram boosts gives your police cruiser a little more get up and go when ramming the suspect's vehicle.
In the Pursuit and Emergency missions, you will have civilian traffic present as well as phone booths, road signs, benches and other items that can get in your way. However, there are no pedestrians to run over (which wouldn't be a bad idea… in a twisted sorta way).
Your police cruiser will sustain damage the more contact it has with these objects. Traffic, as is often the case in real life, will not pull to the side of the road to give your police cruiser a clear shot at ramming the bad guys car. This adds to the challenge of the game in that you'll have to not only chase down the bad guy but also weave in and out of traffic.
Speaking of which, damage meters will appear above your police cruiser and the felon's car. Obviously, if your car takes on too much damage you fail the mission and when the felon's car takes on too much damage you successfully take the subject into custody.
Levels are progressively unlocked as you earn stars during game play. The more success you have with a mission, the more stars you earn. There is an option to unlock the levels through in-app purchase but replaying he levels to earn enough stars is rather enjoyable.
Overall Impression
If you like games where you get to race and chase cars, Smash Cops Heat will be an appealing title. If you like demolition derby type games, again, Smash Cops Heat will be an appealing title.
Graphics are nice, game play challenging and the game does have a slight addictive quality. The push controls are very responsive and once you get the hang of things, you will find this method of steering really easy to control.
It is difficult to find anything terribly wrong with Smash Cops Heat. The game ran smoothly and if I had to find something to pick on it would be the amount of in-app purchases the game has. From $.99 to unlock a different paint scheme for the cars to $28.99 to unlock all the vehicles the game can get expensive. Luckily, many of the in-app purchases are designed to make items available quicker. If you are patient, items such as the different patrol cars are unlocked as you earn stars through game play.
The Windows 8 version, as we have seen with other gaming titles, is best played from a tablet and the larger screen seems to pull out more detail with the graphics. Unfortunately, there is no way to synchronize game play between the two versions.
All in all, Smash Cops Heat is a fun game to have on either your Windows Phone or Windows 8 device. The game is free (making it a steal of a game) and at last check is pulling down a 5 star rating in the Windows Phone Store but only a 3.9 star rating in the Windows Store. It appears the initial release in the Windows Store had a few bugs that prompted a several early 1 star ratings. The more recent ratings are in the 4-5 star range, which is where we would place both versions of the game.
If you give Smash Cops Heat a try, let us know what you think in the comments below and be sure to rate the game in the Windows and Windows Phone Store. It's the easiest way of sending a little feedback to the developer.
Windows Central Newsletter
Get the best of Windows Central in in your inbox, every day!
George is the Reviews Editor at Windows Central, concentrating on Windows 10 PC and Mobile apps. He's been a supporter of the platform since the days of Windows CE and uses his current Windows 10 Mobile phone daily to keep up with life and enjoy a game during down time.
Thought so a week ago before playing..
But the controls make the game unwanted..!!

Yep... I didn't like the game

Really Fantastic Game.... I don't have any problem with the controls.... :)

Seems nice, I'll give it a try.

Looks interesting, reminds me of APB.

Wow, I'm going to download all my devices.

don't download, you will regret later !!!

Oh APB........miss those days. Wish I can play back on a hyper machine again. Been 2 yrs since my last game, more like 20 yrs. :(

Gets stuck on the menu screen, Lumia 630 W10TP :(

Maybe not compatible with WP 10.

Also on my Lumia 1520 #windows8.1

This is a great game. It's like playing Death Rally, car chase version. UI and gameplay were done well.

Hate this store -_-
Why not show ratings/reviews of current version only. *don't come up with reply saying change to recent*

Why not have OneDrive support to sync games?

Thank you guys so much! Was looking for this game a week ago and couldn't find it.... Used to posh this game alot haha great graphics and good maps = hours of fun

Can't get past the loading screen on 1520.

Will not download on my 1320

I tipped you this game. :/

Controls are a bit on the weaker side... Hoping they would do something in updates...

Does not get past the loading screen on Lumia 930 with denim

Doesn't work for me. I load the game and the screen just stays on the start. No amount of tapping the screen causes anything to happen.

white people gonna love this. lmao

Cant downlod why.....download start and then stop....try try try but faild
Windows Central Newsletter
Thank you for signing up to Windows Central. You will receive a verification email shortly.
There was a problem. Please refresh the page and try again.