Snapdeal updates Windows Phone app with voice search and more features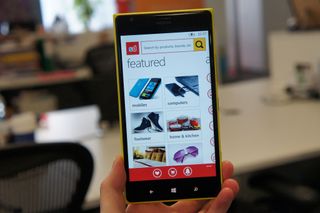 One of the largest online shopping site in India, Snapdeal (snapdeal.com (opens in new tab)) features a wide assortment of products from Indian and international brands in multiple categories.
While Snapdeal had an official Windows Phone app since two years, the half-baked effort got a nice refresh a couple of weeks ago. The app got another update yesterday adding new features and improvements.
The latest update bumps the app to version 2.0.1.0, and brings voice search so you don't have to type the names of products or brands that you're looking for. Also, the app now includes comprehensive and relevant details about the orders that you've placed.
While the revamped app featured a user-friendly and intuitive product listing, the latest update allows you to sort product reviews based on ratings, date submitted, or ones marked helpful and see a histogram of different ratings apart from the usual average. These are handy additions, and allows customers to make a more informed buying decision
Download the Snapdeal app free for Windows Phone 8 devices from the Windows Phone Store. The revamped app was pretty good, and a quick update within a month is a great sign for Windows Phone users. Have you tried the Snapdeal app yet or do you prefer other online shopping apps like Tradus and Flipkart? Let us know in the comments.
Get the Windows Central Newsletter
All the latest news, reviews, and guides for Windows and Xbox diehards.
I just installed this app yesterday and I must say its well designed. Not as good as Flipkart but pretty decent. Good to see them updating their app with new features.

Yes, this is the only online megastore app that's on par with flipkart's app to most extent.

how many of u read it as snapchat on the banner on phone ;p

Awesome App. Both Flipkart & Snapdel Apps Are Awesome. We need Amazon App Now

Amazon app is not coming for India. I already e-mailed customer care asking them and they said at the moment they don't have any plans to release an app for WP.

Yeah, an Amazon India app is badly needed. There are a lot of new deals based on their mobile apps, which we don't have... :(

In fact today I ordered one back flip cover for my 520 from amazon...

Flipkart is better than Snapdeal...

Got it yesterday... :) well designed... Keep it up...

Wish I knew how update certifications worked. I assumed it was all automated since my app never gets certified during a weekend. But clearly some ARE certified on weekends....

I get my apps updated in less than one hour even on weekends. It can be noted that a "weekend" comes later in US than asian countries so it may appear even longer. What certification stage are your apps in BTW?

Apps are crap compared to desktop apps. Pc is better for payment. Ppl do download such apps on their phones but when it comes to buying things they prefer pc for safety

And its just the opposite for me with a non-touch windows 8.1 laptop and a WP 8.1 phone.
Just saying, no offence ;)

Yeah I've noticed that a lot...the apps are used more for browsing rather than purchase...ultimately most transactions seem to happen via the pc...

Please get amazon.in asap for windows phone. Amazon has the best deals in market now!