Sneak Peek at the upcoming WebApps update with Live Tile support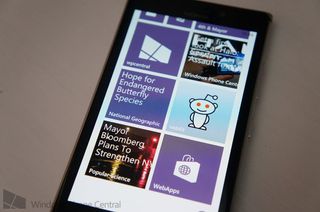 You may think to yourself that you've heard the name WebApps before. You'd be correct in thinking exactly that as we've covered the interesting suite previously. It's a superb concept, enabling Windows Phone owners to check out apps that aren't currently available on the official store. These aren't native apps, however and are instead web app counterparts.
The team behind this incredibly useful app are preparing to unleash a rather important update to introduce Live Tile support.
"Live Tiles you say? Other Windows Phone apps sport this functionality. What makes WebApps special?" We're glad you asked! WebApps will not only support Live Tiles, but each and every web app that's within the catalogue will be able to take full advantage of Microsoft's magic squares. What this means is all users can download supporting apps with the 1.4 update to enjoy a more native-like experience.
While tiles can already be pinned to the Start screen, these new Live Tiles will be able to pull information from the web app. When browsing the catalogue of apps, you'll be able to see "with Live Tile" next to each and every web app that supports this new feature. The tiles added can be configured from the main screen on the app with a new app bar button. This will open up a new page that lists each app with Live Tile support. A check box will be displayed alongside each listing which acts as a quick toggle.
Check out our quick video, looking at the new Live Tile feature:
As well as the new Live Tile feature, which is the main highlight, the developer has also bundled performance improvements and various bug fixes in version 1.4. You'll be able to download the upcoming 1.4 update for WebApps in the coming weeks. We'll be sure to let you all know when it's live. For the time being, you can download the current version of WebApps from the Windows Phone Store for free (both Windows Phone 8 and 7 supported).
Rich Edmonds is a word conjurer at Windows Central, covering everything related to Windows, gaming, and hardware. He's been involved in technology for more than a decade and knows a thing or two about the magic inside a device chassis. You can follow him over on Twitter at @RichEdmonds.
Does it still take 3 times longer to load than a pinned website?

I don't have that problem at all

Absolutely not. I'm part of the beta group and it's all buttery smooth.

They told me I could be in the beta... And then forgot about me :(

You're right. You replied back to us with your Microsoft account details but were inadvertently left off the list. I've fixed that up now and forwarded you the beta details. Thanks for your support, we look forward to hearing from you!

Good to here. I tried it early on and it was fairly clunky.

Load times have been the same as an IE-pinned site in our real world testing so far but if you can email us some more details then we'll do our best to reproduce and resolve any issue. Perhaps we can also get you on the beta program to confirm.

Love this app! Will it have a counter as well for unread articles since the last visit? That would be great for the smallest size tiles since most of my pinned web apps are that size.

Not in the first iteration, unfortunately. We do have it on our feature request list and we will investigate this for a future version.

Does it support the wide live tile yet?

Yes! Wide live tiles are supported in the upcoming release

Rich has a Lumia 925! I am immediately jealous!

Waiting for it to release on tmo us so i can jump ship from my 920

If you already paid for the pro pack version of this, will this future update for live tile support be included?

Yes, Pro Pack owners will automatically have the web app Live Tiles upgrade unlocked

Slick update! Looking fwd to it.

really hope the update bring with it a 'back' button for navigating pages. currently there is no on-screen back button and hitting the hardware back button closes the pinned site, makes it very difficult to browse.. would love to see uc-browser-like floating navigation controls..

I don't have that problem. Even when multi-tasking, the back button will go back to the previous page (if there is one).

really?! I don't understand why it doesn't work that way for me.. I have 4 custom webapp tiles pinned and all of them behave this way. I've checked settings and there's nothing that makes it work properly for me..

Yes, this update will fix this issue. The issue exists with custom web apps only, that may be why some others are not experiencing it.
Sorry it's taken us a while to get this update prepared. Adding Live Tile support is a fairly major update for us as it requires changes in both the WebApps client as well as on the back end (as Live Tiles are pushed to the phone using a backend service).

sweet!! so glad to hear it. this was the single issue bugging me about webapps, this fix + live tiles = perfection. great work and thank you!

dude you have an awesome username.

Beautiful... WebApps works great and excited they're pushing to make it even better!

The one thing with webapps is you can't multi task between webapps, since it is just "one" app after all. Can this be fixed?

Unfortunately this is a limitation of the system. As you say, we are just one app, and hence we can't have multiple entries in the app switcher. We've tried to make it a bit quicker to switch by adding a button in the app bar called "Collection" that will take you back to your collection and allow you to switch to another web app a little quicker. I have however recorded this as a request and we will investigate if there's any other ways we can improve the multitasking experience in the future.

I don't get it. Think its just being thick, but i don't understand how this is different to viewing a website using the browser. Please explain someone, thanks.

Live Tiles. You dont get updating Live Tiles with a pinned website from IE.

Until now, I like it because it gives you an icon of the site to have the Start screen, instead of a tile of the web page itself. It looks better and it is easier to find the app I want. With the Live Tile, it will be more like a native app.

Will it be possible to chose the useragent for custom-made webapps? Please please please :D

With live tile. Hmmm. What are live tiles? That is a rhetorical question since they mostly don't function on my L920.

After initial enthusiasm I'm now cruising at meh factor 5. None of the sites I submitted recently have been added, and self-adding is a paid for feature. I thought best practice for web startups was to grow as fast as possible to prevent competitors cutting their lunch, and monetizing afterwards.By contrast Sydience seems to be actively putting up barriers to catalog growth

The UI looks really pollished! I always wondered when someone publishes an app that adds live tiles for web sites because I always felt that this is missing in WP (and was expecting it to be part of WP8).
I have written a web live tile app for myself (never found the time to polish it up and add a real UI) and use live tiles daily for my favorite news sites that don't have a dedicated app. Once you used it you'll probably won't go back, so I expect the live tiles here to be a big success.

This feature is gonna make this app almost perfect
Windows Central Newsletter
Get the best of Windows Central in in your inbox, every day!
Thank you for signing up to Windows Central. You will receive a verification email shortly.
There was a problem. Please refresh the page and try again.