Need more apps for your Windows Phone? Try web alternatives with WebApps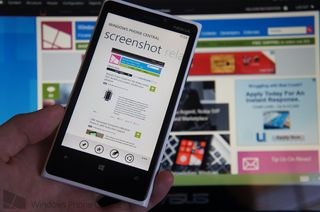 Fancy some more apps to spice up your Windows Phone experience? Web applications may be the way forward as a temporary solution to some missing names on the store. But finding such apps can prove tricky, especially if you're new to the game. There's also the fact that locating and "installing" web apps can be rather time consuming. Cue WebApps for Windows Phone.
Discovering HTML5 content is painfully straightforward in WebApps, which also utilises the powerful engine of Internet Explorer 10. The app provides a catalogue of web applications in a wide variety of categories. From news and weather, to social networks, utilities and games. What's more is WebApps enables users to pin individual apps to the home screen for more convenient access - don't expect advanced Windows Phone functionality, though.
The HTML5 web apps can be mobile versions of websites, or actual apps that contain rich functionality. This is where much time is saved with a catalogue of saved web apps favoured over hitting up each website and service you wish to add to your Windows Phone. Here's the full list of app features:
Curated directory of Windows Phone friendly mobile web apps with descriptions, screenshots and reviews
Add frequently used web apps to your collection
Pin web apps to your Start screen
Launch web apps using voice commands
Web apps run in a chrome-less window to maximize screen real-estate
Suggest missing web apps for inclusion in the directory
Featured and spotlighted web apps
Browse by category and search by keyword
Rate and review web apps to help other users discover great content
There's always a will and a way when it comes to apps on the Windows Phone platform, but WebApps is well worth checking out should you be one of few who aren't particularly impressed by what's available on the official app store. Think of it as an unofficial catalogue of content that can be added to your smartphone. While Windows Phone Central is listed (highly we might add), we do recommend checking out our official Windows Phone app.
You can download WebApps from the Windows Phone Store (appears to be Windows Phone 8 only).
Windows Central Newsletter
Get the best of Windows Central in in your inbox, every day!
Rich Edmonds was formerly a Senior Editor of PC hardware at Windows Central, covering everything related to PC components and NAS. He's been involved in technology for more than a decade and knows a thing or two about the magic inside a PC chassis. You can follow him on Twitter at @RichEdmonds.
But still too young for actual use. Not much in it.

If you know of sites let the devs know, that is the only way the selection improves

Not for wp7 :/ are there alternatives?

Hi Adorath. I'm one of the developers of this app. We are looking at backporting the app to WP7 as soon as we can. Right now we have started with WP8 as Internet Explorer 10 gives us the best experience for rendering mobile web sites, but we would love to give WP7 users some love too.

Looks like a great idea, thanks for making it, downloading now :) great reviews in the store too.

thanks man! This is gonna be a hit! Waiting for wp7 version :)


I have sent in a bunch of sites, 90% should be new, love love the app

Great app love it! Would be neat if each web app could open in its own instance for multitasking sake.

aaaaaaaannnnnnnndddddddd...
wp7 gets left out here also..yay!

As a phone 7 owner too, this will only get worse and never get better :( Luckily, I also have a new phone powered by 8, so I guess its okay.

I think the time for phone 7 is coming to an end because, I am seeing less and less ads from Nokia for its 510 line of phones. I mean, just a month ago, I couldn't go a site without catching at least one ad for 510. Now, they are all but gone! guessing they are prepping up the 520 which will debut at pretty much the same price as 510.

WP7 users can expect only from phone manufacturers.

Hi All. We're working on pushing a new version to the store right this moment, you should hopefully see it in a couple of days. The new version will address some of the feature requests we've been seeing so far, but we'd love to hear your feedback so that we can develop our roadmap. We want to bridge the gap between apps and web apps and we've got some clever ideas to make web apps come alive ;)

Really good idea and works really well :). I'd like to suggest a Pocket (Read it Later) web app for a future update.

Though he will probably read your comment, I would suggest using the very handy and easy "suggest a web app" feature inside the app so it can be put on their official things to do list. They seem to be extremely attentive. :)

Yep you're right, my fault for skimming the article in class. Thanks for the tip :)

Shame it's not for Windows Phone 7.x but I've been using HTML5 web apps a lot. Untappd.com does a great job standing in for an official app.

Shame I posted this on the forums then Ingot shut down by forum users. Well at least you guys posted it so now its more popular.

when it comes for windows 7.8


One app to rule them all.

I'm like the other users...how did this ever slip by me? Its sooo creative, and I love the 1mb download. ;) also, the developers seemed to have really taken their time picking the websites. There's so many that I frequent on the list. Thanks so much for sharing this!!!

Yeah loved the "appeared to be windows 8 only" at the end... Thanks for continuing to ruin any use of the this site's news & app, cheers!

Well just like your complaining, this is WINDOWS PHONE CENTRAL, not only WP8 CENTRAL, or WP7 central. Alot of people who took there money to a new phone want news, I feel your pain, but they didn't ruin the site. Look closer, there's news for you, granted not a frequent, but its there.

No, they have. I'm not bothering to read articles anymore unless its clear, right away what version its about. Yeah, cuz FILTERS R TRIKY & HARD

Sounds great but can someone confirm, once you've got the 'app' in your cache does it still use your data to run?

In the large majority (if not all) cases, yes. HTML5 does have offline support, but it is not widely implemented. Additionally, most of the web apps in the catalogue rely on live data to be useful.

I forgot to ask the dev if there is any way to pin the collection to your start screen?

You can pin individual apps. Alternatively, if you pin WebApps itself it will launch you straight into your collection.

Very cool app. Fantastic idea.

Just a heads up, but the Amazon mp3 app doesn't stream my music:'(

so it just launches you into the web version of these companies?

I really love this app. I mean it just bridged the gap by a great margin. I still want my Instagram and Flipboard apps. I could pay for it. Nice work Nanabite and team!!

Very cool app! Would be even better if you could force a specific user-agent for some webapps (for instance: iphone user-agent for gmail) What you think? :)

Actually we already do this for some web apps which don't recognize Windows Phone. We'll look into Gmail for you.

I like it. There are some apps on both phones and tablets that are not as good as just going to the website.

In IE on Windows Phone, I prefer to use the Desktop Version. Not that mobile versions are bad in general. However, for some reason a lot of the sites in IE look like they do on a Blackberry, which is aweful. Take Fideltiy for example. This site looks the same through "WebApps" as the mobile version does in IE. On iOS, the mobile site for Fidelty looks and functions just like the native iOS app. I like the concept of "WebApps", but it would nice if they can tap into the same mobile versions of the sites available in Safai.

I was using "Bookmark Tile Creator" for all the web versions, because that app scans logos in the web page and you choose the one to pin as a tile, but when you access the websites you still can see the navigation address bar from your browser at the bottom.
WebApps access the web versions in full screen without the navigation address bar, now I moved all my links to WebApps, except by the Instagram where I'm still using the Bookmark Tile Creator.

hmm when i pinned the facebook app to the screen it got pinned to the Apps list, and when i clicked it it gave me server options at the bottom... any way to get that back ? :) could change tiles that way...

Great idea! DL'ing now. Thanks to the devs for this. And thanks to WPCentral for letting us know about it.

Unfortunately they don't have a mobile web site as far as I know. Correct me if I'm wrong.

great idea. great app. thanks

Very cool. Its a shame WP doesn't support the little red x to close open tasks as I cant close Atari Games now its open.

The share button is beneath every app. Click on any app from the Webapps application, and and there's four buttons beneath the app: pin, collect, rate, and share. Share is the last button with the 3 arcs inside the circle. You can also click the 3 dotted menu button to reveal the button names.

This is FANTASTIC! Love that you can pin to start and it shows the company logo. Looks so much better than the native 'Pin to Start' feature. Bravo. One suggestion... A section w/in the app that shows new additions... Say within the last week or so.

I found the "new+rising category..After launching webapps, under categories, click all. Then swipe left once and you'll see the new+rising category. I'm assuming these are the latest apps. Hope this helps. :)
Windows Central Newsletter
Thank you for signing up to Windows Central. You will receive a verification email shortly.
There was a problem. Please refresh the page and try again.