Snuggle Truck review – Drive fast and save stuffed animals on Windows Phone 8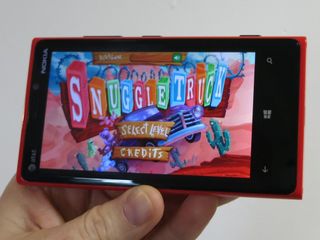 Yesterday, I counted a side-scrolling racer called Old School Racer 2 as one of the best games of May. That game started out pretty challenging, its beginning courses requiring lots of tries to navigate successfully. If you've played the Trials series, you know how tough (and fun) that sort of racer can be.
Today we check out a slightly easier 2D racer/driving game, this one from Owlchemy Labs. Snuggle Truck is a silly game in which players must deliver a load of stuffed animals to the zoo without dropping too many animals along the way. With great graphics, a sense of humor, and a robust level editor, this one is a pleasure to play. Check out our hands-on video after the break!
Make a run for the border… of the zoo
Snuggle Truck seems like a strange name for a game, until you delve deeper into this game's origins. See, on Steam and Android Owlchemy offers a variation of the same game called Smuggle Truck. That version involves smuggling illegal aliens over the United States border in the back of a pickup truck. It's a lighthearted version of an actual big (and strangely divisive) problem we have here in Texas.
Given that some people don't think smuggling human cargo is funny, the developers cleverly spun off the game into the more mainstream Snuggle Truck. You still drive like crazy over hills, ramps, and other obstacles, but it's stuffed animals that fly out when the truck hits a bump. Players can try to catch the errant animal in order to avoid losing it, but any plushie that hits the grounds is lost. Lose them all and you fail the level. The mechanic is fresh and sets Snuggle Truck apart from similar games like Dream Track Nation and Old School Racer.
Snuggle Truck's controls are simple. Just tap the left side of the screen to brake or drive in reverse and the right side to move forward. Tilting the phone adjusts the angle of the vehicle – you don' want to come down wrong from a crazy jump, do you?
Players can also grab power-ups such as a net that keeps the teddy bears and such from spilling out of the truck bed. Those can be activated by shaking the phone (no thank you) or double-tapping the screen. I do wish there was a restart button on-screen. Instead, you have to hit the phone's Back button to pause and then choose to restart.
Lots of levels, including custom ones
Although the goal of each level is to reach the zoo at the end, levels also offer a bunch of fun side goals. The number of animals you complete a race with determines whether you get a bronze, silver, or gold medal for the level. Lose no more than one animal and you'll get an Ark medal too. Finally, super fast completion times award Speed Run medals. Going back to secure more medals adds a fair bit of replay value.
If the built-in levels aren't enough for you, you can always download some new ones or create your own. The level editor confused me for a moment but it's very simple once you get the hang of it. Just drag and drop track shapes, making sure the guideline turns green, and they'll automatically be worked into the track. You can add decorations, obstacles, and power-ups too. Then set the level times, save, and you're good to go.
The buggy's a bit buggy
Although Snuggle Truck offers a wealth of levels to play, selecting them is a big hassle right now thanks to an ugly bug. Players first have to select an environment, after which they can play the easy levels within that environment and go on to unlock harder ones. Scrolling through the list of levels and environments is super tough – it seems to get stuck after you scroll up. I've also had the game crash when loading one of my custom levels in the editor. Hopefully Owlchemy gets those bugs sorted out soon.
Save those snuggles
Level select bug aside, Snuggle Truck is an impressive Windows Phone debut title from Owlchemy Labs. The crazy concept, vibrant and colorful artwork, and the ability to make and share levels all make this one a great choice over more serious 2D racers. Grab Snuggle Truck and get those teddy bears to safety!
Snuggle Truck – Windows Phone 8 – 21 MB - $1.99 – Store Link
Thanks to Omar Alvarez for tipping us on the game!
Get the Windows Central Newsletter
All the latest news, reviews, and guides for Windows and Xbox diehards.
Paul Acevedo is the Games Editor at Windows Central. A lifelong gamer, he has written about videogames for over 15 years and reviewed over 350 games for our site. Follow him on Twitter @PaulRAcevedo. Don't hate. Appreciate!