Microsoft's new Windows 'Canary Channel' will test much earlier code, possibly for Windows 12
Major platform work for a potential "Windows 12" has begun.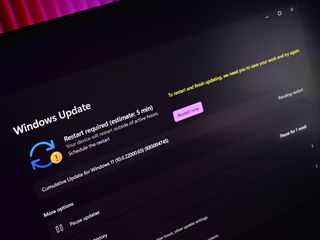 (Image credit: Windows Central)
What you need to know
Microsoft has announced a new Canary Channel for Windows Insiders.
The new channel is designed to flight unstable builds that focus on long-lead platform work for future versions of Windows.
Builds will flight on a more regular basis, but will also be more unstable as a result.
Insiders in the Dev Channel are being automatically moved to the new Canary Channel.
---
Microsoft is announcing big changes to the Windows Insider Preview Program today that will allow the company to begin testing builds of the Windows OS that focus on laying the groundwork for the next major version of the Windows platform via a new "Canary Channel" that will receive experimental, unstable builds on a more regular basis.
The company says that this new Canary Channel will receive builds of Windows that concentrate on "platform changes that require a longer-lead time … Some examples of this include major changes to the Windows kernel, new APIs, etc." As a result, Microsoft says these builds are likely to include major bugs and often won't receive much documentation detailing new additions.
Microsoft describes these preview builds as "hot off the presses," meaning builds will spend much less time in internal testing before release. Historically, Microsoft would test a new preview build of Windows for around a week before giving it the green light to flight. Still, it sounds like this process will be significantly reduced for the Canary Channel.
Additionally, all Insiders in the Dev Channel currently are being automatically moved to the new Canary Channel, as the Dev Channel is being "downgraded" to a new 23000 range of builds. The Canary Channel will continue to flight builds from the 25000 range, which means Insiders who want to remain in the Dev Channel will need to reinstall Windows 11 to do so.
Microsoft actually describes this as a "rebooting" of the Dev Channel but says the purpose of the Dev Channel remains the same as previously. This means it will continue to receive experimental features, some of which may never ship and aren't tied to any specific update. But the underlying platform will now be more stable, as it won't deviate much from Windows 11.
Insider baseball
Last year, I reported that Microsoft was moving to a new engineering schedule for Windows development, which would see the company return to a more traditional three-year release cycle for major versions of the Windows platform while also increasing the output of new features shipping on top of the in-market version of Windows via a new thing called "Moment" updates.
We've now seen this in action, as the company has already shipped two Moment updates for Windows 11 that introduced significant features, such as tabs in File Explorer and a new touch-optimized Taskbar. The changes being announced for the Insider Program today seemingly reflect this new way of developing Windows.
Speaking with people familiar with Microsoft's plans, this new engineering cycle means there are essentially two tracks of Windows development happening concurrently: one for Windows 11 updates and the other for Windows vNext, which currently targets a 2024 release window.
Internally, Microsoft has been using the 23000 range of builds to develop new features for Windows 11, which were then being "reverse integrated" into the 22000 range of builds for the Beta Channel. This is why you sometimes saw new features arrive in the Beta Channel first, as the Dev Channel was previously testing 25000 range builds and was ahead of features being built in the 23000 range.
With the Dev Channel now moving to the 23000 range, features should once again naturally make their way downstream from Dev to Beta to Release Preview. For builds in the 25000 range, Microsoft uses a process called "forward integration" to bring in-development Windows 11 features into Windows vNext builds.
With all that in mind, it's important to remember that this isn't 100% clear-cut, as the Windows development tree is messy and complicated. But generally, Canary Channel will be testing platform work for Windows vNext, and everything else is testing ongoing Windows 11 feature updates. In layman's terms, any build above 25000 is for Windows vNext, and anything below is for Windows 11.
So, here's the TL:DR for what all this means for Insiders:
If you want to test early platform code that's laying the groundwork for the next major version of the Windows platform coming in 2024, join the Canary Channel.
If you want to test in-development features being built for Windows 11, join the Dev Channel.
If you want to test upcoming Windows 11 features that are closer to being finalized, join the Beta Channel.
If you want to test the next Windows 11 feature update, join the Release Preview Channel.
Get the Windows Central Newsletter
All the latest news, reviews, and guides for Windows and Xbox diehards.