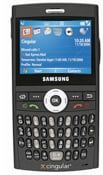 Engadget Mobile tips us off to this interesting bit of info about the Samsung BlackJack:
The issue is degrading signal strength and it definitely looks to be a hardware issue. You can look under the battery to see if your BlackJack falls within the date range. Actually - heck, if your BlackJack is getting bad reception it's probably worth a call no matter when it was manufactured. They ought to know if the problem extends beyond that 4 month span. Plus, you know, you could complain about the delayed Windows Mobile 6 ROM update. Just saying.
Windows Central Newsletter
Get the best of Windows Central in your inbox, every day!
I just found the post in their forum:http://forums.wireless.att.com/cng/board/message?board.id=announcements&message.id=276
I called and within minutes have a new BlackJack on the way!

So I get the new handset, remarkably on the 2nd day after I called, and it appears to be a handset included in the recall!!
They sent me a phone with a manufacture date of Jan. '07.