Some Lumia 535 phones in the Middle East appear to be receiving Windows 10 Mobile update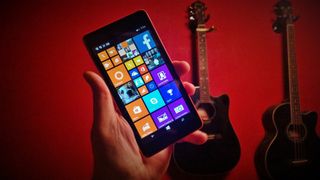 Microsoft has yet to confirm it has started the official over-the-air updates of older Windows Phone 8.1 to Windows 10 Mobile, but that process may have begun in some Middle Eastern countries with the Lumia 535.
According to WMPU, the reports claim the downloads have started for the budget smartphone in Egypt and Jordan. We want to emphasize that these reports are unofficial and have not been confirmed by Microsoft so take them with a big grain of salt.
Source: WMPU
Good NEWS for M E People.

Nothing here in Syria yet

Egypt is within the middle eastern territory.
https://en.m.wikipedia.org/wiki/Middle_East Posted via the Windows Central App for Android

It is called MENA Region which is Middle East & North AFtrica where Egypt belongs. Article should mention it as MENA Region and not Middle East alone.

Egypt and Jordan are in the ME

While many sources place Egypt in the Middle East... In terms of Microsoft Lumia Update, Egypt is in fact placed in the Africa Region. https://www.microsoft.com/en/mobile/support/software-update/lumia-softwa...

Say goodbye to your Me tile.

I like to have Me Tile though. When I open my phone, that's the first thing I see.

American won't recognize how great the me tile was until Apple integrates it into the iPhone and the worst part about it is that they won't acknowledge that Microsoft done the integration thing years earlier.

It's the newest and greatest thing we just invented right now!!!!

Brilliant. Awesome. Fantastic. I'll swallow anything if it's polished and made by Apple (here be sarcasms)

Egypt and Jordan are in Africa not Middle East

Stop playing dumb. Jordan is NOT in Africa and Egypt IS part of the Middle East.


Are you stupid? Jordan is not in Africa, look on the map, it's not even on the African continuant it's in west Asia aka the middle east as is Egypt which is in the middle east too.

Too late. I ordered a Samsung galaxy s6 edge +.
Goodbye Microsoft, this is the end of a long story.

Isn't the battery life dismal on that phone?

Can't be worse than the L950.

Oh, believe me. 4 hours of standby time and I lost almoust 40% of battery. Posted via Samsung Galaxy S6 but still love for Windows.

My daughter had an issue with her Edge+ where it was getting hot and draining the battery 60% in two hours without even using it. She had to send it in to Samsung for warranty repairs and it has been fine ever since.

The phone doesn't heat up. It just drains battery like crazy. Windows Phone 8.1 has a great battery life, I say Windows Phone 8.1 because I belive it's software problem. Posted via Samsung Galaxy S6 but still love for Windows.

Yeah, even with Zenfone 5, I have to charge mostly 3 times a day.

My ZenFone 2 laser gets about 2 days before I charged and that's with decent usage Posted via the Windows Central App for Android

As a user of both, it definitely is much much worse. L950 gets relatively good battery life.

Windows has always been optimized for batteries. Take a look at the HTC One M8 for example: Android version = ~10 hours talk time Windows Phone version = ~21 hours talk time Clearly there's something to be said about Windows phones and W10M devices having a longer battery life than its Android counterpart even if they have very similar hardware

This. My Zenfone 5 and my old (and lost) Lumia 620 are 2 with different specs, but when It comes to battery life, Lumia 620 still wins me.

Don't mix W indows phone 8.1 with Windows Mobile 10. There is big battery difference between them. Posted via the Windows Central App for Android

No there isn't. I get more than 30-40 hours.

My 920 loses 1%/hour on 10.


Really ! I sold my 920 to get 640 only for battery. 920 is awesome ! It's little heavy but I like it

Is it worth updating the 920 to W10m yet if it's your primary device? Or too many impediments still?

Mine's cool for over a month now, but yours may be worse.

You mean what ? I happy with battery life of both but I feel 10 has better stand by time . usage time are similar

I get over 1 day with a lot of use on my 950 xl. Loving it now with all the most recent insider builds.

That was with WP8.1. Don't mix it with W10M. There will be sure some difference.

20hrs on my lumia 950 on average. Wifi and bt and position always on and iris recognition and I use it quite a lot. It's not impressing but 20hrs is still respectable.

I just received my Lumia 950 in the mail on thursday and can't yet say for sure how long the battery will last but charging is extremely fast: Nokia Lumia 930 charging time = 5 hours Nokia Lumia 1320 charging time = 8 hours Microsoft Lumia 950 (dual-sim so I only need 1 phone) charging time = 2 hours

What the... is that serious? I don't have any phones with that insane charging time. It should be a charging problem, right?

Thanks to Quick Charging feature. This is one of the new feature of smartphone these days.

Fast charge is awesome. I have a 950 and agree with the numbers above.

950 is 30mins for the first 50% and 1h for the second half. More or less. I'd say even less.

LOL you are mistaken, I thing you are saying the charge time using USB connected to your PC or laptop. My Lumia 720 2000MAh battery charges real quick like 2 hours 20 mins

My lumia 1520 takes abt 2.5 hours and runs 30+ hours with data location etc on always.... Not to forget it has 3400 mAh power

And half the cpu power half the screen pixel half the ram and bigger battery, I mean it's obvious it will last more this is not a race I only explained lumia 950 battery life is more than acceptable.

What? You charge them with a power bank or something? 950 xl charges in 1hour and about 30 minutes. 1020 in 2 hours. 640 2:30 hours. Where the hack you come from with this 5 and 8 hours even 2 for a 950 is to much considering fast charging.

Yeah, LG G2 charges in less than 2 hours also. My Lumia 640 charges in about 21/2 hours. Posted via the Windows Central App for Android

950 lasts ages for me. You have some serious user error problems. Why not stick with the Jitterbug?

I get very good battery like from my lumia 950 ds with 20 apps in background and windows hello and hey Cortana active...around 16 hrs of medium to heavy use...light use i have got 1 day 4 hours and iam still on 29 ver os but latest firmware

You ordered a Galaxy because Windows 10 was taking too long?

Nope. I ordered a galaxy because I miss the time when I had a good smartphone.

well that's your choice, but I hope you come back to W10M someday

That's too bad. But I hope you will return soon, and so do I, a frustrated Android user.

I went back to Android and always come back within one month ! But other than few apps issue I find its really pleasing to use Windows ...I feel sad that people still don't like it. Windows is great OS, and in fact their mobile OS is much better than pc OS. I was in bestbuy and an old guy was looking at 640 and asking me whether it's a good buy. I said just go week if you are not heavy user of apps. He was asking will it update every other day like pc or virus like pc !?? I never though some people dislike mobile OS because of pc OS. Windows was really bad few years ago but catching up.

That is because people don't get, that each and every software has bugs. But it may well create a positive perception to not deliver updates. Apart from half the droids are being sold because of planned obsolescence, while even a late 2012 L820 will get W10M.

Some people should be banned from owning a piece of technology like a smartphone and from accessing rhe internet

Windows Phone WAS a great OS. Windows 10 for mobile is a mess. I really miss what made mw love WP 7 back then. I didn't care about the app gap. But now that the OS is a mess, why not go switch to a platform that has better apps, even from Microsoft, with even better hardware?
Maybe I'll regret it but hey, it's just a smartphone...

So you were happier with two columns of massive tiles, no notification center, and a 3MP camera than you are with a 20MP camera, a current-gen processor, and all the features of a modern smartphone? Windows Phone 10 still needs a little polish, but there's nothing that Windows Phone 7 did better. I'm kind of surprised so many people want to turn back the clock to a time when WP literally did nothing besides put a touch interface on what was basically a flip phone. Under WP7 I could call and text, and every third webpage was non-functional. I'll take WP10 over WP7 or 8.1 anytime.

Exactly Bill. Windows 10 mobile is so much better than Windows Phone. I have 4 tiles wide on my 640. My Lumia 800 hasn't been turn on in 2 years. My 920 on 8.1 is my daily driver, but 640 on 10 is really, really nice! The good old days, weren't. Much, much happier with 10. Release 107.

FFS, I am talking about the software, not the hardware. And yes, Windows 10 for mobile is terrible. It lost all that made WP a better OS than iOS and Android.
Back then, after a new update, the phone, whatever its hardware, used to become more fresh and fast, unlike iOS or Android. WP10 destroyed my lumias 920 and 1520. It's just an unfinished piece of garbage.

Remembrer ?
https://www.youtube.com/watch?v=_elqLDSt36k
How ridiculous does it sound now ?
Windows 10 is nothing but a perpetual beta test with beta apps.

Ha that's quite funny. I'd never seen it until now. Irony ftw

To each his own :D It's always sad to see the numbers shrink, but you gotta get the phone you are going to enjoy the most. Persoanlly, I have had android and iPhones in the past and my Lumia 640 beats them all hands down.


Why are you here? Go to android central and praise how good it is against windows mobile 10

May Android be with you, my friend


No issues. You can still enjoy the entire Microsoft app ecosystem on Android. Enjoy!!!

Exactly! The outrage is unjustified. Our friend here is supporting Nadella's vision of "Mobile First, Apps First (on other platforms*)"

not really, Microsoft is just making sure it can generate revenue even when Windows 10 fails. By the way, I really hope that W10 and W10M succeeds so much that mid-range consumers, Businesses, and premium Android users switch to W10M

Yep, Microsoft apps are better on iOS and Android anyway...

As someone who uses all 3 platforms, the vast majority of Microsoft's services are best on Windows, but ok.

Windows 10 apps will always be better overall even if features come in later than in Android and sucky-Apple

Well, I use Office 365 to send/receive emails on my Windows 10 PC, which is much better than Windows 10 Mail app. But, yeah, looking forward to seeing if the app is much better in the last 2 months.

The outlook app for sure is a lot better on windows 10 Mobile compares to android. This can't be said for Yammer though

Indeed. Its exactly what I did when I dumped Windows Phone. I setup Outlook, OneDrive, Bing, and Office on my new Android device.

Umm... You could've waited 8 more days & got an S7 edge+ or at least S6e+ at a cheaper price.
Anyway, congrats

What's cheaper than at&t's bogo sale?

I got it at 600€, I think it's a pretty good price. The s7e+ won't be released now I think. I need a big phone. I would've ordered a note 5 if it were available in Europe.

NOTE 5 is available via EBAY UK, price 590€

The S6 Edge + has the lowest customer satisfaction rates of all s6-models in Sweden. 6.1 average. The 950 has 8.2 and XL 8.7. You, sir, made a huge mistake so good luck.

No mistake was made. As always each individual should make the decision to choose which phone and os best meets their needs. For him/her its the S6+, which is actually a good phone. Its only minus is lack of ext memory support.

Yup, to each their own. Use what works for you.

I've never used extended memory on my 1520. I guess 32go is all I need.

I have the Lumia 930 which only had 32GB internal (no microSD slot) and thought it was completely fine. Until I realized that I wanted to add some videos and was taking lots of photos of documents and such. Now I bought a Microsoft Lumia 950 (32 GB internal) and just to make sure I don't run out of room I bought a Lexar 600x 64GB microSDXC ​($60 on Amazon)

You are right but I don't get how someone could choose lags, spywares and his data being stolen every second

Microsoft steals your data too.

At least it has a headphone jack

If you still think android is for you surely you know nothing about performance.

We can tell you're a fanboy from your name

Windows 10 in L730 dual sim is awesome.

Does it have notification led?

That's cool.. It's not like we're gonna flay you alive for choosing Android.. This isn't an apple fansite.. :P

I face planted my 635. It works but I have to be carefull not to cut myself using it. Fido here in Canada is not carrying any Windows phones, nor is Rogers the tier one cell ocmpany in Ontario. I ended up going for a LG G3 since I could get it for free on a two year plan. Bye bye Windows!

Winger would probably been more appropriate......

You had to make a dramatic exit, didn't you?

Ahah yeah I apologize for that ^^
I can't wait to have a phone who actually works in my hands and I couldn't help sharing my enthusiasm ;)

Great. Bought a 950 and returned it back just cus of the bugs. Happy note 5 user now.

I'm sure I'll get used to Android as well :)

Returnes 950 because of bugs, buys android and even on a Samsung. LOL

I don't think you have used used the note 5. Its a great hardware trust me. The whole lagdroid/Samsung debate is old. Get something new as facts brother. I hate the UI but maybe I'll put some custom ROM in a few months. I am pretty sure I am more than happy than I was with my 950. And I still have my 1520 with me. Peace.

Can't go wrong with the S6.


LOL...hahahaha...Isn't Android awesome?

I use my Lumia 640 xl .. 1 time charge per day

I did exact same thing Jerome! Really disappointed how MS handling things.

And really disappointed how these fanboys handle rejection. Lol

I ditched my 930 after 7 years of faithful wishing things will go better. Used 920, 1520, 930, 925. And got sick of needing to compromise. Sick of promises and buggy software. Went LG V10 and I'm loving it. Good luck MS. Posted via the Windows Central App for Android

Even eskimos in artic and Antarctica region seem to receive the update. Yet MS still didn't confirm.

Do they count towards WP marketshare? ;)

There aren't eskimos in Antarctica :)

Another tease, Nothing else. At least gabe aul should confirm.

'when in India?' starts :3

This seems to be a new one "when to India" they just get better and better

I think "WP is dead" and "coming soon" are the new "wen in India"

On FEB 30th at 11:29PM IST

omg only 17 more days! Can't wait.. Thanks bby u made my day.. :D

LOL is that 30th February even existed? XD

India is last .. XD after Atlantis

Why in India ?
Who use windows phone ?

I like WP than the android and IOS as an Indian. Now I am living in middle east. So maybe updates will be come this month. Coming soon ™

and lots of apps (from Android and Apple - not direct ports though)

I feel like this is not true. There was same kind of report of Lumia 535 getting the update in the Latin America, which was never confirmed.

Wmpu have uploaded 3 screenshots.

you mean in Farsi and Vietnamese

somebodys say it's new ring update (The Release Preview)

Maybe not. Cause the Release Preview updates are still developing builds. As its in the insider program.

I am from Egypt and there is only one person who recreceived the update on his 640xl ... he posted that on a facebook group .. I think it is not the update for non-insider

Can you post a screenshot?

I cant post a screenshot because you will not understand our language, all i can say that the person who said that he received the update posted again and said he did factory reset to his phone and checked for update but nothing

Post the screenshot. Translator will do the rest.

interesting that update is W10M build 10586.71 (probably a lier and is a Windows Insider slow ring)

Slow ring in same build as Fast and preview release..... Don't call people liars unless a) you can spell it and b) you have proof of your accusations.

I received an update yesterday.. L 1020.. I'm fast ring.. So I'm not sure if it's the official release or not.. Jordan
http://imgur.com/9G1wDDr

Is is worth to update from 8.1 now? I own 1020 too, important for me are calls, SMS, camera and internet (wifi + mobile). Is it working good enough?

Don't update man.. Its not worth.. It's alot slower on the 1020.. Less stable.. It's getting better with each update.. But 8.1 is just more polished.. The camera is slower.. Gallery is **** and unusable.. Lots of annoying mini stuff..

Microsoft has not yet confined right???

No, they allow themselves space

They even didn't confirmed when they started rolling out wp8.1 update to Lumia 520 in India...

The screenshots on wmpu appear as clever Photoshops to me.

I need it tomorrow as a valentine gift

Don't you already have Deadpool? What more do you want for February? Just be patient

Deadpool is what Feb was worth for!

Trying to get yourself dumped?

@HusniEmpire You Can! Become a Windows Insider by installing the app on your phone, select FAST RING and upgrade to W10M. Once you've upgraded, go back to the Windows Insider app and select PRODUCTION RELEASE to leave the Windows Insider program. Also delete the app to only get the regular updates for W10M

Did anyone notice scaling issues when gaming on Lumia 535 w10m?

Yes i did on my insider device

Yeah me too but in some games which are not modified for windows 10.

I have a problem with some games. Especially nfl showdown where part of the bottom of the game is missing and the buttons to press are actually below the button on the screen

I put my Asian Lumia 930 on the Release Preview ring two nights ago, and I got the update yesterday. It's not the non-insider release, but it's effectively the same thing. I have to say that I was pretty excited when I saw the update dialog. :D

What is the build number? I got 6230.54 which I ran from last year. Now I lost my calendar!

what??? You should have build 10586.71 or build 10586.107

What's your feedback on preview configuration update compared to fast ring / slow ring?

Does Lumia 730/5 got led notification feature in latest build?

Yes. The camera was also upgraded to 20MP, the screen is now QHD with Glance, and the processor now shows that it is a Snapdragon 820... Not sure if sarcasm...

Various Lumia's have LED notification hardware built in...but unutilised by WP8.1.
As such, it is perfectly reasonable to ask if W10M support for notifications is now reflected in these older devices.
(P.S. You sound like a d*ck)

The one on the back? No Lumia phones have a FF LED, with an exception of the 950/XL. And those are infared. There is an ambient light sensor on phones like the 925, but those cannot be used as notification LEDs.

You're wrong about that Nokian. The 735 definitely has a notification LED; http://wmpoweruser.com/lumia-735-has-a-secret-notification-led-pictures/