Sozoom for Lumia 1020 and 1520 adds better handling of portrait photos in latest update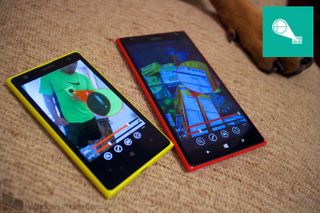 The Nokia Lumia 1020 and Lumia and 1520 have incredible cameras that let you zoom in to your subjects while maintaining high image quality. You can thank the 41 and 20 megapixel sensors respectively in these Nokia PureView cameraphones. One app that does an excellent job of showing off the zoom power on these two devices is Sozoom for Windows Phone. If you already have the app, you should know that it has just received an update.
What's new in version 1.9.0.3:
Better handling of portrait photos.
New photo loading algorithm, solves the no-photo problem for some devices.
Report error in the photo selection page appbar (requires internet connection), report back to us if photo's not being loaded.
Not familiar with Sozoom? This exclusive app for the Nokia Lumia 1020 and 1520 lets you add "zoom balloons" to your High Resolution photos taken with Nokia Camera. You can change the size of the balloons and the zoom power by playing with the two sliders at the bottom of the screen.
Tap anywhere on a photo to show a zoom balloon for that area. You can drag the balloon to change its position. Make it look more fun by adding color that's customizable with more sliders.
Comparing with the previous version, it appears that some of pixels at the bottom of portrait photos are taken out so Sozoom can display the photo in full width with the editing controls. Don't worry, though. When you click the save button, that lower portion is still intact.
Sozoom is available at the Windows Phone Store for 99 cents. You will not be able to install it without the Lumia 1020 or 1520. That makes sense because the zoom balloons will probably look pixelated on 5 or 9 megapixel photos.
Do you zoom with Sozoom? Let us know what you think of the app in the comments!
Windows Central Newsletter
Get the best of Windows Central in in your inbox, every day!
Pretty cool app for showing off the image quality. The 1020 pictures still amaze me every time!

I wish it had 5MP support

So you can have balloons showing a pixelated mess?

And finally, with the update, it finds ALL my pictures :)

So with the 1020 is this app worth the buy? Hell I have store credit...it just seems when I read the comment section on the app it has some spammers pushing it....which is fine as long as it works.....unless you pay it seems sorta useless....input would appreciated but I guess .99 cents or whatever it is won't kill me!

After the update I will say definitely. Bought it before and wasn't happy with it. Didn't find more than the oldest pictures (about 50) But now it's working just great. Having fun sending pics to friends :P
Lumia 1020

THANKS!!! Just bought it!! Look forward to playing with it!

Nice app will try it on my sisters 1020.Mine 1520 coming later this month.

Or use my app, Photo Glass app for all Lumia devices
and it's free :)

No such app showing on the store

"Photo Glass" för Windows Phone http://www.windowsphone.com/s?appid=02b84ebf-188b-49ba-90e2-b230ec6dc0c0

SoZoom
Much camera
Many big
Wow

Great concept! Is the bottom cutoff a bug?

Sozoom. Much big. Many close. Edit: Dammit, beaten to it.

I just tried the "trial version" and needless to say most images I "zoomed" in on where blurry and not crisp. Anyone say this is because of the trial?

I've got the paid for version and my pics are fine, I have noticed though that if the picture is slightly off focus (not enough to notice on the full res pic) when you zoom into an object, the outa focus becomes more noticable.
Windows Central Newsletter
Thank you for signing up to Windows Central. You will receive a verification email shortly.
There was a problem. Please refresh the page and try again.