Today's SpaceX rocket explosion took out two Microsoft HoloLens headsets on board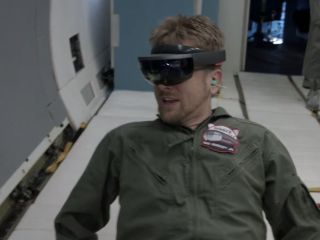 Microsoft HoloLens won't be used in space after all, at least not immediately. Two of the company's augmented reality headsets were on board the SpaceX CRS-7 unmanned rocket that exploded earlier today, two minutes and 14 seconds after takeoff from NASA's Cape Canaveral base in Florida.
As of this writing, it is not clear why the rocket exploded. The SpaceX CRS-7 mission also had 1,500 pounds of food and supplies for the crew aboard the International Space Station, but the people on board are in no immediate danger.
The pair of HoloLens devices were going to be used by astronauts on board the ISS to test a program called Sidekick. The idea behind the program was that people on Earth could see what an astronaut was seeing via the HoloLens. The headset could also be used to help train crew members with animated holographic illustrations that are put in place on devices in the real world.
Another pair of HoloLens devices were scheduled to be sent up to the ISS later this year that the crew will test with a network connection to Earth. The headsets were supposed to be in full use on board the station by the end of the year. Today's events will likely delay that schedule.
Source: SpaceX
Windows Central Newsletter
Get the best of Windows Central in your inbox, every day!
At least no one died. That's the good thing. And the hololenses don't matter compared to human lives.

Only four of what? The hololens or the spacecraft?

At BUILD they said there are hundreds of HoloLens. There were at least 32 at the HoloLens bootcamp. They likely have a few thousand now. Where do you get the number 4?

We're talking about an unmanned ship, in which case material losses are all that matter.

Actually, I think that the damage to SpaceX's image and the relatively young partnership is even greater than the material loss.. Since an after-launch-exploding rocket is the reason why NASA switched to SpaceX in the first place.

NASA switched to SpaceX and other private companies because they have had most of thier own funding cut in the past 10 years or so. I don't think it was due to any particular mission failure. It's mostly politics.

One explosion from 19 launches is pretty good for a private company. Rockets used to blow up a lot more than that.

Was it bad that when I heard about this, the first thing that crossed my mind and said to my wife was the Hololens were on board?

Thank you for being sensible.

Not to CrApple. CrApple does not give a crap about human life or any life, ONLY $$$$$$$$$$ CASH what they worship. Did CrApple gave a crap about those 18 Chinese workers at Foxconn committed suicide making ONLY iUNK phns?????? NO, didn't even gave 1 cent to their families. Does CrApple gives a crap that those poor workers working 15 hrs a day 7 days a week making ONLY iJUNK devices, that are so tired that they fall asleep on iJUNK devices while testing and making them????? NO. Does CrApple gives a crap, that 18 workers sleep in a 10x10 rooms?????? NO. Thank God, MS is NOTHING like overrated CrApple. I personally will NEVER EVER support this EVIL comp, even if they were the last comp on earth, and willing to give me their 4 years behind other brand's technology garbage, for free. It's sad, that many people also know how EVIL CrApple is and still have to have their trash, like nothing happened. Some people really should be ashamed of themselves. No human life is worth ANY and/or ALL iJUNK devices.

the hate is strong with this one

Zero to a hundred real quick Posted via the WC App for Galaxy S6

Can we please ban this guy once and for all? As much as I hate apple, his posts are giving me a brain tumor trying to decipher through all the mixed caps and poor grammar. Also they have nothing to do with the articles he posts on (which is all of them).

I've been thinking about it recently, can we please ban him? I'm beginning to think its either a bot or just a guy who spams crap about Apple in hope someone will listen to his wannabe trash talk regardless of the article.

Wow, Google must really hate Microsoft! Enough to blow a rocket up! ;). Ok, Ok, just kidding!

Corporate espionage at its best

That may be a possibility or it could have been something that was over looked.

I laughed much harder at than I should've

No, it was Apple. They were testing iBomb.

That was bad. Funny, but bad.

Im just glad it was unmanned. Those lenses can be replaced.

First Hololens devices to void their warranties? Joking aside, I'm glad no-one was hurt.

Wow this Hololens technology is really blowing up!

Oh dear... Overall.. That's a lot of money gone...

but not the guys there, though.

Sad what has become of the US space program, and the US in general.

Yeah, well certain politicians who cancelled missions to Mars and defunded NASA stand to make much more money through independent space programs and their lobbyists.
Who cares if it makes space exploration take 10 steps back.

I think in general SpaceX has been successful, and are pushing the entire aerospace industry, which moved slowly during the good ole days of the "US Space Program," to innovate.

Last innovations in space were in the 60's, everything else is piggy back food...

Riiigghhttt... I guess that's why these independent space companies are constantly having failures and why those "good ole days of the US Space Program" only spawned nearly every technology we use today, trips to the moon, etc.

Please list these constant failures. Private space is doing phenomenally well.

I agree, generally speaking private endeavors are more likely to progress our technology at a more rapid pace and cheaper price tag (which we pay) than a government agency ever has or could. Even the coolest DARPA is really just funding other companies and university projects. The military uses other companies technology too, and just gives them money for research. Private industries also breed competition, which increases the speed and and quality of advancements. NASA was expensive, loss of life, waste of money, waste of time...

US is the only one left who regularly supports ISS launches, out of atleast 30 countries who vowed to support it. It takes a lot of money to do that, which sadly has been cut to fund other US government agencies. And this craft was of Musk's SpaceX, a private firm.

Damn it. They should rather cut NSAs salaries ... they wont get anyone anywhere when it is time to venture into space ...

What are you talking about? The ISS programme is a joint project among five participating space agencies: NASA, Roscosmos, JAXA, ESA, and CSA.and Russia takes continuous launches as well.

Right Rahul, and the US astronauts actually have to hitch rides with the Russians to get to the ISS.

And where did you read that..?

Sure you did searched, but there is a difference between launching rockets and paying for the expenses. Russia is launching one on this friday, but the funding will be done jointly by NASA, SpaceX and Boeing. There is more than searching the internet.

So providing the rocket isn't considered a contribution no more? Posted via the WC App for Galaxy S6

SpaceX isn't NASA. It's a priv we company, not the U.S. government.

space x is under a contract from the gov. !

A moment of silence please...

Dearly beloved, we are gathered here today to mourn the loss of two HoloLens. God bless their augmented reality souls.

well, that ain't any joke anymore.

They aren't having the greatest of track records. I mostly just hear about their flights being unsuccessful.

SpaceX has been very successful. Designed, developed, and made an operational launch system in just a few years. Did that with an order of magnitude less money than NASA is spending on just its new capsule. BTW, the failures you're probably refer to are landing the spent first stage on a platform at sea. No one has attempted that before.

There is a big difference however... The current SpaceX system isnt designed to take people, thats going to be a newer system they haven't built yet. Also the NASA capsule is massive... so of course the cost is wildly different. SpaceX is also building on 20+ years of private spaceflight failure plus all of NASAs and ESAs work up to this point. The X-Prize for getting into space started a good few people doing it... Burt Rutans company won (Scaled Composits) having spent close to 100 million, all for a 10 mil prize I might add. In the 10 years since they haven't gone any further. I put that down to the Virgin donkey Richard Branson putting only 400 mill into it after buying the company... Mr Musk has sunk billions into SpaceX nearly bankrupting himself in the process... I'm not taking anything away from Musk, chap pulled it off and it took balls... But it most certanly was not cheap... the only thing that could make it all better is Must buying Scaled Composits... i would fall to my knees with teary eyes of joy...

Hopefully that changes. As much as I distrust corporations they're the one who will make flights for average citizens possible, as governments spend all taxes from citizens in stupid wars. Seriously, we live on a very small planet in the middle of nowhere and we're fighting for what???? We're all we have!! Can't wait for the human race to evolve already.

A very passionate and sensible comment, indeed. The question does leave me scratching my head. I guess there are those who simply think they're more deserving of the benefits of life than others. Go figure.

This is the first unsuccessful flight of the Falcon 9 rocket. You may be referring to the first-stage landings on their drone ships, but those are secondary to the primary missions of payload delivery to space, and have no bearing on the success of those missions.

Starving children in Africa could've eaten those hololens... :P

If you can have those for dinner, that doesn't mean everyone can.

If only I knew the time...I was out in the driveway,...all I had to do was look up....and see the fragments of HoloLense fall back to earth...

Unfortunate but no claimed lives. that's thankful.

RIP 1500 lbs of freeze-dried ice-cream :(

Yet again? SpaceX really has some problems ... have any of their rockets worked by now?

Are you kidding me? Do some research.

Smh, people just talk with no substance to their speech.
SpaceX has had several successful missions.

This is the first failure of 18 launches for SpaceX.

The things they are failing at are mainly attempts to recover the first rocket stage when it falls to earth. If those can be reused, it will save millions per and make space travel much more affordable.

Thankfully, no one was hurt.

So when they would go next time? And will hololens get a chance to go to space or the deal ends here for microsoft too.?

Surviving supplies will be sent by Russia via Kyrgyzstan.

I'm pretty sure it's Kazakhstan.

I'm pretty sure they're two different countries, right next to each other. Kyrgyzstan is just south of Kazakhstan.

I knew it was gonna explode the moment the news came out that SpaceX is launching a rocket. That aside, good that it was an unmanned mission but that's a lot of food wasted.

2 minutes silence for our beloved hololenses.

2 minutes silence for our beloved hololenses.

The explosion was funded by Apple so they can make an iLens and say they were the first.

Next time they should use good old Soyuz to send the sets to ISS

Several Russian rockets failed in the past 2 years. Especially now Ukraine is not delivering key components anymore, their industry needs to adapt. But they won't come anywhere near to what the commercial companies are doing. If these commercials make it, the US will have the next generation of a trillion Euro industry in their hands. That is good news for any economy.

What key components are made in Ukraine?

Elop Musk should use Russian engines.

Why would he use expensive, antiquated failure prone technology when he's developing modern ones?

Ask ULA. Russian RD-180 engines are currently the only good ones available. And developing replacement takes 5-10 years. It's rocket science after all.

"Today's events will likely delay that schedule." ...ya think? ;)

Things just don't seem to go right for Microsoft, I hope Windows 10 doesn't end up exploding too

They need to ask Putin. Looks like Russia has the only reliable rockets atm.

The previous rocket shipment, by the Russians, to the ISS blew up. It was a month ago.

So they survived the drop test?

What a giant waste. Nasa should hv send their stuff through Russian Soyuz next time.

Fukn Elon..... Good on him for trying

Mr. Limpets enjoying some Minecraft right now.