Spearmint Nokia Lumia 920 leaves us green with envy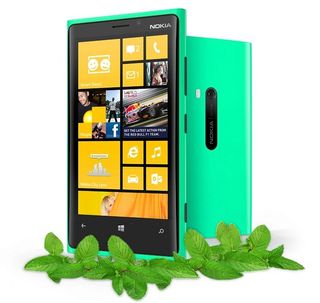 The Nokia Lumia 920 is available in a decent range of colors including black, white, cyan, red, yellow and in some places gray. A new color has surfaced on Nokia Jordan's Facebook page, green.
Call it spearmint, pastel green, lime green, or just plain old green we think it looks good. While pictured on Nokia Jordan's Facebook page there is no information on when or if this color option will make it to market.
We can only hope that if a green Lumia 920 sees the light of day, other carriers will pick it up (along with the gray). Hint, Hint AT&T.
Source: Nokia Jordan (opens in new tab) via: Techorz (opens in new tab)
George is the Reviews Editor at Windows Central, concentrating on Windows 10 PC and Mobile apps. He's been a supporter of the platform since the days of Windows CE and uses his current Windows 10 Mobile phone daily to keep up with life and enjoy a game during down time.
Dripping wet salivating at the thought of this

I don't want to disappoint you but this was only an April fool joke ... this was also done by Nokia Lebanon Facebook page too
you can check this photo
https://www.facebook.com/photo.php?fbid=528361187216255&set=a.1245492142...


Why?! Love this color! I want a 830 cover of this green!

Probably not, but you could definitely chew on it. Maybe it is flavored...

I got bored of waiting for an Xbox green and just got the black 920 and added a green case.

The Double Mint Nokia Lumia 920: Double your pleasure, double your fun!

That's looking mighty fine! :-)

I'll stick with my red, thank you very much :)

I love my red 920 also, cant help but like these bright new colours though.

Same here, I love my red...its my fav color but I respect this green ;)

You always go around licking stuff

Better than my yellow damn it.

I wish I had waited... I love my cyan but greenmint.........############ :)

That's nice I just wish Nokia would release the Lumia 928 to dig deeper into Verizon.

I am sorry, but it was april fool.

Suddenly I do not cherish my red 920 as much ...

seriously bring a decent windows phone to t-mobile usa the 8x is decent at best t-mobile needs a flagship phone like the 920 or a variant thereof. and what the hell is up with us (t-mobile) getting a smart feature phone the lumia 521 i have the lumia 710 and its the same thing as mine with only paltry upgrades.

Jordan ? That's where I live

I'll put a pinch of it between my cheek & gum....

Nokia Lebanon posted about this phone on facebook and it turned out to be April's Fool.
https://m.facebook.com/home.php?refsrc=http2F2F&...

Maybe. But the original image was posted on March 28th and the April 1st post calls it a mint scented Windows Phone. It could very well be an April Fools joke but the color option isn't bad at all.

Eh... Not really feeling this color. An actual LIME green would be pretty nice, though.

Spearmint is kind of girly. Real men wear real green! If Nokia wants some volume, they're gonna have to darken that up a bit

Though it is April Fool but if Nokia would launch this green beauty in Pakistan, they would make some serious money.

Wish I could trade my black 920 for this. One of my favorite colors is mint green and this sure would be unique amongst all my peers.

If it's forest green, I'm buying it.

I believe sea foam green is the correct term. Haha.

Haha. I said the same thing unknowing of your comment.

I would say that's a seafoam green, not spearmint. It still looks appealing though.

April Fools joke but Go Mean Green!

Is it matte or gloss do you think?

My cyan 920 suddenly looks boring...

Reminds me of that nasty leisure suit my uncle had. :D

If this color comes with the 928 I will do what it takes to get :)

Seafoam green. Coveted by hipster bike messengers.

Man. I want LIME green. Bright XBOX lime green. Not this pastel crap.

Nice color initially. After considering further, I'll leave this one for my wife or the "teenyboppers" and skinny jeans.

april april.. check their site again

Just submitted a request for emerald and azure/sapphire colors for the Lumia 920. Hopefully we see those in the next iteration of Lumia Phones or on the 920 soon.

DEAR LORD I wanted Cyan so bad but now... I'm torn. The phone's still too big for me ... perhaps this colour will come to the 620?


I'm gonna paint my yellow 920 green.........
Windows Central Newsletter
Get the best of Windows Central in in your inbox, every day!
Thank you for signing up to Windows Central. You will receive a verification email shortly.
There was a problem. Please refresh the page and try again.