Speedtest.net app for Windows Phone 8 available, network errors a plenty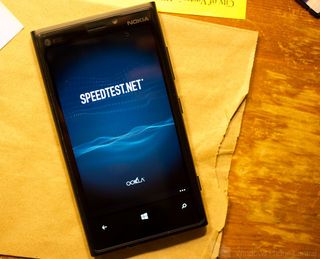 Speedtest.net (opens in new tab) is a popular and easy way to test out your network connection speeds. The Speedtest.net Windows Phone app brings all that testing goodness to your Windows Phone 8 device.
The app will discover your download and upload speeds, chart the results to show connection consistency, track past tests, and allow you to share with others your test results. Or at least that's what the app should do.
We've used the Speedtest.net website and it's a useful tool in determining network speeds. Unfortunately, we can't get past the Welcome Screen on the Windows Phone app and based on the comments in the Windows Phone Store, neither can others.
When you first launch the Speedtest.net app it searches for a network to ping and test speeds. For whatever reason, the app can't identify any networks and generates a "Network Connection Issue" error and the app never gets out of the gate. We tried it with the WiFi disabled and the Microcell disabled with the same results.
Speedtest.net is a free app for Windows Phone 8 devices and you can find it here (opens in new tab) in the Windows Phone Store. Hopefully this network issue can easily be resolve and we can all start bragging on who has the fastest network in town.
George is the Reviews Editor at Windows Central, concentrating on Windows 10 PC and Mobile apps. He's been a supporter of the platform since the days of Windows CE and uses his current Windows 10 Mobile phone daily to keep up with life and enjoy a game during down time.
Ah, bummer. Wp8 only. I was looking forward to seeing how craptastic the 3g is with my HTC Trophy.

3G on Verizon = AOL Dial Up speeds :/

In my area I'm getting 2Mbps down/1 Mbps up on VZW 3G. I would have been happy to have that speed on dialup! :D

You'll start seeing a lot more WP8-only apps from here on out.

Yeah, the 3G with my Trophy sucks in my area as well :(

Works for me with WiFi on. But when I turned WiFi off I saw the error you guys are getting. Anyways, cool app!

Works fine here in SD on ATT network. Wish they come out with an ad-free version.

Lol i couldve sworn i was the only person in SD with a windows phone :P

Worked on my 920 on Rogers using WiFi and cellular.

Working on T-Mo out in southern California! Nifty little app and I'm glad to finally see an official one. You know that 'momen't has come when official apps start popping up in the Windows Phone Store!

Connected and scanned fine on WiFi (Lumia 920). My speed on my phone was a 1/3 of my laptop.

Works fine on my 8X in Cincinnati, OH on WiFi and cellular. Getting 25mbps on VZW LTE!

You lie!!! I'm the only person with WP8 in Cincinnati :) Just kidding. Anyway, works fine on my 920 on WiFi, errors on AT&T.

Getting crowded around here. Working fine on Verizon 8X.

Speed on wifi with Lumia 920 was 2.48Mbps, on PC wifi is 24.06Mbps. Any idea what up?


Phones can't handle the higher datarate. Even on my iPad I can't utilize the full bandwidth of my connection (100Mbit/s). I think it peaks around 20-30 Mbit/s. Don't remember what my iPhone speed was when I tested. But it was worse than the iPad for sure. Doing the same test, over wifi, from my PC I get a solid 98-99 MBit/s. However, 2.48 sounds a bit low, so there probably is some server issue or something.

Same problem here.
tested with different servers and i only get 5-8mbs up and down. on my PC i get 200/100mbit, i know the phone can't handle that but with QIP Speed test app i get 20mbit, sometimes a little bit more.

My 920 gave me 24Mbps down and 8Mbps up on Wifi, which is my cable internet speed. I am using a dual antenna Wireless-N router with a 5GHz connection.

Oh... and network communication error with WiFi off. I'd rather use "Free Speed Test" app.

MD AT&T + Wifi looking good
43.77 Down and 13.77 up.

39.52 down and 14.39 up
Boston, MA + Wifi

Not working for me with my 920 on AT&T or WiFi. I do like this app on the iPhone. So I'm happy to wait for the fixes. I wonder if the cat Easter egg is still there?

Such a nice looking app. Loving how the went all metro on it

TOTALLY AGREE! :) Looks sexy and clean. I'm glad it's not a straight port with fugly iOS/Android look. Nice job SpeedTest.net guys :) I just hope they make it available on WP7.5/8 as well. :)

I love this app in my android devices! It is really useful, I hope they can adapt it to WP 7.X as well :D

Tmobile 8X. Working fine in Wilkes Barre PA HSPA+ SPEEDS of 11down and 2up

This app has over 55,585 reviews in iTunes, and 94,734 in the Google Play store. It's also in the top 100 list for most downloaded apps on Google Play. This is great for Windows Phone.

works fine on my Lumia 810 (T-Mobile), glad we finally got that one

Getting a constant 11 down 1.6 up on L810

thats tmo not the phone :p

Works for me in Nashville, Lumia 920. 25 mbps down on cellular, 34 on Comcast WiFi. 5 and 15 on uploads. Not too shabby. I love AT&T's network here.

13.22Mbps on my Lumia 920 in SoCal

Works great on my Lumia 920 on WiFi as well as 4G.
AT&T San Francisco

Works fine on my Lumia 920 on ee in UK. Download 15mbs on via 4G and 5mbs via WiFi...now only i had an unlimited data plan :(

Interesting results for 4G. I'm with Orange who only have 3G plans for the moment and going by this app I'm getting between 15-18Mbps.

Doesn't work when using At&t's LTE in NYC area on Lumia 920... When using WiFi it works fine... Hopefully next version will fix this.

WiFi works fine on my 920, but I get the error when I try to do it over ATT 4g in Montana.

Worked fine on my att 920 on WiFi and cellular

I've been waiting for this app for two years just to get it and it doesn't work. Lol! Bull $hit!! Hope it's fixed soon.

Seems to be working fine here in Australia. Mine worked good on Lumia 920 and all comments on the Australian store say it works fine.

working well on my end (pacific canada). the app is smooth, buttery and beautiful
edit: only using it on wifi since i don't have a data plan

Works fine for me too...might want to update the title to this post.

Its working for my 8X on TMo, even in crappy 2G in Northern NM. Seriously 0.12mb down. Verified with Bandwidth test.

Working great on my ATIV on TELUS in Winnipeg. 8 mbps.

Its the official application? Anyone knows, thanks!.

Its the official app and its designed very well. It has a fee bugs that need to be fixed but man am I happy!

Helpful tip, don't let it use your location.... L920 no errors

Helpful tip: Let it use your location, so it can get you the closest server. That way, your latency is better represented.

Helpful tip: learn to read a map and know your surrounding areas! ;)

Incorrect actually.
It depends on how the network operator routes their network and where their backbone connects to the rest of the internet.
So location makes little difference and finding the best server is simply trial and error. I tend to get best results with the Milton Keynes server in the UK, even though I'm in Manchester.

Ah i used to live in Watford, but now i'm in FL. Small world
+1 Class dismissed. And yes i agree, my closest server doesn't yeild the best results.

Working fine on mobile data and WiFi on L920 in Singapore.

I just don't understand why we keep on getting apps that crashes all the time. I understand that MS took care of that before publishing them in the store. Lack of apps is one matter, but quality is another matter that needs addressing.

Lumia 920 gives me network error...not working :(

Worked for me in San Jose on my 920, both wi-fi and LTE. Oh, the LTE was faster than the Xfinity wi-fi Update: only worked the first time I opened the app. Now giving me the error.

Works fine on my Lumia 920 - WiFi and Data, separately.

Works for me on Lumia 920 with Rogers cellular and WiFi. Modem is much faster than Lumia 900.

On my AT&T 920 it only works on WiFi. I am in SoCal.

Finally they bring this app after me nagging them for almost a years now!! Now it just needs to work for everyone.

Beginning to see wp7 getting left behind app wise & not due to hardware limitations. :/

Working fine with ATT 8X in VT for both WiFi and cellular.

Does WMPoweruser just follow you guys around and rereport the same damn story? With the thousands of apps available they just reported on this one. Too funny...or sad.

To be fair lately they've been reporting alot of stuff first. Sometimes stuff that doesn't even get covered here. That's why I love Weave. :-)

What the heck happened to qc. These bastards suck. Yet they block the bandwidth app which worked.

Got it working on my 920 (Rogers). 16+down 5+up:)
https://skydrive.live.com/redir?resid=5092855E28871F74!1155&authkey=!ABk...

Works great on my Lumia 920! Best networking testing app.

Works awesome on my Lumia 920 on the Mobilicity network in Toronto.

Works well in Seattle with T-Mobile and an 8X.

this app is not available for your device oh well, my speed test app still works fine.

Might not seem like much but this is indicative of a growing app market.

Works for me on my 8X but with inaccurate results in the same exact location. Download speed results ranging from .50Mbps - 25Mbps! Upload speeds seem accurate. This is on WiFi. Also hogs precious "Other" space and doesn't free it up, even after reboot. Finally, the tile color doesn't match phone accent color.

Spoke too soon. It appears to be clearing other on its own after a little while.

I turned my WiFi on and then once in the app turned it off to test LTE speeds. Worked perfectly multiple times

Working fine here. UK, North Devon on the 3 network. Getting 25.44Mbps down and 1.70Mbps up. Ping was 67ms. Not bad! :)

Working fine here too, both on WiFi and 3G

Well I don't know why people have waited so long for this app but there are other pretty replacement apps that work fine. I have the "Speed Test" app and I don't get any problems with it.

Works fine with both 4G and WiFi on Nokia 810

Working very well on my Nokia Lumia 810 in Tallahassee Florida..

Works great on my TMO 8X in NYC... T-Mobile rocks!

I hope this isn't one of those wpspoof apps like words with friends was. I paid for that app too and its barely works.

"Bandwidth" works just fine for us "legacy" 7.5 users...

Works on my 920. Very good looking app
Edit: getting 27Mbps down and 5Mbps up on HSPA with 3 in Austria. I love that carrier :D

If you are getting a network error, you can launch the app with WiFi enabled. Once it locates a server and loads the test screen, disable WiFi. When you resume the speedtest app you should be able to test your cellular connection.

Absolutely, hands down, Sprint network in Youngstown, OH takes the crown and the cake for BEST. NETWORK. EVER.

Oh wait, no, it's exactly the opposite of that claim. In fact, I'm not even sure you can call them a network.

Runs perfectly fine on my unlocked Lumia 920.

Ran test with Wifi and the Cellular network. Worked perfectly both times.

Works absolutly fine on my 920, fast and awesome simple design.

Yay. Great news the app gap is becoming smaller and smaller each day. While there are already decent and reliable speed test apps this is the big name that everyone has. Also works fine for me Nokia 920 Uk EE 4G. Just got 16.4 mbs on the outskirts of the 4G coverage. Will test again in city later where i have had 25mbs on other test tools

Nice, no problems on htc 8x... Croatia, vipnet: ping 86, up 1,3 down 5,99
Very happy gillmore here...

Works fine on my HTC 8X (T-Mobile UK)

Works in AUS using Lumia 820 on Telstra.. 4G and WiFi..

Works great in Finland. Lumia 920, dspeed 10mb via 3G

Getting an error just with trying to download this in particular "Store is not available at this time" did they stop it to fix errors possibly or is it getting massive downloads??

Working well on Lumia 920 - achieving DL of 44Mbps on 4G :D Love the live tile as well for the app, and that it supports all three sizes on WP8

Ping: 284ms
Download: 0,0kB/s
Upload: 0,0kB/s
T-Mobile czech republic.

These apps should only be used for a rough idea of the conenctions throughput. They are awful for any sort of accurate testing as they test via the wifi which effects results vastly.
Don't believe me, test by your router and walk into the next room and retest while nothing else is connected to the router or using the internet (stream, downloads, browsing etc).
They are the bain of a ISP support engineers life when customers are complaining of throughput issues.

I'm not getting any issues on WiFi or 3G and neither is anyone else in England as every single review is a 5 star! But i did get a network error while trying to post this comment

It works for me too. I tried it on Fido LTE and home wi fi. I am using a Rogers Lumia 920.

I keep getting Service not available
The Store isn't availible at the moment.
Please check back in a bit.

Error code 805a01f4

I am on ATT in Michigan, USA...
Using Lumia 920
I tried qr code and downloading from the Windows Phone store....
Anyone else getting this with the same area and network??

This app looks really nice. Fits nicely to WP enviroment.

It works great on my NL920. getting pretty good spped on EE 4G 13MB down and 17 up. not bad i say

Thats a bit annoying, upload is amazing, but the download is basically what I am getting on EE 3G... I am getting 12 down and 5 up.

Working great on my Lumia 920, getting 12MB/s down and 5MB/s up on T-Mobile UK.

Works great on my Lumia 920. Love the UI.

It works fine for me O2 UK and I'm pleased with the result 3.something download and 1.something upload. In fact the upload is better than my home broadband. :-)

Works with no errors for me but I have only tried on wifi.

Works great for me on my 920 on EE's 4G network. 15.18 upload and 12.77 download. This is at the office. I fully expect it to be much quicker at my house.

This is a perfect example on what's wrong with the MS Store. The problem with apps isn't the quantity, it's the quality. Most are half-baked and riddled eith bugs, errors, and lack of features that can be found in other ecosystems. MS needs to do what they can to nip this in the bud now!

On att in NYC I got 1.13 mbps download and 1.09mbps upload. 4g network

@Mrspanky that is some fast internet. Where are u located?

From Bristol in the UK. The best 4g connection I had was in my house and it was 43.76mb download and 26.58mb upload

on rogers vancouver and it caps at 40mbps down and 25mbps up on celular and wifi. i have novus 300mbps on my carrier so there is definately a cap on wifi.

Working on Lumia 810 on T-Mobile's 4G network in Denver. 9.3Mbps down, .68 up, while on the light rail.

Gives me a network connection error when on LTE in Austin TX on my 920. Works on WiFi.

Works for me on WiFi, but not on AT&T LTE in Central FL. Network error.
FWIW, WiFi on my phone was really fast--nearly the same as my computer. This is contrary to what some had mentioned earlier.

Works fine for me! http://www.speedtest.net/wp/18236.png

For those with the network error when using cellular, there is a work around.
Leave wifi on when launching the app then turn off wifi.

Lumia 920 on AT&T LTE in Richmond, VA worked great. 10.71 d 12.76 u

Nokia 822 app works fine.

23.84Mbps down and 9.17Mbps up.

Lumia 920 on ATT in michigan, worked like a charm

My at&t Lte only gave me 11.58 on download and 10.67 on upload. Compared to you guys my at&t service is slow

My Verizon WiFi is even worst

40 MB down / 11 MB UP - In Glastonbury CT via ATT. Glad they fixed the app from this morning.

Works fine on my HTC 8s as well .......
26Mb down / 12Mb up ..... Taipei

Man this windows mobile app scene is really picking up!

Now is working for me. I had problems yesterday, but I figure it was server side and would be fixed. Today it is now working. Accurate results too. I've tried other bandwidth test on WP. None of them would give me results on my home internet that were similar to a test performed on my desktop. This tool gives me similar speed results.

don't seem to see it on the store in Canada (Rogers) - did they pull it?


Works fine here. LTE in my home (shocked because I could bearly make a 3G call with out it being dropped)....45.99 Mbps download and 8.69 Mbps upload. I dont even use Wi-fi any more because it's that fast in my home.

Crap, I did a test with my Wi-FI on and the download speed was slower.... I need a new wireless router...

This was done on a Verizon HTC 8x...

Works fine here on HSDPA+ and WiFi (UK). Beautiful app with simple Metro design, the way it should be. I'm so glad that they didn't try to port over the Android version which appears to be a direct clone of the IOS version, both of which look tired and dull in comparison to the WP version.

Worked fine when I tried it on my Lumia 920.

Great app. Now we just need a version for Windows RT

Working fine for me in wi-fi and wi-fi off modes. Interestingly I'm getting much better up and down speeds off the 4g connection vs my home wi-fi. Time for adjustments of the wi-fi it would seem..
Windows Central Newsletter
Get the best of Windows Central in in your inbox, every day!
Thank you for signing up to Windows Central. You will receive a verification email shortly.
There was a problem. Please refresh the page and try again.