Spellbreak Chapter 2 brings new quests, outfits, Dominion Mode, and Ranked Play
By Rebecca Spear published
Dominion Mode is a capture and control multiplayer for teams of up to five people.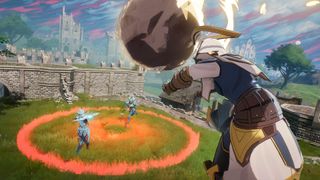 (Image credit: Proletariat Inc)
What you need to know
Spellbreak is a free-to-play online multiplayer battle royale created by Proletariat Inc that focuses on story-driven quests.
On April 8, Chapter 2: The Fracture released bringing with it a new Mode, new outfits, and several other features.
The new Dominion Mode is a capture and control multiplayer for teams of up to five people.
Ranked Play and new story-driven quests have also been added along with the Chapter 2 Pass.
As of April 8, 2021 Spellbreak Chapter 2: The Fracture has officially released, bringing with it several new features and quests for players to experience. There's also a new Chapter Pass players can purchase, which allows you to unlock rewards like cool new outfits upon completing story-driven quests. And there's plenty of new story to discover! It's definitely an awesome PC game.
We previously got to preview Chapter 2: The Fracture to get a taste for the new Dominion Mode. It's a multiplayer capture and control game where teams of up to five players compete to maintain control of three different areas. You'll need to use your elemental powers to fight opponents off and get more points.
Chapter 2 also introduces a League Ranking system. Players who do well during rounds will earn points that allow them to move up the tiers within the league and unlock new stages. The higher up you go, the more competitive it gets. To keep things interesting, players will need to spend Crowns, earned from doing well in rounds, to participate in the higher leagues.
Spellbreak is available on PC, PlayStation, Xbox, and Nintendo Switch. Check it out and see what the magic is all about.
Brave the Spellstorm
Spellbreak
Prove your elemental control

You and your squad use elemental gauntlets that shoot fire, ice, electricity, gas, wind, or stone to try and beat other players online. Attacks can have elemental reactions when one type is mixed with another, so your team can become really deadly when working together. Chapter 2 also brings a bunch of new features to discover.
I only started playing this last night, and my very first game I came first and got 9 exiles. I have not played a game since that has beaten, or even reached, that achievement. Hell the last game of the night I was first out. In other words, I peaked too early.
Windows Central Newsletter
Get the best of Windows Central in in your inbox, every day!
Thank you for signing up to Windows Central. You will receive a verification email shortly.
There was a problem. Please refresh the page and try again.