Spellbreak's first seasonal update with new talents, modes, and Halloween content releases on Oct 22
A new mode, Halloween content, and new talents are coming to Spellbreak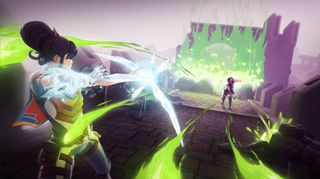 (Image credit: Proletariat Inc)
What you need to know
Spellbreak is a free multiplayer action game for PC, Xbox One, PS4, and Nintendo Switch.
The first seasonal update is titled Prologue: The Gathering Storm and is set to release on October 22.
A new mode, Halloween content, and brand new talents will be added in the update.
Spellbreak is getting its first seasonal update, Prologue: The Gathering Storm, on October 22. This will bring a new Clash Mode, Weekly Quests, player talents, Halloween content, and more. Here's everything that will be added according to developer Proletariat.
Spellbreak's latest update includes:
New Content - Prologue: The Gathering Storm will be free to all players and feature weekly quests with unique rewards
Introducing Clash Mode - 9v9 team deathmatch with 3 squads on each team
New Talents - Enable players to further customize their playstyle

Vigor: Bonus health
Ambidextrous: Enables the passive class ability in your offhand gauntlet
Foresight: Reveals nearby players on your minimap and shows future shrines/circles

Halloween Content - New Outfits, Artifacts, Cloudbursts, Afterglows, Emotes, and Badges! Just in time for "Hollowed Eve!"
That's a lot of new content to get excited about and will definitely add more variety to Spellbreak's current gameplay. Clash Mode sounds fascinating and provides more opportunities for you to play with friends.
If nothing else, it's fun when games celebrate real-life events like Holidays. Hopefully these festive outfits and emotes catch your eye and help you better enjoy this spooky time of the year. Check out the new seasonal update when it releases on Oct 22.
Looking for more titles to play? Check out our list of the best PC games to get you started.
Element blasters
Shoot elemental powers to dominate

Spellbound is a fun battle royale game that substitutes guns for elemental powers and magic. Take on other enemies in a squad of three to prove you are the best battlemages out there.
Windows Central Newsletter
Thank you for signing up to Windows Central. You will receive a verification email shortly.
There was a problem. Please refresh the page and try again.