Sports fan? Then grab the updated SofaScore LiveScore app for Windows Phone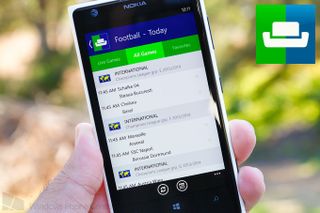 Sports fanatic? If so, you're probably into more than just one sport and are constantly looking for apps to keep up with all your interests. One of our favorites for doing that, SofaScore LiveScore for Windows Phone, just picked up a new update. Let's check out what's new in this latest version.
Why are we fans of SofaScore LiveScore? It packs a whopping of sports and leagues into one app. You've got football (WC World Cup 2014, UCL Champions League, EL Europa, Bundesliga, etc), basketball (NBA, FIBA Eurebasket, etc), ice hockey (NHL, NCAA, etc), rugby, American football (NFL, NCAA, eta), and many more sports. It's a dream come true for sports fans. Today we're looking at version 1.1.2.0 in the Windows Phone Store with the following features:
Live Tile for favorite matches
You can now search teams when adding to Favorites
Option to temporarily disable notifications for a period of time (2 hours, 4 hours or until 8 AM in the morning)
Half-time result in Details view (in brackets below the current result)
Disable notifications, Live tile, and team searching in the newest update for SofaScore LiveScore
Have a handful of important matches coming up? Add the individual match to your Start screen and you'll get a Live tile that will keep you in the loop of the outcome. You can also search for teams when adding them to your favorites. How do you do that? Just click on favorites, select a sport, and start typing away to find your dream team.
Another cool update is the ability to disable notifications for a period of time. This is especially annoying if your favorite teams are playing on the other side of the planet and you're trying to sleep uninterrupted.
SofaScore LiveScore remains one of our favorite all-around apps for checking scores. Grab it today for free from the Windows Phone Store or use the QR code below.
Thanks for the tips halamadrid and eliano!
Get the Windows Central Newsletter
All the latest news, reviews, and guides for Windows and Xbox diehards.
Bing Sports was updated recently and I really like it. Might check out SofaScore but for now ill stick with Bing.

Thing with Bing sport is it lacks push notifications for games and the live tile tries to show the score but its about an hour late

I agree. Bing sport is the best.

The live tile is really nice

I'd love to see the ability to pin a favorite team tile. Having to pin each individual upcoming game is a pain. Oh how I miss SportsScores. I'd love to know why that dev pulled his app, it was great.

Agreed, wish they would do that

Amen to that, sweet powers! The only remnant of SportsScores remains on my 810. I truly miss that app. Loved the update that allowed you 4 teams on the live tile. And, it updated pretty quickly too.

SportsScores!! Yes it was the best. I'd love to know that answer to. I miss it so much.

Hey fuck you man. Ruining the moment. Seahawks will win.the Superbowl.

You mean they'll pay the reffs to make bad calls on the opposite team. Just like Carol pays for someone to cheat so his team wins. Just like the Seahawks paid to get the "12th man" name. So much to be proud off.

I pinned my favorite club and it works great, tell me when start the game , goals, and now even videos....

SofaScore's notifications work perfect...I only use it for football and I never miss a goal! Love that they have highlights...

Lol Soccer... Your not a pro unless you watch Rugby.

Naah ... You're not a pro unless you got paid for playing any sports :P

Good app, but I guess I'm sticking to Bing Sports, it's fulfilling my needs, even the UI is way better!!!

This is the best sports app out there. Fast, fluid, and the developers are awesome with feedback and fixing bugs

I haven't missed a match since I got this app. I find that is the best out there in live scoring. It also has a Windows 8 counterpart if you want to check it out l.

nice, now I dont need espn anymore

"ice hockey"?? Really? App looks nice, will try it out. I've been dissatisfied with Bing Sports slowness lately.

Sofascore is the only sports app I've found with decent notifications. If they actually have a functional Live tile, that's awesome, far better than the broken ESPN and Bing sports tiles. Although I'm not seeing NCAA hockey scores, but maybe that's just due to being no games today

Sadly, the live tile let me down, like always. Nothing like seeing a score from 30 minutes ago and having to manually refresh to get the "live" info.

Thats a very complete app, plus it's free. Not a great fan of the color scheme but definitely worth downloading. It would be perfect if one could pin his fav team to the start screen with a live tile, or am I missing something?

Why no cricket? They had it and then they removed it.

Wow!wow!wow..was a big big fan of this app on android,missed it badly here.hope it works aa good as the android ones.a big thank you to the devlopers :D

LOL.. Watch this. It's cool....
http://www.youtube.com/watch?v=vsCER0uwiWI

I love the video highlights.

Currently I use 2 apps for scores one is this and the other one is goal.com app both are good but this is a masssive app with other sports too. Bing throws you on a website for details on score.