SofaScore LiveScore lets sports fans worldwide follow their favorite teams every game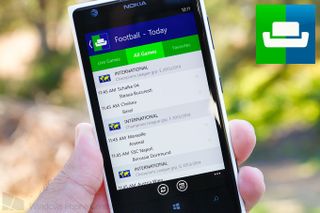 Here's an app that all sports fans can get behind. One that isn't focused on one region, but the planet as a whole. It's called SofaScore LiveScore and it's really awesome. It's been out for Windows Phone since mid-summer, but we recently caught wind of it and the app itself received an update. What better time to talk about it. Let's check it out.
We've got a handful of ESPN apps in the Store for Windows Phone that seem to get the job done for most people and more recently Bing Sports. There's probably a handful of other great apps for checking scores I'm forgetting, but we're here to check out SofaScore. Newcomer to both Windows Phone 8 and Windows 8. Here's what you can do with it on Windows Phone:
Notifications (sound, vibration, text-to-speech)
MY TEAMS – list of your favorite teams
MY GAMES – list of your favorite upcoming games
In game stats
Standings
Live statistics
H2H
Lineups
Schedule
Commentary
Tables
Last and next matches (fixtures)
SofaScore also supports a fairly wide variety of sports. You've got football (WC World Cup 2014, UCL Champions League, EL Europa, Bundesliga, etc), basketball (NBA, FIBA Eurobasket, etc), ice hockey (NHL, NCAA, etc), Rugby, American football (NFL, NCAA, etc), and many more. Unfortunately, no cricket in this app, but ESPNcricinfo is so good do you need anything else? Hopefully more sports will be added soon, the SofaScore website (www.sofascore.com) has cricket and nearly any other sport you can think of.
Navigation with the app can be a little rough at first, but play around and you'll find all your sports and the features listed above. We'd love to see some more Windows Phone 8 features like pinning specific teams or leagues to your Start screen. But overall, SofaScore is a good first showing. And it's always nice to see development teams include Windows Phone when developing apps (they have apps on iOS and Android).
There's also a Windows 8 version, which is perfect for browsing on your tablet or PC. That version does have a few issues, but nothing a quick update won't fix. One thing that you'll notice when scrolling to the right with touch is the inability to scroll when touching actionable items. We'd like to see a little more fixes with the Windows 8 version, but we're glad to see an app in the Windows Store versus none. A start is a start. Hopefully our feedback will help them improve it quickly.
While not perfect, both apps are solid foundations for SofaScore LiveScore to build great apps for both Windows Phone and Windows 8. They're also both free with no ads, so it's hard to complain there.
It's available for Windows Phone 7.x and 8. Grab it in the Windows Phone Store, use the QR code below, or swipe to the right. Want the Windows 8 version? Head to the Windows Store (opens in new tab).
Ill try this out. The ESPN app blows.

Agreed. I've tried all livescore apps and this is by far the best one. Many sports, all leagues, notifications, stats, video highlights, fav teams...

I think it's designed well but not enough settings available to fine tune your favorite sport or team.

I use THE Football App, no I'm not kidding about the name, and that seems to do the job well enough.

I have The Football App and Kick Off, both are nice. Kick Off has very clean layout - and you can pin your favorite team on to the start screen

I will definitely check this out on both WP8 and W8.
It seems to be popular on both android and iOS. I like that they prominently displayed both WP8 and W8 apps on their site.

I'll check it out, but I'm not that interested if it doesn't have live tiles for team scores.

No live tile? It's amazing that there isn't a scoreboard app with a good live tile.

ESPN Scorecenter is the best... and that's sad, because it's very unstable and only shows one team when it's actually working.

There was an app called SportsScores whivh has unfortunately been pulled from the market. At one point you could put up to 4 teams from any sport on the Live Tile and it updated pretty quickly. I loved this app and still have it on my L810. Sadly, I can't get it on my 925.

this is actually a nice app. i have been using it for about 2 weeks for football (not the American) and I have to say it does what it advertise quite well. it's fluid, works and best of all, the toast and notification works fantastically well. The app can use a bit of fine tuning (perhaps prettiness') but rightnow i'd take this for FREE and functionality over all other things. The only immediate suggestion I'd recommend is for the developer to add a live tile scrolling after all the games have aired. Perhaps, a news section wouldn't hurt but for now i like all the recent additions to the app so big thanks to the developer.

This is actually the best live score app for football available on WP Marketplace. I've been using it since he time it has been released and it has also been updated a few times. Was using it on Android before. Awesome app, Great Developer support!

Nah, NFL Mobile is better... LOL, I know, I know.
The app does spear to be geared towards futbol.

I personally have started to prefer CBS Sportsline app for quick checking of NFL scores but NFL Mobile is good too, just a little slow to load although I love the red zone notifications with it!

An app for tennis fans please!!!

This app also includes tennis.

Was looking for a good soccer scores app and this looks to fit the bill!

No silly debates over soccer and football?

It's 'football' not 'soccer'. :P

Looks pretty good to me. I'll check this out. Windows 8 too.

I find THE football app to be the best for UK "football". The recent v2 update makes it look awesome and I love the push notifications. They are almost instant and saves opening the app. Also have Windows 8 app.

This is a great app, clean interface and well designed. Tile LiveScore is the best app i have used so far for football as you can pin an entire league to the start screen and scores update live. Not so great if your team loses though....

I cannot select my teams just getting spinning circle on lumia 1020

Not much good for Australia, doesn't cover all 3 football codes here :/

this is really a great app, I CAN follow my Team here in Brazil.

I like The Football App. It started by being very poor an app, and it evolved to be actually pretty good. It's kinda interesting to watch apps grow and getting better.
Windows Central Newsletter
Get the best of Windows Central in in your inbox, every day!
Thank you for signing up to Windows Central. You will receive a verification email shortly.
There was a problem. Please refresh the page and try again.