Spotify offers discounts on Premium subscriptions just in time for the holidays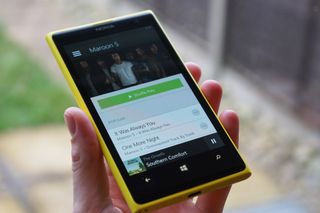 Spotify appears to be getting into the festive spirit with the holidays just around the corner. The popular music streaming service is offering consumers in both the UK and US special promotions on its premium subscription to tempt them into taking out new accounts for 2015. How does three months' worth of Spotify Premium for just $0.99 sound?
If you reside in the US, you'll be able to pick up that deal highlighted above, using the links below. However, if you're in the UK, Spotify is offering two months of Premium for free when you subscribe for a single month at £9.99. While it's not the same deal as the US, it's still an offer worth taking up. You have until December 31 to act.
Source: Spotify Holiday Deal (US) (UK)
Windows Central Newsletter
Get the best of Windows Central in in your inbox, every day!
Rich Edmonds was formerly a Senior Editor of PC hardware at Windows Central, covering everything related to PC components and NAS. He's been involved in technology for more than a decade and knows a thing or two about the magic inside a PC chassis. You can follow him on Twitter at @RichEdmonds.
Wrong forum to complain the lack of availability in India don't you think?

Need a Music app for India! What is Microsoft thinking when they bought Windows Phone to India?? They should have Video and Music app in the country before releasing WP here. They only want market in other country, they dont care about them!

It may be licensing agreements from the Music and Video industry rather than Microsoft to blame, idk?

Yes. And we need it in the EU, and in every other country. But guess what, there's something called LICENSING. It differs country from country, and MS has to make agreements with the representatives of each company's local representative/daughter company. That's something that needs TIME. Guess what, Google Music is not available in India either! Google Videos are, but that was thanks to a group agreement. Not to mention that Google has been running the service for some time, unlike MS. Stop complaining then. You HAVE a Music app - it plays music. The extra content, as its name says, is EXTRA, and not available everywhere. Get over it.

A lot of issues with music isn't Microsoft's fault. It's down to the music companies licensing their music to each country.

What about Xbox Music?? Why cant they release it in India and other countries?

He just explained it to you, it seems your reading comprehension is null.

Same goes for price. A month worth of music costs about 18$ here in Denmark. Its all down to the deal that MS and others can make with the local music business.

See the guy's comment above. The reason is securing music licensing agreements that are not yet available in your area. :)

I'm on the trial right now. It's okay. Xbox Music has a larger library of stuff I like, so I'll probably cancel. I might give Deezer a try.

Deezer's library is pathetically small compared to Spotify or Xbox Music. I would use the latter if it was available in Hungary.

So, .99 cents in the USA for 3 months, $15.50 for the UK user. Nice one Spotify.............no deal!!

Dunno how they got the pricing, here in Hungary I'm paying 5$ a month for Spotify Premium.

Yeah, it's $11.99 for the same deal in Australia :\

The Netherlands gets the same discount as the UK -> https://www.spotify.com/nl/holiday/

The same for Mexico: https://www.spotify.com/mx/holiday/

Wtf...i just signed up last week for full price....bah.

I signed up for this deal last night. Not a bad price to try out their service. I've been an xbox music subscriber for a while now but my subscription is coming to an end Dec 26th. I'm hoping Microsoft comes out with another good deal leading up to Christmas like tehy did last year. I think I paid only $49 for the entire 12 month pass.

+1520 on the Music deal for $49

Just purchased the Spotify deal. Got to create my playlists tonight though.

Now they do this. I just started my 9.99 subscription this month. Argg. Time to cancel and re-up.

I just signed up the family for a month to test it out. DAMN IT!

The UK deal is in the whole EU. Finland, Netherlands and also Mexico confirmed.

I was a subscriber (on Windows Phone), but the app got so buggy that I'm on Deezer now. Don't mind paying for premium services, as long as they work properly. And Spotify app hasn't seen an update in ages...

I want an update with my music collection, not just playlists :/

Just a note that this appears to only apply to NEW subscribers. I had a premium subscription awhile back, but cancelled to save some money. This would have been a great opportunity to get back into it, but alas I am not eligible.

I think you answered my question. It's also telling me I'm not eligible. I've never been a paid subscriber, however I did participate in the free trial period that they offered when Spotify first launched. I guess that counts :/.

Yeah, I cancelled a while back because it always let me down those few times I actually used it. So now it tells me that they have this deal here in Norway. And when I log in: Not eligable after all. But lucky me... I can still upgrade for the full price they say. :P

Yeah, it sucks... I thought this was perfect timing as I cancelled my premium subscription only 2 days ago (3/12) as I couldn't justify spending the $11.99 / month (price in Australia). $11.99 for 3 months is great - but I'll probably have to sign up for a new account and then screw around trying to get my playlists over.

Couldn't pass on this deal. Hopefully their WP app is solid and I can keep this.

http://youtu.be/bOR38552MJA
Windows Central Newsletter
Thank you for signing up to Windows Central. You will receive a verification email shortly.
There was a problem. Please refresh the page and try again.