Spotify Windows Phone app update lets users rename their playlists and more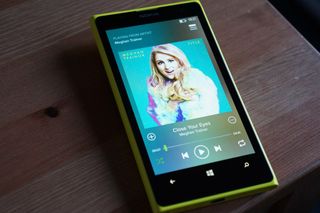 The Spotify music streaming app for Windows Phone got updated this morning in the Windows Phone Store, changing the version number to 5.1 and adding a couple of new features. One of them finally allows users to rename their playlists for the first time.
Here's what's new and improved in version 5.1.
Overall performance improvements.
Now rename your playlists and delete radio stations you don't listen to anymore.
Last.fm scrobbling support
While this update isn't as massive as the previous 5.0 version, which brought a new user interface to the app, heavy Spotify users will likely appreciate the new features that are included in version 5.1.
Thanks to everyone who tipped us!
Don't take this as a contempt but please stop making these comments. It's like you want people to make fun of you

Not that everyone is like this. Some bunch of desperate people are the ones who have started this and think this still sounds funny.

Can anyone suggest a music app in India

For music streaming indian songs use Gaana app.

Amen! Great to scrobble on Last.fm from my WP at last...

Holy shit this was the only thing I wanted from the app.. Now I'm a spotify subscriber for life :) Great job, Spotify WP team!

At last :) I'm so happy that Last.fm support has been added - Spotify Premium here I come! I'm glad that they paid attention to the votes for this feature on their forum.

Still no Spotify Connect :( Lazy lazy devs :S

Windowsphone is on fire today
Updates right, left, front, back and center

I haven't updated yet, but I've been having an issue where Spotify completely closes/crashes on me if I have it running under the lockscreen. It seems to play about 5-7 songs then just quits. Anyone else run into this issue?

Same here, very annoying :/

yeah, i have the same issue, spotify just stops playing sometimes, although it doesn't happen a lot

Yea that bug and more. That last major update was buggy as hell

Yes! They have corrected "repeat all" bug.

The app finally got Last.fm scrobbling! Oh yeah!

The 5.0 update saw me switch from Xbox music to a paid family subscription. This makes it even better. I am willing to spend money on companies willing to support their apps.

Thanks God final y scrobbling

Last.fm scrobbling! Finally!

Cool. Fixed the problems I w's having on W10 on my 830. Will go give them a 5 star rating.

Same here, W10 Technical Preview on a Lumia 830. Spotify wasn't working at all, playlists were not showing corectly and the app woul crash when attempting to play a song. This update seems to have fixed all those issues!

Does music streaming still destroy battery on WP? I remember it being more severe than other OS's. Am I wrong? (I hope so)

If Microsoft doesn't get Xbox Music right with W10 for Phones, I'm switching my subscription. MS needs to just bite the bullet and pay whatever it takes to get Spotify.

When will be the app available in India ?? :/ :(

Microsoft sold mix radio and discontinued for India. we don't have any damn good music like pandora,Spotify. and i use to love mix radio so much.

Spotify now works on Windows 10 Technical Preview. Good job.

My Spotify playlists still aren't loading on the Windows 10 Preview Build. So, I'm not sure if the Spotify developers have resolved this issue quite yet.

Forgive me for asking this... But what's the big deal about last.fm scrobbling? It just logs what you have played. Any other use that I'm not aware of. Plus I stopped using last.fm since they started charging and I subscribed to some other music service.

It's not polite to make fun of people with OCD.

Last.fm charges? I wasn't aware of that, though to be sure I rarely go the site. I haven't always scrobbled either because of the lack of support in some players. It used to be good for keeping track of how many times you played certain artists. I also have found Last.fm to be helpful in finding new artists. Glad Spotify has added it, I may use Spotify more than I have been.

It's great to talk to other people with similar music taste, get awesome recommendations, look up bands, albums and songs and much more They only charge for streaming music from them I think and almost no one does it...

great, now go back to the windows phone design and actually improve the performance instead of making it worse

I've always been a MixRadio user but lately I've been using Spotify instead. The Windows Phone app is actully really nice.

Fuck yeah scrobbling! See ya later XBM!!!!

While Deezer give us a better performance, choices and absolutely better web browsing, Spotify only give "better" look

When I see ''overall performance improvements'' in masterpiece apps like spotify, then I rush for the QR code to get the update! On lumia 630 the previous version loaded on an abysmal time of 7 seconds and now it loads in 4 seconds! Great!

I just wish they'd fix the resuming issue. Every time I go back to the app via multitasking it resumes, then goes restarts all over. Annoying as f*ck!!

I want Cortana integration so I can 'spotify play artist, song, etc'

Indeed. This would be a great piece of functionality. I wouldn't mind a transparent tile, too.

I want Cortana integration so I can say 'spotify play artist, song, etc'

Remember to use the approtiate vote-forum-thing for Cortana ideas. I forgot it's name at the moment :)

When denim for 1520 att? J/k

Last.fm scrobbling? FINALLY!

Best music app in the world.

And where is spotify connect? Still not present... I like the update apart from that though

It's about time we had Spotify connect

Last fm scrobbling support???? YASSSSSSS Posted via Windows Phone Central App for Android!

Isn't it available in India

At least one major service isn't dropping support of the platform.

To everyone asking when this app is going to be available in India, there is so much more to launching the Spotify service than just publishing the App in your region. A quick Bing search will inform you about music licensing etc.
Windows Central Newsletter
Thank you for signing up to Windows Central. You will receive a verification email shortly.
There was a problem. Please refresh the page and try again.