Spotimo first look: A beautiful merging of Spotify tunes and Groove Music style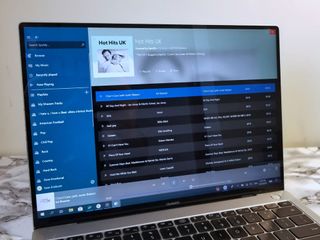 (Image credit: Windows Central)
Spotimo is a new Spotify application that merges the look of Groove Music with the functionality of Spotify music streaming. It features Fluent Design throughout and is the best-looking music app I've ever used on Windows.
Spotimo is in beta, so it has some bugs and crashes, but overall worked well during my use. While Spotimo is in beta, it is available for free. Searching for it in the Microsoft Store won't show a result, but you can grab it using the link below.
Beautiful music
(opens in new tab)
Attractive and feature-rich

Spotimo takes the best design elements of Groove Music and integrates them with Spotify music streaming.
A gorgeous design
I adore the design of Spotimo. It looks like Groove Music brought into 2019. The touch and mouse friendly interface lays out a grid of music and playlists that's easy to navigate. The Fluent Design of the app extends through every aspect of it. It's like a love letter to Windows 10 design language. Spotimo's reveal effects, context menus, transparency, scrolling animations, and overall design create a gorgeous application.
Some might ask if that's important, I can almost guarantee that someone in the comments or on Twitter will say that looks don't matter for an app like this. My response would be that there's a reason the internet went into a flutter about iOS 13's dark mode from WWDC: looks matter. Having a unified look and feel that is easy on the eyes makes it more enjoyable to use an app. Combine that with Spotimo working well and delivering Spotify's core features, and it's easy to see why someone would use this over Spotify's own app or their web browser.
I use Spotify, but I don't claim to be an audiophile. A more refined ear might notice a difference between Spotimo and other Spotify applications, but the stream quality was more than good enough for me.
This app uses Spotify's own APIs, and if you have a Spotify Premium account, the music comes directly from Spotify. Free users get their music through myTube!. Spotimo lets you edit and control playlists, share music, add songs, and browse the latest content. The app supports Spotify Connect, though it was buggy in my testing. I didn't find a Spotify feature that I tried to use that wasn't supported. That's not to say you won't find one if you're a hardcore user, but my everyday listening wasn't hindered.
Native UWP
Spotimo is a native UWP application, what some would call a "True UWP app." As a native UWP app, Spotimo can have smoother performance, access to native Fluent design, and can run on other devices. Spotimo actually works on Windows 10 Mobile if you're still rocking an older device. Personally, I don't see much of a performance difference between Spotimo and competing Spotify apps, but it isn't worse. It runs well, can stream and control my music, and looks good while doing it. And to me, that's kind of the point. I don't want a Spotify app that feels like a hack job. I want an app that replaces the Spotify app while providing something more. Spotimo looks like it belongs on Windows 10 while still providing a complete Spotify experience.
A gorgeous take on Spotify
I love looking at apps like this. It's a throwback to a time when UWP development felt fresh and exciting. Spotimo is a gorgeous take on Spotify music streaming that looks great and doesn't hinder the functionality of listening to music through Spotify. The developer spent over 400 hours on this application, and it shows.
I hope that as this app moves towards a public release that it smooths out any bugs because a Spotify app that looks this good with buttery smooth performance would be incredible.
Pros
Stunning design.
Is a Native UWP app.
Supports long list of Spotify features.
Cons
Free version requires non-Spotify source for music.
Beautiful music
(opens in new tab)
Attractive and feature-rich

Spotimo takes the best design elements of Groove Music and integrates them with Spotify music streaming.
Windows Central Newsletter
Get the best of Windows Central in in your inbox, every day!
News Writer and apps editor
Sean Endicott brings nearly a decade of experience covering Microsoft and Windows news to Windows Central. He joined our team in 2017 as an app reviewer and now heads up our day-to-day news coverage. If you have a news tip or an app to review, hit him up at sean.endicott@futurenet.com (opens in new tab).
I still wish this app (or a new app) can stream/download my Onedrive music. I don't wanna fill the storage on my Surface Go.

Your best bet is a microSD card, unfortunately.

This is the only thing I want in a music player, OneDrive music streaming. The closest decent app I can find is Cloudplayer on android but unfortunately it doesn't play any of my WMA Pro formatted music without glitches. Grooves Music was the only player that streams my OneDrive music library flawlessly and it integrated well with Grooves Music service. I tried to migrate over to Spotify hoping that it would include OneDrive support. After a year of premium service, I cancelled it and basically reverted back to ripping any new CDs I get or purchasing Flac format directly from the artists. I pretty much gave up on streaming music and since there isn't any real web player available for OneDrive music, I only use OneDrive as a backup service. If only Microsoft just port the Grooves interface into OneDrive and allow full library playback, instead of just allowing one song at a time, it would make all of the Windows Phone fans very happy by getting their groove back.

This is something we're looking into

There's kind of a work around I found on Spotify's website, where you can add local files to the mobile app by adding files using the desktop app, then connecting your phone to the same wi-fi network as your computer, then downloading the music on to your phone. Obviously it's not the same since the downside is the files take up space on your phone, but at least if you have stuff that you can't get through Spotify's service, you can at least get it on your phone that way: https://support.spotify.com/is/using_spotify/features/listen-to-local-fi...

I really enjoyed to graphics on the Zune program while the music was playing. I wish we could get something like that again.

I second, third, fourth, and fifth that sentiment.

Great, now get this on Android

Where can I get the app? The link did not work

Cons: Dont work offline The rest is good

I like it overall, but the app icon... Meh, could be way better and represent that it's worth it.

Wish I could get this to run on any of my systems. All are 1903 or newer but it crashes instantly. Tried resetting it and so forth but no dice. Seems to need some work on it before I can test it out at least. Like the concept though!

Wish you could play podcasts through Spotify's web player and APIs. Spotify is so bass ackwards

Me too. Eventually, I'll find a way

Keeps crashing on me. As nice as it looks, the free tier using non-spotify source is a dealbreaker.

For a beta app, Spotimo already works better than the Spotify app on Windows 10 mobile. It launches a lot faster and so far it doesn't constantly logs me out like Spotify on W10M and Android. It's a shame that Xpotify isn't available on mobile since it would be nice to compare both of these apps on my obsolete Lumia 950XL. Not having integrated OneDrive music streaming support is driving me nuts and Spotify compression is really awful.

Great work! Where was this guy about 5 years ago? If he set up a Go Fund Me page I'd contribute to see him quit his day job and build more UWP apps of this calibre.

Feel free to donate here: https://www.paypal.me/arlogodfrey Donation of any size will help speed up development!

It's certainly a good start. Ive been using xpotify, which is more mature than spotimo but really it's Spotify with uwp polish. Spotimo built from the ground up. Wishlist:
Offline mode including download albums not just play lists. Artist section in library. Artist bios complete, hitting more open in app not browser. The same alphabet selection system as in groove and windoes phone - hit a letter for a section, it opens the alphabet on screen, hit whatever letter you want and it takes you there straight away. Slow down the artist art transition. Have a bit of zoom/pan and then fade in/out to the next one. That would make it perfect IMO.

Groove was perfectly perfect. If it ain't broke don't break it MS.

Seems like a really cool alternative. Mine kept cutting out when continously playing though.

It's great. I love the features! I just wish it, like other Spotify Clients shows what my friends are listening too (if that's possible).
My only complaints are it doesn't always use Spotify's music and I have Spotify Premium and sometimes it so just grab the music video's audio when I playing the song. It's annoying, especially if the only music video that is available is a cover so you never get the real song. I rarely experienced it and I expect bugs too. So not a huge deal but it's something that needs to be fixed.
Windows Central Newsletter
Thank you for signing up to Windows Central. You will receive a verification email shortly.
There was a problem. Please refresh the page and try again.