Sprint doc shows Touch Pro 2 on Sept. 3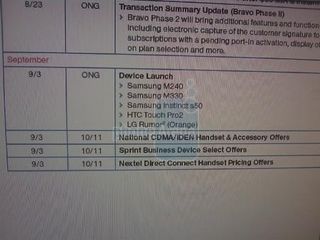 Throw this big ol' log onto the fire that is a the Sprint Touch Pro 2 rumor mill. The document obtained by PhoneArena points to the long-awaited Touch Pro 2 being available on Sept. 3.
That would put a hole in our admittedly weak supposition that the TP2 wouldn't be available until middle of the month, at least. And we're just fine with that.
Phil is the father of two beautiful girls and is the Dad behind Modern Dad. Before that he spent seven years at the helm of Android Central. Before that he spent a decade in a newsroom of a two-time Pulitzer Prize-finalist newspaper. Before that — well, we don't talk much about those days. Subscribe to the Modern Dad newsletter!
oh please oh please oh please oh please oh please oh please... Sprint..stop toying with my heart...release it already!!!

I'm pretty much set on getting this phone as soon as Sprint or Verizon get it. I'd prefer Verizon (they have much better coverage in my area), but I might switch over to Sprint if they get it first. Although I guess if I was smart, I'd wait until they both have it. See if they'll compete against each other on price....

buddy trust wat i am tellin u lol u not gonna be able to wait

I for one would love to see the Touch Pro released on September 3. However a Thursday release date? That seems both odd and random considering Sunday is usually Sprint's day of choice for releasing phones. Not that I'm opposed to this day because...well...the sooner the better! But hey this does seem slightly off the beaten path Sprint.

Thursday would be odd. But remember that the Pre was released on a Saturday ... Any Sprint insiders know what that ONG stands for?

I saw that too. I hope it doesn't mean that it will take any longer!

ONG most likely stands for ongoing, since it looks like those two boxes are start date and end date. the entries below that one are special offers and it looks like there is a time period for them

hallelujah, hallelujah, hallelujah.A DATE.
http://www.youtube.com/watch?v=fVNDjs5Xq9E i'll b doing that dance when i have the tp2 in my hands.
they should skip the instink2 and just release the omnia2 or omnia pro. come to think of it seems NO ONE CARED ABOUT THE INSTINK2. no one even rumored it. "MESSAGE SPRINT" now if only the mets players can come back from there injuries.

I'm waiting for either att or verizon. Tmobile no 3g sucks

God is great! I have been waiting for this phone since I first saw it over 6 months ago (European model). Soooooo beautiful!!! By that time I can just replace my malfunctioning Treo 800w for it thru insurance (If I don't buy it first)! AND its a world phone??!! Even better!!

With as long as I've been waiting for this thing, it keeps getting harder and harder to justify going with WinMo. The only thing that is keeping Window Mobile alive is HTC and Touch Flo UI (by that i mean all variants, 3d included). The only problem with that is now pretty much all the functionality of TF3d is now on Android with Sense UI. I think I may get the rumored Sprint Hero instead. As much as I want this thing and have been waiting for it, I might as well skip it, and see how good Windows Mobile 7 is.

Finally :') now a release date for the diamond2 please.. if its ever gonna be release. my contract ends on december.. hopefully by then theres something.. or i might just have to get a the tp2 >_

Too bad that also doesn't show later dates as well and a possible Android release of a phone as well. I was looking to see if it may show another Samsung or HTC. Maybe they dont release docs like that one that far in advanced. So maybe by Sept this time we'll know about an Android device.
I'm still on an Fair and Flex SERO, so i've been waiting for something I can use on it. Either this, or an Android device I presume unless Sprint does the identical thing they did for the Pre plan wise.

I believe (not certain) that ONG means "ongoing." If you look under ONG at the other rows, you'll see "offers." This to me would indicate that particular offer is go until XYZ date. Therefore, if that is the ending date row, the phone wouldn't have an ending date...just an ongoing availability. Only me 2 cents!

i was wondering if the tp2 will be available on different plans like the messaging plan like i have. I do not have a data plan or everything plan so i was wondering if anyone knew if i can get the phone with the messaging plan? i heard that if you pay full retail price at sprint store they will let you have it with whatever plan you have? and if not would it be a good idea to get an unlocked version from best buy or something? thanks guys.

the only phones that sprint carries that require a certain plan are the instinct and palm pre...as of right now, you would be able get the TP2 with just your basic minutes plan or any plane, but seriously if you don't have a data plan you won't be able to utilize all of the features of the touch pro 2. A smartphone without a data plan is like having a computer that just runs microsoft word :-p

Thats BS, you can use Wifi to get all the features out of the TP2 as well. You don't have to have a data plan to get everything to run. Alot of professional people have smartphones without data plans and use wifi all the time.

and wheres the Touch Pro 2 weekly PODCAST #62

Malatesta where is the Touch Pro 2 weekly PODCAST #63. lol
"Malatesta...oh no we've lost Malatesta"

Anyone know if Sprint plans on replacing the Diamond2 with the Whitestone, like Verizon? Do we know anything about a Sprint Diamond2?

Looks like a cool phone...
But I don't like slide out keyboards...
And I love my Treo Pro.
I'll probably play with it when it comes out.

The only thing that's keeping me from gettig a tent and sitting outside the Sprint store is support for Windows Mobile 7 (or Windows Phone after the name change). The TP 2 likely won't support the new OS so I may just hang on to my existing TP until the next one.

Yes,great.rticle, I have the same belief with you,so let me introduce the area to you.Now vivienne westwood Jewellery become more and more popular within all kind of people. Juicy couture is a kind of juicy jewelry . It won a good reputation. Vivienne westwood often held its regular discount activities,such as vivienne westwood Jewellery ,juicy jewelry and fashion vivienne westwood jewellery earrings so on.In these activities vivienne westwood sale got great success. juicy couture consists of four main aspects, vivienne westwood necklace and vivienne westwood bracelet,vivienne westwood earrings ,vivienne westwood rings,vivienne westwood pins,vivienne westwood keyrings,vivienne westwood sale,vivienne westwood online ,vivienne westwood uk.
vivienne westwood series are worthwhile than other juicy charms coutures. They have a lot of vivienne westwood jewellery,for example vivienne westwood necklaces, vivienne westwood earrings, vivienne westwood bracelet , vivienne westwood rings ,vivienne westwood earrings and vivienne westwood sale. Vivienne jewellery is a new jewellery brand,it include all vivienne westwood keyrings ,such as vivienne westwood online , vivienne westwood necklaces, vivienne westwood jewellery ,vivienne westwood and vivienne westwood pins and vivienne westwood sale and vivienne westwood uk so on .We assure you of
Windows Central Newsletter
Thank you for signing up to Windows Central. You will receive a verification email shortly.
There was a problem. Please refresh the page and try again.