Sprint Double-Officially Launches Touch Pro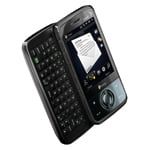 We brought you a hands-on with the Sprint Touch Pro back in September and earlier this month we broke the sad news that it was going to be delayed a bit. Well, Sprint and HTC have finally officially broken cover by letting us know that it's really coming and fairly soon.
Here's the details:
...In other words -- you should be able to find it this coming Monday (or, we suspect, Sunday) if you're lucky; if not, you should be set on Nov. 2nd. Price is still set at $299 after contract. We're expecting big things from the Touch Pro on Sprint -- traditionally HTC's stuff has been over-performing on CDMA compared to their GSM brethren. If that's the case with this Touch Pro, we could be looking at a real screamer.
Specs after the break, in case you forgot them. So is the press release, in case you want the official line.
Specs
Size: 4.17 (L) x 2.05(W) x 0.70 (D)
Weight: 5.3 ounces
Connectivity: CDMA 2000 1X/EVDO Rev.A/1xRTT and IS-95A/B voice or data. Dual band (800 and 1900 MHz)
Operating system: Windows Mobile® 6.1 Professional
Display: 2.8-inch VGA touch screen
Camera: 3.2MP, with autofocus, flash and video calling
Internal memory: 512 MB flash, 288 MB RAM
Expansion slot: microSD™ memory card (SD 2.0 compatible); supports up to 16 GB
Keyboard: Slide-out five-row QWERTY keyboard
Bluetooth: v2.0 with A2DP support (Stereo Bluetooth)
Wireless: Wi-Fi 802.11b/g
GPS: GPS/AGPS
Interface: HTC ExtUSB (mini-USB and audio jack in one; USB 2.0 High-Speed)
Battery: 1340 mAh
Talk time: 250 minutes
Chipset: Qualcomm MSM 7201A 528MHz
Press Release
Bellevue, Wash. — Oct. 24, 2008 — HTC Corporation, a global leader in mobile phone innovation and design, today launched the HTC Touch™ Pro for Sprint. Bringing a beautiful new angle to mobile business productivity, the HTC Touch Pro uses styling and functionality similar to the recently launched HTC Touch Diamond™ and introduces a variety of business-focused enhancements that make getting work done on-the-go quick and easy.
The HTC Touch Pro is priced at $299.99 with a two-year subscriber agreement, after a $100 mail-in-rebate and a $25-or-higher data add-on or Everything plan with data. Customers will be able to purchase the device in select national retailers beginning the week of Oct. 26 and in all Sprint sales channels, including online at www.sprint.com, 1-800-SPRINT1 and Sprint Stores, on Nov. 2.
"People have already shown a tremendous initial response to the HTC Touch Diamond for Sprint, and we are pleased to also offer the HTC Touch Pro as another choice to customers," said Jason Mackenzie, vice president for HTC America. "The HTC Touch Pro is the perfect device for those who demand the ease of use of TouchFLO 3D and the styling of the HTC Touch Diamond but also crave a more powerful mobile business experience."
The HTC Touch Pro is a professional workhorse that allows people to balance their professional and personal lives in ways that matter most to them. Building on the strong feature set found on the HTC Touch Diamond, the HTC Touch Pro adds a five-row, slide-out QWERTY keyboard for easy data entry, expandable storage capabilities with a microSD card slot (1 GB card included) and a business card scanner application to automatically capture and convert business card information to the contact list using the built-in 3.2 MP camera/camcorder. Additionally, with Windows Mobile 6.1, users have access to security and device management capabilities demanded by many business customers. "The HTC Touch Pro marks the addition of yet another robust Windows Mobile device for our portfolio and demonstrates our commitment to delivering the best wireless technology today," said Kevin Packingham, Sprint senior vice president of Product and Technology Development. "Combined with worry-free pricing and exclusive Sprint content, the HTC Touch Pro delivers an unparalleled user experience – all on Sprint's Now Network."
Sprint customers will have direct animated access to arrange their favorite contacts, photos, weather and music by using HTC's intuitive TouchFLO 3D interface. By combining a rich, dynamic presentation with integrated multi-media features, people have the ability to graphically personalize their device with 3D animated transitions.
Lightning Fast Connectivity
The HTC Touch Pro for Sprint provides a mobile Internet experience that uses the Sprint Mobile Broadband Network. With EV-DO Rev. A technology access, the HTC Touch Pro provides customers with blazing fast speeds that reach more than 253 million people, 16,986 cities and 1,625 airports and brings customers instant gratification so they stay connected to life and work fast and on-the-go. With EV-DO Rev. A, peak download data rates increase to 3.1 Mbps and peak upload data rates increase to 1.8 Mbps; average download speeds improve to 600 Kbps to 1.4 Mbps and average uplink speeds increase to 350 Kbps to 500 Kbps.
Beyond this lightning-fast connectivity, customers can also interact with their device in new ways. With the new HTC Touch Pro for Sprint, users can zoom and pan Web sites and automatically view optimized content that has been specially created to fit the display. Using gravity-sensor technology, turning the device sideways automatically rotates the Web page view from a portrait to landscape view.
In addition to game-changing Web browsing, the HTC Touch Pro offers direct access to exclusive Sprint content, including live and on-demand programming from Sprint TV® as well as over-the-air song downloads from the Sprint Music StoreSM and even a custom YouTube application for watching a variety of user-generated video content.
Unmatched Style With Complete Productivity
Like the HTC Touch Diamond, the HTC Touch Pro is crafted with precision to fit comfortably in a user's hand and brings together elegant touch screen response with the direct precision of HTC's distinctive sliding keyboard design. A new five-row QWERTY keyboard layout makes typing-intensive tasks like composing email or working on Microsoft Office® documents quick and easy. Built-in TV-out functionality means users can deliver the perfect PowerPoint® presentation from the Touch Pro.
Bursting with Innovation
The Touch Pro delivers an unrivalled combination of features and functionality. The 2.8 inch display provides near-print quality viewing that enables beautiful Web browsing and viewing of photographs. The built-in camera includes an optical auto-focus lens that ensures the photos you take will be clear and consistent. Advanced wireless and auto sensor screen pivoting are just a few of the features that make the Touch Pro experience stand out.
Unmatched Customer Experience
Customers purchasing devices at Sprint retail locations can get the most out of their phone by having it personalized just for them before they leave the store. With Ready Now, Sprint retail associates work with new or existing customers to explain, set up and demonstrate the features and applications of their new phone.
Sprint's Ready Now program is a first in the industry – no other wireless company offers a similar customer experience. The service is available whenever the customer wants it during business hours; however, only existing Sprint customers have the option to schedule an appointment online by visiting www.sprint.com/readynow.
To take advantage of all the great features on these new phones without having to worry about additional monthly charges, Sprint customers can sign up for the $99.99 Simply EverythingSM plan, which includes unlimited domestic calling, messaging, email, Web surfing, GPS navigation, Sprint Music Premier, Sprint TV® Premier, NFL Mobile Live, NASCAR Sprint Cup Mobile, Direct Connect and Group Connect on compatible phones. The Simply Everything plan is available to current customers without renewing their contract. New lines of service require a two-year agreement.
Key HTC Touch Pro Specifications
Get the Windows Central Newsletter
All the latest news, reviews, and guides for Windows and Xbox diehards.