Sprint Touch Pro 2's are being delivered: Get yours yet?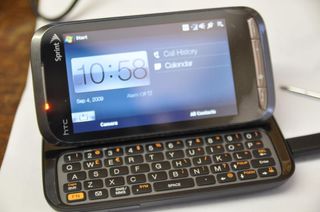 If you've been following our coverage, you'll know that you can now order the Sprint Touch Pro 2 from Sprint telesales directly (866-866-7509).
A few lucky users got theirs delivered yesterday -- a mere 24 hrs after placing their order! Not bad. Of course the rest of us (including yours truly) will have to wait till Tuesday (we loved that band) due to that Labor Day/Sprint doesn't deliver on Saturday's thing (boo).
So, did you get yours yet? If so, does it have unicorn support, fairy-dusted magic battery life and dream-fulfilling processing power? Let us know in comments!
Photos via stevedusa
Windows Central Newsletter
Get the best of Windows Central in your inbox, every day!
Daniel Rubino is the Editor-in-chief of Windows Central, head reviewer, podcast co-host, and analyst. He has been covering Microsoft since 2007 when this site was called WMExperts (and later Windows Phone Central). His interests include Windows, laptops, next-gen computing, and for some reason, watches. Before all this tech stuff, he worked on a Ph.D. in linguistics, watched people sleep (for medical purposes!), and ran the projectors at movie theaters because it was fun.
i got mines yesterday @ 2pm sharpp

Mine came today. Was actually scheduled for yesterday and I missed the driver.

I received mine on FRIDAY. I couldn't believe it. I called TeleSales on the 3rd, the original rumor date. TeleSales they didn't have them until the 8th, but then she asked a supervisor. Sure enough, they took my order on the 3rd, I paid overnight shipping and got it Friday. The phone is incredible. I haven't really taxed the battery life yet, but it can't be any worse than my Treo 800w. I love this phone.

Yeah i was lucky to get mine on fri as well,oh yeah heres a pic http://i30.tinypic.com/16by5ur.jpg

Mine delivered on Friday as well. Battery life is ok, but not great and extended bateries will be slow to come out based on mute button on battery cover. Got two hours of constant streaming audio before first battery warning. Screen is amazing. And I love the prox sensor that shuts off the screen while on a call. The g-sensor that automatically turns on speaker phone when device is face down is most excellent! And speaker quality is great (if just a bit quiet). But program memory is a bit disappointing. Sure its a lot of ram, but with Kinoma, IE, Facebook, Outlook and MoTweet running (especially if running TouchFlo) the system comes to crawl. p.s. HTC/Sprint made it tricky to get to WinMo. Non-power users will likely never see a frontend other than TouchFLO (which is sweet). To get to settings and disable TouchFLO (or just use the standard winmo settings like adjusting fontsize) hit the windows flag and the left softkey (all settings). Took me 10 mins of frustration to figure this out. p.p.s. Phil mentioned how it ws questionable whether this should have been released with 6.1 rather than 6.5 unless there is a better way to delivered the upgraded 6.5 firmware. For a while now HTC has delivered utilities on their Sprnt WinMo phones for over the air provisioning and over the air PRL updates. This is th first time I've seen a firmware update utility. It's next to the provision and prl icons in settings system. Something to use on Oct 6?????? Can it be invoked remotely?????

Very cool. Yeah, the firmware updater was first seen in Sprint Snap: https://www.windowscentral.com/sprint-htc-snap-can-do-ota-firmware-updates So this seems to be a new thing for them. Can it do a full WM6.5 update? Possibly, but we just really don't know yet. I think it's more for bug fixes than full OS update though since they are so huge. Great mini-review though!

I am getting two and a half times to triple the battery life of my Touch Pro.

true, but that phone has some of the poorest battery life in phones around i went from it to the xperia x1, and its easily 2x longer at all times.

After 4 complete charge cycles, battery life is better, but still not great. I really should reserve battery comments until a few complete charge cycles are done. I'd characterize my use as pretty intensive and now I can get about 2.5 hours of screen off constant pod casts (constant evdo data plus audio through headset). I'm definately going to have to find some alternative charging solutions.

@eJohnny; I doubt you will see the WM 6.5 upgrade delveried OTA style.
Right now, making my own 6.5 (and 6.5.1) roms, the .nbh file is about 90 megs itself.
I would be surprised if Sprint would tax the 3G network like that.
Maybe it could DL in chunks, but I could see it just prompting you to goto sprint.com/HTC and download a firmware upgrade.
I would only assume, if we have TouchPro's, that wouldn't be hard for us to do.

2 questions...
1. Are there any SERO users that have the phone and have activated it? I'm still a little concerned that SERO users would be able to buy the phone but not be able to activate it under the plan.
2. Anyone used Internet Connection Sharing with it? Just want to make sure that's not disabled somehow.
-Thanks!

Re: #1, yes SERO users have successfully activated it. They are advised to NOT turn on the device when they take it out of the box. Instead, go online and activate it via your account by inputing the ESN number. But there have been no reported problems so far.

Advised by who? There is nothing in the Sprint system on the Touch Pro 2 different from Touch Pro or Treo Pro.

Advised by me i.e. it is my advice. Talking to a Sprint CS rep (by phone or online) to activate a phone is a waste of time (literally) and you may get dumb things from them like "this phone isn't out yet" to "you'll have to change your plan"--it happens. Doing it as an ESN swap via your account settings is faster (no wait time) and has no room for Sprint-human error, of which they are quite prone to do.

Would you nice people who were lucky enough to get one confirm something for me regarding bluetooth stereo use? I've got an XV-6800 which has an annoying problem of the sound cutting off while using wireless stereo headphones. It will play fine for a while and then cut out for about 1-3 seconds, resume playing and cut out again periodically. I don't have this problem if I use a wired headset but all my bluetooth one's have the same problem Would someone please confirm this annoyance has been fixed on the Touch Pro 2 as this will determine as to go with the Verizon Touch Pro 2 or Omnia 2. Thanks!

What player are you using? I typically don't have this problem with windows media player and my xv6800. I'm using motorola s805 bluetooth headphones. Also used a sony bluetooth receiver with 3.5 headphone jack. I do have some stuttering problems with the audible player occassionally. Usually if I disable the automatic e-mail sync it stops stuttering. Sometimes easier said than done.

To the lucky folks - Does package include any kind of screen protector, let alone one designed to leave on (as opposed to shipping protection)?
Congrats! (jerks :)

Yes, it comes with a screen protector. No case, headphones or storage card though.

I am a SERO user who received their phone yesterday. I was shocked that it made it so soon. It activated just fine with no issues whatsoever. I owned the original TP before this and I must say this phone is definitely worth the upgrade. I was sold on the screen size as soon as I had it in my hand. The build quality feels much more solid and the keyboard doesn't shift around in my hand the like TP. The software refinements from HTC were a very welcome surprise to me. I absolutely love it and think most everyone else will too. They really skimped out on the extras but at least they included a nice screen protector that I managed to get on without bubbles or dust. No headphones or card, but I already have those. The USB cable plugs into the AC adapter to charge the phone. Comes with the international roaming SIM card preloaded in the phone too. Overall, I am very happy with what HTC has done with the software and aesthetics. Despite running the same CPU and RAM as the TP, this phone runs much better than its predecessor.

Mine is sitting in the local UPS warehouse awaiting a Tuesday delivery. I'm so excited, I just can't hide it. :-)

Anyone think about asking Sprint to match the Verizon price... $25 to $50 is one thing, but if the rumors are true, the Sprint is $350 and the Verizon is $199 on two year contracts...

I paid $350 putting it on one of my family lines that costs me $9.99 a month and they renewed my free unlimited text and unlimited data. That puts my two year costs at under $700 ($350 plus $240). Even on a family line that costs $20 or $30 or an individual line that costs $30 or even $50 as is typcial with Sprint at $350 on Sprint this is a STEAL compared to $200 on Verizon. Don't wish anything about Verizon's or ATT pricing on Sprint.

I'm also a SERO user...just ordered it with absolutely no issues and am anxiously awaiting delivery!

Got mine on friday at 104pm ordered thursday at 948am! LOVE IT

I actually waited until Sept. 5th 2 order mine. I was having 2nd thoughts. I cant live w/o vertain programs in fone. There is no way 4 me 2 confirm wut programs Touch Pro has. But since I have 30 days 2 return unit, I just decided 2 order it. Does Touch Pro 2 include all programs that was in original Touch Pro? Does Touch Pro 2 come w/ Pocket Express & MP3 Trimmer? Those programs were omitted from AT&T Fuze and Verizon Touch Pro. Im just wondering If Sprint included them in Touch Pro 2, like they included them in Sprint's original Touch Pro

Pocket Express - no
MP3 Trimmer - yes

"2 order", "fone", "4 me 2 confirm wut programs" WTF? Are you on some kind of medication? Besides, who cares what comes on it, it's Windows Mobile, not an iPhone, you can install whatever you want...

I wonder will u be able to go on web sites that need cookies or down load a higer windows so you veiw more web sites. also can u download call tones.

i want to know how much do excactly have to pay upfront after taxes 450? or 470? or is it more i am trying to open up a new line thanks

the phone might be cheaper if your adding lines and buying new phones. they will take 20 percent off.

taxes in both percentage and whetehr they apply to full price, discounted price or rebates vary greatly by state. Delivery and activation may or may not be credited/not charged depending on your relationship with sprint. Old lines renewing:
On old lines renewing contract an additional $50 to $70 credit is common (had to think of this as making the phoen cheaper since they would give you that if you bought a new phone or not when renewing but it is still nice). New lines:
Possible to get an additional 10% off (consumer) or 20 to 25% off (business line) the handset price. So people will pay between 0 to 8% sales tax, on $300 to $700, pay $30 to $0 for shipping in activation and $280 to $350 for the phone itself after rebate.

A few questions - Does the Sprint keyboard have backlighting? Does the camera have a flash like Verizon is rumored to have (spy shots at least). And, how the the speakerphone perform in a real world setting?

Thanks RBeaubin 4 answering my questions. Wow! No Pocket Express? I subscribe 2 them through my Sprint Touch Pro fone. That is one of d best programs that I use on a daily basis, for business and entertainment purposes:-( That was crazy for them 2 omit that. i wonder if I copy d program from my Touch Pro on 2 my memory card. Remove card. Install in Touch Pro 2. Then copy program from memory card and paste in Touch Pro 2. I wonder if it will work? I hope so. I cant live w/o that program. Mp3 Trimmer...love that program. Im happy that didnt omit that one. I enjoy editing my mp3s n2 ringers. I would never buy ringers.

You know, you can download Pocket Express.. I'm wondering from people who have this, I was kinda stoked about it, but the TP was so spotty as it is. This has the same horsepower under the hood, basically, I'm kinda worried about it. Never mind that it does more and has that bigger screen, I fear the bat. life will suck hardcore.

Im still between tp2 & hero..don't know which one I want, can't make up my mind. I still have the mogul..Does the tp2 have different today screen time numbers? colors? wallpaper? I like the htc original today screen better...but congrats to the people who got it!

TouchFlo3D can be very customizable. You can change the icons, the clocks, the backgrounds, the tabs and what order they are in or if they are listed at all. Some of the mods require programs from xda-devs but they still work just fine.

Got mine today. I can't believe it didn't comw with a case, head phones or a memory card. Hmmm the highest phone Sprint everhsd too.

NOT TO MANY GOOD REVIEWS ON PRO 2

I received my touch pro 2 yesterday--the day after I ordered it. However, it's defective--it thinks there is a headphone plugged into the jack all the time. As a result you can't hear the phone ring or speak over the phone. Took it to the local sprint repair store which verfied the defect. Called Sprint and was unhappy with the terms of exchange (wanting to charge my card for yet another phone until the return), so I cancelled the order and am returning the phone. When I asked to talk to a supervisor his brillant suggestion was that I return the phone to HTC!