Sprint: Unlimited Options For Shared Plans!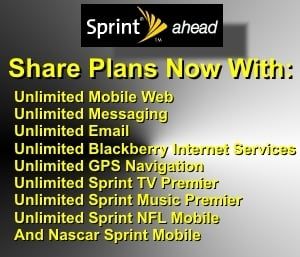 I don't know about you, but I was originally pretty excited when Sprint first announced their Simply Everything Plans (opens in new tab). For $99 a month I could get unlimited minutes, data, GPS, messaging, etc... Only to call Sprint and hanging up the phone feeling like I was being left for the cold out in left field because this was only for individual plans. If you have a shared plan for a couple members of your family you would have to pay $89 for the second line, $79 for the 3rd line, etc.. My four lines would have cost a whopping $339.96 a month!
Today Sprint FINALLY announced a huge step closer to offering a Simply Everything Plan for those who have Shared Plans! I called Sprint to confirm if this was really for real. Yes it is for nearly everything except unlimited minutes. Right now with my plan I have four lines, plus extra features like GPS for a couple lines, Sprint TV, etc... so I pay around $255 a month. With the new unlimited shared data and services for Shared Plans, I will pay around $185 with taxes included. That will be saving me $840 a year!
Here is the deal. On June 15th...this Sunday...you can get a Talk/Message/Data Share Plan with unlimited messaging, email, mobile Web, Blackberry Internet Service, GPS Navigation, Sprint TV Premier, Sprint Music Premier, NFL Mobile, and NASCAR Sprint Cup Mobile(SM) with 2 lines included. But unlike the individual Simply Everything Plans (opens in new tab) you have to pick how many minutes to include with the other unlimited services for your Shared Plans. With 1500 minutes it will cost $129.99 ($99.99 if you want to share minutes and unlimited messaging only) and with 3000 minutes is will be $169.99 ($149.99 if you want to share minutes and unlimited messaging only).
If you want to add additional lines and only want to share minutes and messaging it will be $9.99 a month per line. If you want to share it all it will be $19.99 a month per additional line. I did confirm with Sprint that you cannot mix and match your additional lines options, all your additional lines have to be either the $9.99 or the $19.99 option...so you cannot have one of each.
Check out their official press release from this morning (opens in new tab) to get all the juicy details. For those with multiple lines, this is certainly something to look at. They even give a matrix of how their plans and pricing compare to Verizon and AT&T. If they are accurate, Sprint is giving them a run for their money!
Since you do not have to extend your contract to switch to it, I am doing it first thing Sunday morning. If you are the wait and see how it goes type, then keep an eye out for when I follow after a bill or two to share how it really works out.
Windows Central Newsletter
Get the best of Windows Central in your inbox, every day!
The press release was not available as of 7:37 am paradise standard time from the link posted here; however, from the link posted in your other article it hits fine. Ben

It is definitely worth looking in to. I was advised Saturday the 14th was the beginning date and to call back. I am paying now with 3 Treos on the account at 1200 shared minutes $164.07.
Ben

We currently have Verizon, just switched to their unlimited after receiving a $513.00 bill for two treos (data and shared 3,000 minutes) ... went over obviously.
I'm EXTREMELY interested in Sprint's unlimited plans, it would save us about $100/month over Verizon's and I'm just hoping the service will be satisfactory. Where we are (Portland OR) I know VZW network is best coverage, but I'm hoping Sprint's won't be a huge difference as we travel around the area a lot every day (urban, suburban, rural - everywhere).
I wish I could make the switch now but I'm not willing to spend a few hundred bucks on the same phones we have now, waiting for the 800w's

I have been with Sprint since 1998. I have loyalty to them. Each time my contract comes up I look around for a better deal and end up signing with Sprint again. In my real job, I am a District Manager based out of Portland, OR area and travel all over OR, WA, ID, WY and CA on a regular basis. A lot of the areas I go are rural or along the coast....and I don't have any issues with coverage.

My problem lies only with understanding some of the people I speak with. Today was the 2nd time I spoke with a female in India and it took a couple of moments to adjust to the accent and then getting use to the Mr. Ben. The first time I spoke with her was when I put the 3rd Treo on line and having advised her I wanted unlimited everything, she gave me a price that was about 100 less than the bill. A phone call took care of that problem. Today was not as bad.

I have updated my account, but it will not take effect until July 5th, so I will see the first bill until a month after that. At that time I will post my bill difference.