Stabilize your Lumia videos with LUUV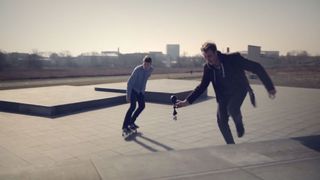 You already have some of the best onboard stabilization for your photos if you're rocking a phone like the Nokia Lumia Icon or Lumia 1020. Nokia debuted optical image stabilization (OIS) technology in the Lumia 920 back in 2012. This piece of technology helps you achieve sharp images and better photos in low-light situations. You can now find it in all high end PureView phones. However, even Nokia's onboard OIS tech has its limitations for stabilized photos and videos. Check out this stabilizer from LUUV if you find yourself shooting a lot of video with your phone.
We've seen some incredible videos from devices like the Lumia 1020, Lumia 1520 and Lumia Icon. And we know there are probably a handful of you out there looking for a smartphones stabilizer. You just might like LUUV.
LUUV is different from other stabilizers on the market because it's geared at smaller devices like a smartphone or GoPro. LUUV also boasts about the plug-and-play aspect of the stabilizer. You don't need to spend a lot of time twiddling with counterweights or connecting your device to the stabilizer. Attach it and you're good to start filming.
It's also fairly cool that you can switch the orientation of LUUV quickly by inverting the contraption. They call that up and down mode, but we just call it awesome. We also like that LUUV is device agnostic. The smartphone adapter will work whether you're rocking a Lumia 1020, HTC One or iPhone.
LUUV is available through crowdfunding site Indiegogo. The early-bird pricing has already sold out, so if you want the LUUV you'll need to pledge in at the $249 mark. Check the LUUV Indiegogo page for the full details and various perks you get at different pledge points.
Anyone out there shooting a lot of video with their Lumia interested in a device like this? Already have a similar product? Sound off below.
Source: Indiegogo, LUUV Via: @nokia_connects
Thanks for the tip guyjkh!
Windows Central Newsletter
Get the best of Windows Central in in your inbox, every day!
Seems.... Awesome! Out of my price range though...but a great idea. Anyone tried this yet?

Y isn't Lumia shown there?

Ummm...the picture shows the Lumia 1020.

I would buy one if they were already on amazon or something like that.

How hard would it be to make something that is similar but 10 times cheaper?

This pricing seems significantly high. I'd hold off and wait for the prices to come down when their sales volume isn't there or for a competitor to pop up with more realistic pricing. It is something that I'd like to try though.

I still don't understand how it works..

https://onedrive.live.com/redir?resid=E5E3F35DF491DF89!1547&authkey=!APg... I made this. D.I.Y. Thingy for my Lumia 925

This together with Pureview stabilizers would be kickass. Man, why demo it with iphones and samsungs when demo videos they could produce with a pureview would take it to the next level. I know of a lot of action video guys ditching their goPros for 1020s for the higher video quality, shallower DOF, and additional stabilization.


Mentioning, did you see in the promo video how shitty the video quality went when they stopped showing footage shot with the GoPro, and started showing footage shot with the iPhone? Just goes to show you, even with proper video stablization, the iPhone's camera is complete rubbish for video. They really should have used a Lumia to showcase their phone video footage.

My grandma always used to call me "Luv." I am intrigued.

Why not simply use camera grip? I don't think someone is so crazy to spend so much money for a smartphone's accessory

watch the video. i think this thing is great

Seriously, spend so much money for a phone! If you have that passion and also have a professional videocamera it's ok to have a good stabilizer, but spend 250$ only for a phone's stabilizer it's exaggerated.

I wish there was some video editing apps! It sucks that we have nice cameras on our phones but we don't have any fancy video editing app?? WHAT THE HELL?!

Soon, very soon, LOOV from China will come out!

I read somewhere iPhone 6 will have OIS now. Looool thx Nokia.

In the demo video, I noticed that even though he's using a Mac, he's running Windows software ;-)

Seems cool, but too expensive for me.

my lumia 920 cant handle motorcycle vibration :(

I would luuuv one of these. Much like the SteadyCam device. I shoot a lot of video and this would be great to have in the kit.

Pretty interesting idea! Unfortunately, it's way beyond the money that I'd ever put in a Kickstarter project. The highest I went in one was a hundred seventy something bucks turntable style puck for timelapse shots (think of it as a fancy kitchen timer - https://www.kickstarter.com/projects/satarii/swivl-multipurpose-motion-p...). And that one is almost an year late already, with all sorts of problems in the way of development - which forced me to reconsider how much I spend on Kickstarter projects. Not that I wasn't expecting for problems to arise, but still.... Anyways, for those who don't understand the concept very well, you can look for "gimbal stabilizer system" or counterweight gimbal stabilizer. It's not magic, it's not new, and in fact there are lots of DIY projects out there. Here's one: https://www.youtube.com/watch?v=_CapjsF4uoc Even if you're not willing to do one, it's interesting to look at just to understand how it works. Thing is: you probably won't find something as compact as what these guys are offering. It really looks good. Things to be worried about: gimbal systems with counterweight can go wrong in lots of ways. If anything is poorly done or designed, not only it could work like crap, but it also could introduce problems in balance and perspective. For instance, a poor design could result in videos that are always a bit tilted to the left or right. You'll also have to adjust your smartphone properly with that clamp to avoid tilting and such... so it must be properly designed for that. Even Manfrotto has one stabilizer system with gimbal which was heavily criticized (at least by BH clients) for not being properly done. That's Manfrotto, one of the most famous tripod manufacturers. The design is a bit different though. Another thing to be worried about: the video only shows an iPhone and a GoPro in use. The thing about the counterbalance system is that the weight on the counterbalance must be x times heavier than the device you are using or it'll fail to stabilize anything. Since the counterweight doesn't seem to be customizable/adjustable on this design, nor the position where the gimbal stands, it might present a problem. There's also a learning curve to use these sorts of things, though this is probably true to most stabilizer systems. Put simply, I'd never buy something like that without being able to test it with the specific camera I'm using first. That said, again, it looks interesting, a notch above trying the DIY route, in a size and package you probably won't be able to DIY anyways, and it could definitely improve on the native optical image stabilization of some Lumia smartphones. Make no mistake, my 1020 has the best OIS I've ever seen in any smartphone out there (and it's arguably better than what several "serious" dedicated cameras have to offer, apart perhaps from fancy systemas like what the Olympus OM-D E-M5 has to offer)... still, the OIS is pretty noticeable and a bit jarring depending on the application. The blur and morphing it introduces, despite being better than raw shaking, still isn't picture (video) perfect. So here goes my advice.

YouTube stabilises my videos just fine, and I don't have to carry a plastic vase in my pocket either...

250€ for that? (not considering preorder) Well the concept is great, but its way overpriced
Windows Central Newsletter
Thank you for signing up to Windows Central. You will receive a verification email shortly.
There was a problem. Please refresh the page and try again.