Staff Choices: Windows Phone 7 Devices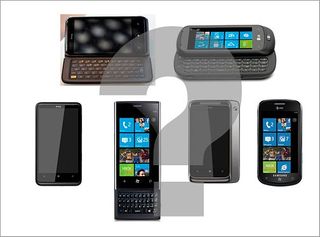 Microsoft's Windows Phone 7 offers a unique situation for Windows Phone users. Windows Mobile phones offered a wide range of Windows Phones with all sorts of tweaks and customizations. Windows Phone 7 phones will be more consistent with regards to the OS. Even the designs will have certain requirements and, to an extent, restrictions.
Out of the gate we will see three options from AT&T; the Samsung Focus, HTC Surround, and LG Quantum. Shortly thereafter, we'll see T-Mobile join the scene with two phones; the HTC HD7 and Dell Venue Pro. Sprint customers shouldn't give up hope. In 2011 the HTC 7 Pro should be headed Sprint's way.
So, which phone do you choose? Will you wait for a certain model or switch carriers to start enjoying Windows Phone 7 sooner? If you're with AT&T will you get the Focus or wait for the LG or HTC phones?
The WPCentral Staff has given this some thought and over the next few days we'll share our choices with you. To see what my first Windows Phone 7 device will be, ease on past the break.
I've been with AT&T back since the days it was called Bellsouth Mobility in my neck of the woods. I won't have to consider changing carriers so I'll be choosing from the Focus, Surround and Quantum. But do I take the plunge with the Focus on November 8th or wait a few weeks for the Surround or Quantum?
I'm going to go ahead and rule out the LG Quantum. The keyboard just seems too narrow and every Windows Phone I've owned has had a physical keyboard. I'd like to try a keyboardless phone for a change.
So the choice is narrowed to two and the slightly thinner form factor of the Samsung Focus gives it the nod. I like the sliding speaker of the Surround but I'm not much of a multi-media afficinado. I use my phone mainly information (appointments, email, calls, etc.) and a little gaming. If I opt to watch a video, I think the super-AMOLED screen of the Focus will make up for the lack of Yamaha speakers just fine.
George is the Reviews Editor at Windows Central, concentrating on Windows 10 PC and Mobile apps. He's been a supporter of the platform since the days of Windows CE and uses his current Windows 10 Mobile phone daily to keep up with life and enjoy a game during down time.
I for one will be getting the Samnsung Focue. Not just because of the AMOLED screen, but for the MicroSD slot. I will also be getting the Kingston 32GB Class 4 MicroSD card to increase the storage. That is, if there will be no option for anything larger than 16GB of storage. And I do not mind the hard reset limitation. All of your call logs, texts and other important information will be stored in the Cloud in case you need to restore. Plus you media and apps will resync from the Zune software.

HD7 and Venue pro for me... by far the two best WP7 devices available IMO

Well all i can do is only dream until it comes to Verizon :(

The Focus looks good, but none of the phones on AT&T are really viable options. Focus easily looks the best out of the bunch but all WP7 phones lack a front-facing camera and its talk time is a paltry three hours. That's pretty awful considering that the S-AMOLED screen is touted to preserve battery life (yeah, I know the screen will be off when a phone call is in progress, but a company should always tout energy-saving materials with actual energy-saving numbers). If I were to buy a WP7 device, I would have to wait until the Venue Pro is on AT&T because it combines that stunning screen with a serviceable battery life.

I am AT&T as well and staying on AT&T. I am planning on the Samsung Focus. I wanted a device with Super AMOLED and the MicroSD expansion is a huge bonus because I didn't want only 8GB. If it couldn't expand I was going to go with the HTC.

on TMobile, will be getting HTC HD7.

I agree with the choice of the Focus. I love HTC phones in general, but the Surround seems to be a little lacking with screen size and lack of upgradeable memory. It does seem that MS did not report the specs for the focus correctly they should be closer to 6.5 to 7 hours of talk time. Reference: http://windowsphone.mobilitydigest.com/samsung-focus-specs-updated-batte...

Before I choose one, I want to ask something. Could anyone tell me if Samsung Focus has 256MB of RAM or is it higher? Almost all of HTC WP7 Devices pack 576MB of RAM, according to what I've read (Surround packs "only" 448MB of RAM and 512MB ROM). And if Samsung Focus has only 256MB RAM, could that be a weakness in future updates?? I'd definitely go for Samsung Focus but if its RAM memory is that low, I think I would save some more money and go for LG Optimus 7 or HTC HD7 instead :D

I am an AT&T customer as well, but underwhelm with its WP7 offering. I am liking the T-Mobile line of WP7 phones more. Both the HD7 or the Dell Venue work for me. Either works, but if forced to choose I would probably go for the Dell Venue.

I am a verizon customer, so I might wait and see what comes on verizon, or I might switch to T-Mobile and get the Dell Venue Pro, the sexiest Vertical slider to come out since the OG Pre.

++ to Diego! and how much ram! 512 or 256? I can't get a clear answer anywhere.

learn quran, read quran, learning quran, learn quran with tajweed, learn quran online, Quran learning, learn quran at home, quran for kids, quran tutor, online quran learning

Windows Central Newsletter
Thank you for signing up to Windows Central. You will receive a verification email shortly.
There was a problem. Please refresh the page and try again.