State of Decay 2 Xbox One pricing drops to £24.99 among UK retailers
State of Decay 2 pricing has dropped to £24.99 across multiple UK-based retailers. But what does this mean for one of Microsoft's biggest blockbusters of 2018?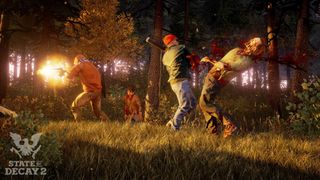 Development has been quietly underway on State of Decay 2 since its E3 2016 unveiling, with a release date now promised for Spring 2018. Despite this window quickly approaching, details surrounding the open-world zombie shooter have remained scarce and Microsoft has shown little indication of more on the way. Although brief trailers in recent years have established a strong foundation for its post-apocalyptic setting, other upcoming titles from the publisher like Sea of Thieves and Crackdown 3 have the spotlight.
A recent trend among UK retailers is now indicating a significant shift for the title, with Amazon UK (opens in new tab) and GAME (opens in new tab) now taking preorders at £24.99. While these retailers previously displayed listings between £40 and £50, the expected price point for triple-A titles, the price has been nearly halved without clear reasoning.
Discounts on upcoming games are uncommon – especially price drops as significant as seen with State of Decay 2. With this pricing reflected across multiple UK-based retailers, it's looking likely that the manufacturer's suggested retail price (MSRP) for the title has been dropped to align with the game's content. While pricing across U.S. still remains at $59.99 across major retailers, we'll be following the situation closely to see if comparable price drops occur worldwide.
With this price drop only among a handful of retailers, there's still room for this to be a pricing error – if so, you may have the opportunity to pick up the game at a discount before of launch. Alternatively, this could be indicative of a shift in the game's marketing away from Microsoft's full-priced blockbusters of 2018. A similar move was taken with ReCore in late 2016, offering the game at a $39.99 price point, eventually releasing to generally mediocre critical reception. And based on the general mystery surrounding State of Decay 2 up until this point, such a move wouldn't be surprising.
The discussion surrounding triple-A base game pricing has seen a revival in recent months, following an industry-wide push for deeper monetization in titles. State of Decay 2 may be among these games verging away from the norm, with a lower price of entry at launch. Back in January, the game's community manager clarified that microtransactions will be absent in favor of paid DLC, though it's unclear whether these plans are accurate today.
State of Decay 2 is currently on track for a Spring 2018 release, for Xbox One and Windows 10. The game is expected to offering Xbox One X enhancements, with cross-platform purchases, saves and multiplayer via Xbox Play Anywhere. The game will also be available via Microsoft's Netflix-style subscription service, Xbox Game Pass.
Matt Brown is Windows Central's Senior Editor, Xbox & PC, at Future. Following over seven years of professional consumer technology and gaming coverage, he's focused on the world of Microsoft's gaming efforts. You can follow him on Twitter @mattjbrown.
Uhm...don't forget the influence of GamePass can have on the title.

Will this have a building component to it?

If its anything like the first game then Yes. The first game you could occupy a location and turn it into your base, then you could modify the location to increase security, food production, medicine, research, etc. It's a very fun game. I'm excited about the new one.

Not so much building as camp management. More like RTS building than something like the camp building in Fallout.

Well the original game launched at $20. Perhaps all those websites were wrong about the price of SoD2.

At least someone is using logic.... I thought that would be the first thing they mentioned, but no. Now you have influencers freaking out spreading this as bad news. That's frustrating as heck.

PC version is listed for £50! Crazy prices. I'll wait for a competitive price to come around. £25-£30 seems reasonable.

Well, this is not a major blockbuster.It's just an smaller indie game made by a small studio. Price dropping reminds us of what happen with Recore. The good thing about this is that they stated that there won't be any microtransactions or loot boxes. I can only praise such a move when they already charge a fee to play the game.
Windows Central Newsletter
Thank you for signing up to Windows Central. You will receive a verification email shortly.
There was a problem. Please refresh the page and try again.