Steam Deck is Valve's first handheld console and it's releasing in December
Steam has declared war on the Nintendo Switch in the handheld market.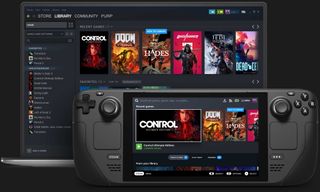 (Image credit: Valve)
Update 2:05 p.m. ET: Added Gabe Newell comments.
What you need to know
A Steam page for a handheld console called the Steam Deck was discovered on Thursday.
The handheld will let you play your Steam library on the go and will start at $399 for a 64GB model.
The console will begin shipping in December and people can put in reservations soon.
In a surprise move, it's been revealed that Valve is working on a handheld device that'll let you play Steam games on the go. It's called the Steam Deck and it's set to ship this December.
Out of nowhere, Valve just revealed the new handheld gaming PC early this morning. The Steam Deck will come in three sizes — 64GB, 256GB, and 512GB — and will cost $399, $529, and $649, respectively. In order to reserve one, you have to have a Steam account that has made a purchase prior to June 2021. This is in an attempt to reduce purchases from unauthorized sellers and scalpers. Currently, you can only reserve if you're in the U.S., Canada, the EU, or the U.K., although it'll be available in more regions in the future.
The handheld has a bit of a wacky layout, with two thumbsticks towards the top, and four paddles on the back underneath the standard bumpers and triggers for more customizable constrols, but the website says it was built for longer gaming sessions. It has a 7-inch touchscreen, trackpads, and gyro controls.
The processor is a custom APU built with AMD, and the website claims it should be more than enough to handle "the latest AAA games." The three storage sizes mentioned above refer to a 64GB eMMC, 256GB NVMe SSD, and 512GB NVMe SSD, which are all built for fast loading times and features like quick resume. It's also expandable with a microSD card, where you can store games locally. It also claims to have a battery life of 7-8 hours, which is about on par with its direct competitor, the Nintendo Switch.
It's unclear at this point if you'll need to store games locally to play them or if you can stream games over the cloud. It does support Steam Cloud Saves, so you can move from your Steam Deck to your PC and back. EIther way, Valve promises that you should be able to play all Steam games without the need for porting thanks to a compatibility layer called Proton, which is built into the SteamOS and runs on Linux.
There's also a dock so you can connect it to external displays or a USB-C hub, but it'll be sold separately. You can also attach your peripherals like controllers and fight sticks. If you want to hook it up to a PC monitor, you can.
Valve co-founder Gabe Newell told IGN that finding the right balance between performance and price was a "critical" aspect of the production process.
"I want to pick this up and say, 'Oh, it all works, it's all fast'," Newell said. "And then price point was secondary, and painful. But that was pretty clearly a critical aspect to it."
"If we're doing this right, we're going to be selling these in millions of units and it's going to be establishing a product category that ourselves and other PC manufacturers are going to be able to participate in, and that's going to have longterm benefits for us," he continued.
We'll have to see if all of this ends up being a direct competitor to the Nintendo Switch and Xbox Game Pass, or if it'll go the way of the Steam Machine.
Windows Central Newsletter
Get the best of Windows Central in in your inbox, every day!
Carli is the Gaming Editor and Copy Chief across Windows Central, Android Central, and iMore. Her last name also will remind you of a dinosaur. Follow her on Twitter or email her at carli.velocci@futurenet.com.
Feels wierd that a device size of Nintendo switch will run games that not possible on switch for the same price. If this is true it will be a easy switch killer.

You don't get Nintendo consoles for the graphical power, you get them for the games. Many portable systems have come out over the ages to take on Nintendo and none of them ever managed to "kill" Nintendo's offering.

If this device will be strong enough to run all steam games it will only miss Nintendos own games and it will not be long before it get cracked and emulators is up and running on it and then u have everything on a handheld device.

Is there a list of games it will play?

It'd be easier to list the games it WON'T play. Pretty much anti-cheat games are the only real definitive exclusions, but what I haven't heard anything about yet is dual boot. If it can run Windows, why can't you have your cake and eat it too?

"Steam has declared war on the Nintendo Switch in the handheld market." Lot of hot talks proclaiming this; all of them horseshit. The whole "it looks kinda similar therefore it's after Nintendo's lunch" idea is not based on reality 🤷🏻‍♂️
Windows Central Newsletter
Thank you for signing up to Windows Central. You will receive a verification email shortly.
There was a problem. Please refresh the page and try again.