Steve Ballmer: 'Nobody wanted me to leave' as Microsoft CEO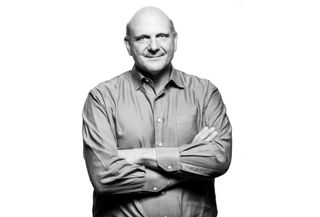 Former Microsoft CEO Steve Ballmer stated in an TV interview today that he was not forced out of the company when he announced his resignation plans in August 2013 (he finally left in February), but did seem to admit to some heated discussions with the company's board over the acquisition of Nokia's Devices and Services division.
In a live interview today on CBS This Morning, Ballmer said, "Nobody wanted me to leave as CEO. We had a lot of tough discussions about whether to buy Nokia; it's a big decision for a company." He added. "We had some dustup type discussions." In the end, Ballmer claims that he decided to leave as CEO after the board approved the Nokia deal, even though he claims the board wanted him to stay.
Ballmer dodged a question about whether or not he still speaks to Microsoft co-founder Bill Gates, saying only, "We've dusted up in our lives many times and that kind of stuff happens." He also commented on current CEO Satya Nadella's recent controversial statements that suggested women in the tech workplace should not ask for a raise (which Nadella later recanted and apologized for). Ballmer said, "Relating his personal experience was probably not what that group of people needed to hear at that time … some people don't get a square shake."
Windows Central Newsletter
Get the best of Windows Central in your inbox, every day!
I miss him . He was nice to The winphone people and he did some great stuff in The Tablett industry

1 billion dollar write offs for unsold inventory is not "great."

And how many billions Msft earned thanks to him?more than one for sure.

Even a greenhorn could do that, with the help of the legacy left behind by the founders of course...

Am I the only one that read his quote as "dubstep type discussions?" Lol

The board *dubstep seizure dances* to decisions

I didn't want you to leave either. Charisma is what is needed to be a leader. Sadly many will disagree, but I digress. So what about that gender wage gap!?

No one wanted him to leave? More likely no one wanted him to stay... Hopefully Nadella will turn around the fortunes of MSFT - he's being paid enough.

Seems we've gone from hothead Ballmer to someone who barely gets a mention in the press. Ballmer dismissed the ipod, iPad, iphone and Android. All which were successful.

Nadellas approach looks better than Bill gates would have thought of it. A lot of incident happened during Ballmers reign and satya is making good changes cleaning ballmers mess

There was no Ballmer mess. He's lead a lot of changes and this new Microsoft started under Ballmer. Nadella is continuing and pushing more of this new MS. They have now changed a lot of things but its not because of Nadella.

People who felt Ballmer "made a mess" are the people who have so quickly forgotten that Ballmer was forced to run the company while wearing DOJ (and EU) handcuffs for 10+ years. Considering the governmental restrictions that were imposed, I'd say he did a great job keeping the company both profitable AND relevant.

Ballmer kept the cash cows alive, and happy (Windows and Office.) But like most other bean counters, he has absolutely no vision. There's a reason Microsoft under Gates and Ballmer waited for others to make something profitable before jumping on the bandwagon. Yeah, Gates saw a future with tablets, wearables, etc. Who didn't? The difference is Microsoft has NEVER made anything happen first. And that's why they're being left in the dust in the consumer market. The have no "balls."

Yeah, because they are unlike Apple, who were "first," with everything, like tablets, smartphones, mp3 players, smartwatches, NFC, and the list goes on, ad infinitum... :/ You're delusional, if you think being first, is THAT important, in today's tech space. Ballmer was right in following, when the distortion reality field, became inevitable. He may waited to long, and even entrusted the wrong guys, with the keys to the car (Sinofsky). But nobody, and no company is perfect. Also, almost everything that Nadella, is announcing for this first year, and probably well into his second, will be a product of the Ballmer administration. So many act like these products go from drawing board, to consumers hands, in 3-4 months. Current product cycles are about 18-months. Nadella's been CEO, for only 8-months so far...

I'm delusional? What's the global marketshare of Windows Phone after 4 years? What's the marketshare of the Surface? The Zune? The Kin? How's the Xbox One doing against PS4? Where can I use Windows Phone NFC to buy anything? Being first with a good product IS that important. Tell me the last time you heard someone say they "Binged" an internet search. I rest my case. Ballmer should have been put out to pasture as soon as he dismissed the iPhone. The big, sweaty ape is clueless.

@Bodeanicus: you are focusing on only a handful of products that MS has not succeeded with or domininated with so far. Yes, MS has had some products that flopped. Every big company has. Surface is still a fairly new concept and the newer models are selling well enough. Xbox One is in second place and is selling quite well compared to previous gen consoles. That is hardly a failure. Bing is also in second place. I have been able to buy things via NFC and my Windows Phone for 2 years now provided the retailers actually have NFC readers. What you are overlooking is all the other markets where MS has gone from new entry to leader over the past 15 years. Many of those markets are in the enterprise so the average clueless consumer isn't even aware that these markets exist. Anyway, MS is a leader in many different technology markets and they are often in 2nd or 3rd place in most other technology markets. It's rediculous to act like MS has been failing as a company just because they are "only" in 2nd or 3rd place in a few markets while at the same time ignoring dozens of markets that they dominate.

I never said Microsoft is failing as a company. I never said they were failing in the enterprise sector. I said they're failing in the mobile consumer market. They are, and have been for almost 10 years. And was due to Ballmer's complete ignorance when it came to anything not desktop Windows and Office. Also, I want to know where you can buy anything using Windows Phone NFC. Give specific names, please.

What are you talking about not first? You need to do some research before making statements like that. Microsoft had the Tablet PC with HP and Lenovo way before Apple. It was the start and good for its time. Microsoft had a smart watch called the Abacus which I had and it linked to my MSN account. Unfortunately the hardware wasn't as good as today's standards and it was dropped. They are not good marketers and although the had the technology first, they let some of those good ideas go.

How successful were the Windows XP Tablets? I'll give you a clue. "iPad" is synomymous with "tablet." The Windows XP tablets were a disaster. Too heavy, to expensive, and Gates insisted on it running regular Windows, dismissing any suggestion of creating a custom touch interface. They were awful to use. You had to use a stylus. The watches failed, too, or everyone would be wearing one. The failure of those products rest entirely on she shoulders of Gates and Ballmer. The products just weren't good enough.

I agree with you. Apple had just copied everything from others.

And made everything they copied better, successful and profitable. Windows Phone up to 4% marketshare yet?

i do miss ballmer! i miss all these event where he stands up and start to talk and the way how he talks :)

At least we got you here in LA as the Clippers owner. He could be as good as Cuban and maybe like the Suns owner.

Can anybody state some or one of the greatest thing he had done in Microsoft? Except those old ads

An extremyl profitable company since he took over. Launched many great products, and obviously some duds as well. In general, he did quite well. The Street didnt like him though, and unfortunately in our world that is all that matters.

He is a very good business man. But when it comes to innovation, it's really disappointing. During his era, I can't see any ground breaking innovation from Microsoft. Except the Surface product. Microsoft under Steve was really slow, even slower than now.

Xbox became a household name. Office grew in features and usability by leaps and bounds. Purchased Nokia's mobile division. Windows 7 was stellar (Though I prefer 8 and 8.1 - Not thrilled with 10 yet, but will save my judgment for a more final product) Spot watches were innovative, just way ahead of technology and time. Zune was stellar, regardless of how it sold, it was an amazing product. OneDrive, Office Online, Bing. And as you said, Surface. I could bullet why on each of those items, but I don't have the time :)

Wow you don't know to much of MS then. Baller was there pretty much from the start. He took a company making thousands to making Billions. He was there before Windows was a product. He was there for MS-DOS and increased MS profits a lot each year when he first stared. Xbox, office, azure, OneDrive, mobile phones, Windows. Those are just a slim amount of products they gave ms huge profits. MS at the beginning was in no way a leader in software. They beat many products that were ahead but MS through its persistence became #1 in so many fields. MS brought the PC into everyone's home. MS has been ahead on so many fronts (software in general was thought of not that profitable anyway until MS and some others charged for their products and made lots of $) all with Ballmer being at MS and being CEO. He's been a fantastic CEO.

What? Ballmer was handed the reigns of two cash cows that can't be killed. Yes, he was there almost from the start, but don't make it sound like Microsoft was barely making it and Ballmer saved it from extinction. Microsoft has ALWAYS waited for someone else to define a market, then jump in afterwards. They used their OS monopoly to force their solutions onto users. Microsoft has never "innovated" anything. They just used their cash cows to fund long wars of attrition on their competitors.

"Microsoft has never "innovated" anything." That's odd considering that MS holds more original patents by far than any other technology company. MS also spends more on R&D than any other tech company. The companies that you probably consider "technology inovation leaders" (Apple, Google) are not even in the top 20. http://news.softpedia.com/news/Microsoft-s-Patent-Portfolio-Dwarfs-Rivals-IP-137976.shtml I think you are confusing marketing and being first with a popular consumer oriented product with "inovation". They are not the same thing. They are often opposites.

Shareholders don't see it that way.

Another stupidly vauge and ignorant argument. The facts do not support your arguments. Microsoft stock is trading at close to an all time high. Go look at the stock charts yourself. Obviously shareholders do not agree with you. The only time MS stock has ever traded higher was during the peak of the dot com bubble. Actually, it's probably selling at a higher absolute value, but I can't tell what stock price slits have occurred since then. Also, I along with millions of other people are MS shareholders. Did you interview all of them? You didn't interview me. Stop trying to sound smart by claiming that "shareholders" have validated your personal anti-MS bias and your re-writing of history. You are probably a teenager that doesn't even really know what the stock market or a shareholder is.

Kept Windows and Office profitable. That's two things.

3 screens and a cloud will be Ballmer's legacy. Good things take time. He'll be missed, but glad MSFT stock went up finally!

OMG. So many worse things in the world to worry about than the imagined slight that Nadella supposedly put towards women in an interview about women.
People give advice based on their life experience. That's how it works. Don't ask people for thirty advice and not expect them to pull from their life experiences.

Here's your hat. Where are you going?

"Nobody" wanted me to leave = not **one** person thought otherwise. That's VERY hard to believe.


At least with him you had confidence that WP and Surface have a future, with Mr 'ios and android first, WP whenever" Nadella they could be canned at any time. Without Nokia and Surface WP and Windows respectively would effectively be dead.

i didn't wanted him bcoz zunder his reign Microsoft lost their image he might be a good CEO but as the change is needed for Microsoft and Satya is pushing hard with his executives and im liking how Satya is focused in cloud which is and will be everything in future.

Microsoft can't win now, but Microsoft has to win the future.
Cloud is the way, and that's "Nutella" 's best part.

the cloud was ballmers work, not nadellas, so what your saying is you like ballmers work. we havent really seen much of nadellas work come to life yet.

Uh, Nadella was in charge of Microsoft's cloud solution. Ballmer just OK'd it. Ballmer counts beans. He doesn't know jack about software or hardware engineering.

All of what's happening with me it started under Ballmer. This unifying of windows products, cloud first, mobile first MS started under Ballmer.

DEVELOPERS, DEVELOPERS, DEVELOPERS!!!!!!!

that developers actually motivated or some what irritated the devs and want on moving to development of other operating systems.

Seriously? But now devs are mostly on android and iOS.

That was back in like 2000. I never heard anyone say that one speach pushed them away from MS. In fav I've heard kinda the opposite. People seemed to enjoy the energy he displayed at that developers conference. And I think they gained developers at that time with XP, Xbox, and eventually win7 which came out.

so y does windows phone suffer with app updates. its really easier to port apps to wp. even blackberry who fel down still has essential developer support with proper app updates

Since he left, Microsoft has become better.

How? Not dismissing, just curious.

I always liked his enthusiasm but he had no vision at all. He either needed to leave or have someone manage the direction of the products while he managed the company from a business standpoint. Oh and he sounds like kermit the frog.

He had no vision? You have Azure, Ofice365, XBOX, Windowsphone, Surface shall I continue. Of course there are some missteps but Satya is just continuing on with the original plan but with a new face. Balmer was goofy and I liked him, he is a Salesman and showed that Sales Manager enthusiasm when presenting all things Microsoft.

Ballmer had no hand in designing or creating any of those things. Ballmer is a glorified accountant. He completely ignored the giant elephants of the iPhone, the iPad, and streaming media until it was too late. The man is a bean counter.

I'm not the biggest Nadella fan, but he'll make better decisions than Ballmer did so it's best for Microsoft that he's the CEO. I still prefer Ballmer as a person though, he was so crazy lol.

I'd like to see Statya Nadella doing all the screaming and jumping at Windows 10 launch!

Bullsh*t. But of course he would deny it. And I am glad that oaf is gone from Microsoft. The company is much better under Nadella.

Did you read what he said? He said "buy Nokia". No sissy fit?

Nah, I'll leave that to you. Sissy is more your thing ;)

He was great CEO, and of course I didn't want him to leave. people say Satya... but the reason Windows and Xbox and being worked this way, is thanks to the Ballmer reorganization.... and Windows 7 was thanks to ballmer and Xbox. and Azure and and... Windows Phone! the OS people here love and enjoy... but yeah let's forget that. or about revenue and net income, who cares about that anyway! that didn't happen during Ballmer CEO place, it was all a dream. anyway, I hope he fixes Clippers team... I am about to go and throw my jersey away and cry all night. it sucks if today we lose again. I don't think it would be Ballmers fault for what the players do, not even Doc's fault. but it sucks we started bad! anyway, I wouldn't care much about Microsoft owning the Clippers, it's past and whatever happens at MS let's hope is for the good.

Ballmer allowed Sinofsky to run crazy, sabotage other division's products, and almost single handedly destroy Windows and Windows Phone because Ballmer has absolutely no idea how to run a tech company. All he did was count beans, and approve or disapprove projects people WAY smarter than him would propose. The man dismissed the iPhone and the iPad when a retarded blind ape knew the first time they same them they were paradigm shifts in usage. Someone finally got through to him by showing him the sales of those devices. That gets an acountant's attention in a hurry. But not fast enough.

i dont miss him at all.. i dont think he had a business brain either.. Satya is way better as a CEO.. just look at the company's stock and how he turned it around.. look at Xbox division.. doing so much better and actually caring for gamers.. and thank god they are moving away from "metro metro metro".. look what happened to Windows 8! (im not saying modern UI is bad but the approach was wrong) and finally they are on the right path with Windows 10! I dont miss him at all..

Ballmer was handed two cash cows that could only be killed through gross incompetence. And one of those was almost killed with Windows 8.1. Notice how fast they're backpedalling and pushing their "Preview" to get enterprise to buy new Windows licenses?

Your view is way too narrow. I'm no Balmer apologist - I could care less what the CEO's name is so long as the products continue to evolve and the licensing doesn't get too stupid. The Windows and Office cash cows you are referring to are just two products in each division - the three big ones being Windows, Business, and Server. Windows used to be the big cash cow but under Ballmers reign Windows is now third to Business and Server. Whether that's on purpose or not I can't say. I can say that under Ballmer products that either didn't exist (or were also rans) are now number one (or close) in their field. Here are a few examples: Sharepoint, SQL Server, System Center, Exchange. There are others that are climbing way faster than anyone expected (Bing and Hyper-V are good examples). Microsoft has a huge number of products in markets where the name Apple has no meaning whatsoever. I get that your focus is on the consumer space but to wholeheartedly bash the man and the company without considering the vast amount of financial and product success outside of the consumer space (specifically the narrow field of mobile consumer space) is disingenuous at best. The data is out there if you want to look for it.


I'm focusing on Microsoft's consumer offerings because this is a Windows Phone website. I'm not saying Ballmer was completely incompetent. He managed the Widnows and Office strongholds well, and I readily agree he grew Windows Server. What I'm saying he was incompetent when it came to Microsoft's consumer products. And he was. He doesn't understand mobile. He pretty much doesn't understand anything technological beyond the obvious. What Ballmer excels at is accounting. Counting beans. And the utter failure of anything mobile related since 2007 shows this. Don't delude yourself into thinking Windows Phone is any kind of success. If Microsoft didn't have mountains of money from Windows and Office, Windows Phone would have been canned the first year. Same with the Xbox.

Well technically you're wrong on your first point. It's not just a Windows Phone site. Hasn't been for a while now. Regardless I have no delusions about Windows Phone success. I'm now using one (and actually really liking it) but we replaced our hundreds of blackberry devices for hundreds of iPhones for a reason (several reasons) and those reasons haven't changed. I have a Lumia to play with because I'm the boss - perk of the job :) I don't dispute that their Mobile strategy and OS integration strategy has been weak. No one in their right mind would because the data backs it up. Your comments throughout the thread, however, gave me a different impression of your Ballmer/Microsoft dissatisfaction. I have a better understanding of where your coming from now.

I think he is the one who hinders windows phone development. So after all these years, we are not much different using windows phone 8.1 when compared to windows phone 7

WP8.1 not much of a difference? From WP7?! Are you using the same OS we're using?

I liked him, but his inability to understand the importance of mobile, adviser of WinMo customers, cluelessness about Tablets etc made him a liability. MS is better off without him today.

Microsoft is like Apple ,both now run by dull CEO"s the nerds are dead ( jobs) or somewhere else (gates ) I fall asleep with Tim cook , he's such a snob who thinks everyone is an isheep , and now dresses like jobs , but he's so dull and that voice he has is like someone sitting on a red hot BBQ. Bullmer was at least a funny guy and hyper over products.

i appreciate Tim cook as hes working hard for apple adter steve jobs on other hand googles Sundar is a bastard

The new microsoft ceo is utterly dull and lost. He should be sacked

As long as they don't bring back the sweaty ape that let the iPhone get a 3 year head start.

What he means is that nobody said it to his face. What's a "square shake"?

That the stockprice after Ballmers departure went up is highly remarkeble. Microsoft is still on the path he laid out for the company. The reaorganization was already planned before Satya Nadella came in office. There has nothing changed. The 'new Microsoft' was Ballmers idea, its just that Ballmer is such a smart CEO that he knew that some plans are better executed by a new face. Satya is doing great, and I hope to see Microsoft reach its full potential under his leadership. But he has a long way to go, and he has not proven to be a capable leader that can run the multi billion powerhouse that Microsoft is. Dont forget, under Steve Ballmer, Microsoft more then tripled its reveneu figure going from a reveneu of 22.96 billion in 2000 to a revenu figure of $77.85 billion in 2013 (the last full year with Steve as CEO). Lets see of Satya can achive something simulair to wat Ballmer did for Microsoft. Shareholders just did not apriciated what Ballmer did for Microsoft, he did something amazing! Sources: http://news.microsoft.com/2000/07/18/microsoft-announces-record-fiscal-y... http://news.microsoft.com/2013/07/18/microsoft-reports-fourth-quarter-an...

Every single consumer device, except the Xbox, that Microsoft released under Ballmer's leadership failed. And the Xbox was release before he took the reigns, and it took 10 years to show profit. Ballmer ran the OS and Office divisions fine, true. Be he was clueless when it came to forseeing future trends in the consumer market.

That might be treu. But as CEO of a company as large as Microsoft I dont think the blame is on one man. There were entire teams running these consumer product lines. And the failuire is not only on Microsoft, it has been tough markets. Manny other companies have faild to achieve what Apple (and Samsung did), even consumer companies like Sony (a real big 'consumer' name, failing in most of the markets it once dominated!) Yes Microsoft has been trying, for the better part of a decade, to gain a foothold in the consumerspace. And yes it has been limited succesfull, only X-Box succeded. But atleast Microsoft is still king in the space it always owned. I think that in the couple of to come Microsoft wil do great things with its Lumia and Surface line ups. Google and Apple wil fail at some point, when Microsof will get it right. Its just the never ending circle of life!

Ballmer said Linux is a malware for PC, Satya said to love Linux.
I stay with Steve :P

Ballmer said many stupid things. iPhone is just a toy, ipad a failed product and many more. I am writing this from Ubuntu Linux and although my laptop came with installed Win8 I find myself booting more and more into Linux these days. What MS did with Win8 was criminal. Atrocious. People should do time for things like this. The windows from metro apps did not even have a "close" button! People would press-hold power button and restart the computer because they needed to go into a different app. Of course there was Alt+F4 but many people don't know the shortcuts and were desperate. Tens of thouthands (maybe more) of laptops were returned because of Win8 on them.

Linux rules the world on cell phones. How does it feel, Steve?

I think they where right to get into the mobile business via the purchase of Nokia. Microsoft weren't getting there under their own stream that's for sure. I had the earlier windows phones Windows mobile... Boy they where bad. Now they have a chance at least and Windows phone is great Ps. Looking forward to getting my 830...

Every fecker wanted him gone, delusional or what?

How do you release a "Windows" phone with zero enterprise features? Especially when your previous OS had them built in? Didja get wood thinking about the Apple profit margins in the consumer space, Steve? Didja bite the hand that feeds you, and now that don't want anything to do with Windows Phones or your Surface tablets?

How the hell does Android and iOS have touch Office, but Windows RT and x86 on tablets have to run on the "desktop?" OVER TWO YEARS LATER?

Ballmer did not get mobile. It was time for him to go. Steve "Misfire" Ballmer is what they should call him. Now if he'd give me a few hundred million I'd be happy to show him how to wipe the floor with Apple. :)

yes I also miss him about mobile development development development man.He is the best CEO for next gen of windows smartphone.