Stickman Soccer is the most entertaining football game on Windows Phone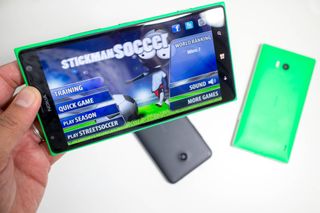 I love FIFA 15 on my Xbox One, but I haven't found a great football (soccer) game on Windows Phone until now. It's called Stickman Soccer. You won't find realistic models of your favorite players or fancy tackling animations here. This is a simple, arcade-style soccer game that plays really well on mobile devices. Watch our Stickman Soccer gameplay on the Lumia 1520.
Features:
Quick Game, Seasons and Training Mode
Bonus Street Soccer mode
11 vs. 11 and 4 vs. 4 game modes
Various stadiums and configurable game time
3 difficulty levels (easy, medium, hard)
Simple, yet powerful touch controls with timing control
Automatic or Manual Running
32 different soccer teams to choose from
Match statistics
Smooth animations with 60 frames per second
The first thing I noticed after opening Stickman Soccer is the annoying ad that takes up space. The game is free, but it displays ads and limits your choice to only 4 teams. The experience becomes significantly better after an in-app purchase of 99 cents. It removes the ad and unlocks all the 32 different soccer teams.
There's training available, but it's really simple. There's a virtual joystick on the left for moving around. If you have the ball, the buttons on the right let you pass or shoot. If you are defending, the two buttons are for switching or sliding. The longer you tap button, the harder they shoot or pass.
Stickman Soccer is not trying to be realistic and that's what makes it really fun. You don't have to worry about fouls, offsides, substitutions, or formations that you normally have to pay close attention to. At the end of each game, you see stats like ball possession, shots, pass percentage, and corners. I'm definitely going to be playing this game frequently in the next few days. Check it out and let us know what you think!
Thanks for the tip, Mohamed A.!
Pay the 99 cents to remove them, as stated in the article.

Why? I play Dream League Soccer which is free and ad-free. No need to buy it.

so, just play DLS and shut up

I too play Dream League Soccer and I personally like it better than even FIFA!! Very addictive and well made... Let me see how this one is

another football game had come out earlier in the store. it had good graphics except the bugs which aren't fixed till now.

Dream soccer league also a good game :)

That is a very good game BUT a bug has meant my progress got deleted on three occasions and then finally the change wouldn't load post the splash screen so all data lost :'(

Seems faster. When to India? What about FIFA? When Verizon will release cyan?

Ask Cortana and stop being lazy

Score! World Goals is another fun football game.

Anyone remember "Sensible Soccer" from back in the day?

Yeah I remember. Bring Sensible Soccer to Windows Phone! (and some more Amiga classics)

After having a few in app "Ad Removals" not "stick" on my phone, I've made the decision to stop paying for them. What happens is you pay for the ad removal, then when an app update comes out... the app doesn't remember you paid for it. This has happened with me and UnFollowSpy and MyCar apps. ​

Hell yeah Joost, I think some of those would be awesome. Sidewinder also comes to mind.

Dream League Soccer is even better!

This is a fun wee game. I'm glad its made the move over from android

Got it on my laptop with so many Amiga games. Playing speedball too

Anyone know what happened to the game? The link from Windows central no longer works. I downloaded it this morning from one phone, when I went to download it from another phone this afternoon, it went poof. I also searched for the app by name and nothing. Looks like it was pulled. I tried from my 1520, 630, and 530. Weird.

I can get to it on my icon. Not on the 635.

Very interesting, you will laugh till the final whistle...they r acting like crazy dudes haha

Dream League Soccer is by far the best and most realistic soccer game in smartphones. Though this unrealistic Stickman Soccer looks quite fun!

Hey bro...it seems u didn't play dream league soccer...if you'd played it...you wouldn't have said this....its fucking awesome...
Windows Central Newsletter
Thank you for signing up to Windows Central. You will receive a verification email shortly.
There was a problem. Please refresh the page and try again.