Stop!Music is a sleep timer for all Windows Phone 8 music apps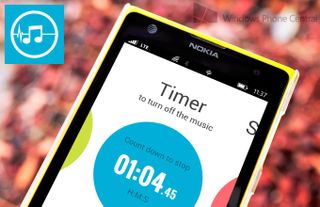 Digitally Imported is a pretty killer app on Windows Phone. Not only is it a great source for electronic dance music, but it's got a few features we wish all music apps would include. What feature? Digitally Imported has a sleep timer built in. This allows you to get some chill music playing and automatically shut off after a predetermined time. Stop!Music is an app for Windows Phone that will make it so other music apps don't need to add sleep timer functionality. Let's check it out.
Download Stop!Music and you'll be able to fall asleep listening to your favorite music from your favorite apps. You're not limited to just Digitally Imported and any other apps that have that functionality.
Stop!Music will stop the music of apps like Xbox Music, MixRadio, Pandora, Songza and more. Assuming whatever music app you're using complies with Windows Phone API guideline Stop!Music will be able to shut the music off.
With the app you've got three 'modes'. You can stop the music immediately (you can also pin a Live tile that does this from within the app), you can set a time for your music to stop or you can set a timer with a countdown for when the music should stop.
The app might look free in the Windows Phone Store, but you'll need to pay $4.99 (in-app purchase) to get control over the time with both the timer and "set time" modes. Otherwise you're limited to a 5 minute countdown and 12:00 as when the app still stop your music from playing. Honestly, $4.99 isn't too bad if you like to fall asleep to music all the time and your music app of choice doesn't include a sleep timer. You can at least try out Stop!Music without needing to use the in-app purchase, so give it a try.
Want Stop!Music for Windows Phone 8? Head to the Windows Phone Store, use the QR code below, or swipe to the right in our app.
Via: Windows Phone Central Forums
Thanks for the tip alv3st3r!
Windows Central Newsletter
Get the best of Windows Central in your inbox, every day!
App would be even more awesome if you could set it to start music at a certain time. Music alarm clock functionality.

That would be pretty nifty. Unfortunately, API limitations might make that a difficult feat to pull off... Still, I'd love something like that!

More awesome sauce would be for the app to stop the music at random spots... Instant Musical Chairs!!

Yeah i Want a wake up clock machine to be able to wake up with ñusic instead of a beepbeepbeep The instant musical chairs app is a funny Idea ! I'm interested on it !

I want a wake up clock machine to be able to wake me up with a latte ready instead of a beepbeepbeep.

Wait, so it has access to other apps? Let me go post this in the forums.

maybe it just overwrites the background api with silence

It just stops the system music player to which everything goes through.

Nothing more than how any app, usually a game or other music app, stops whatever audio is playing by taking over audio output. Nothing nefarious here.

Good idea and while I have spent over $150 on purchased apps in WP store, $4.99 is a little too much for what this app does. You are better off installing the free StopTheMusic or QuickSettings apps and make a large tile on home screen that stops the music. Just hit the live tile to stop any music playback right before you are ready to sleep.

I agree, a bit steep to climb.

Why not just get 'stop the music!' instead? I use it every night to shut down the radio when I sleep.

Nice. I'll have to check that out.

Not really the same, as the purpose is to fall asleep to music and have it stop after you've fallen asleep, not before you fall asleep.

'Stop!' has a timer, it does stop after you fall asleep. Hence why I use it daily (nightly).

I didn't see that part when reading the description. My bad. So it seems far better considering the price difference.

The stopthemusic app also has a timer to turn off the music.

There are plenty of free apps doing same and a lot more metrouish. I've chosen Stop Music by Barebones Dev. 5*rating in our market. Tried stop the music, too, seemed little glitchy.

Surely Pandora is due for this shortly

In case anyone uses Songza and does not know of the feature, Songza DOES have a sleep timer built in :) just tap settings and its the first option. perfect for when listening to the sleeping stations.

A good looking app. Not sure I can justify spending 5 bucks on it. I have the stop music app and it works... And its free.

Been using the "Stop the Music" app which has pretty much the same features, even has a live tile that shows the last music stopped cover. Nice to have options though.

Just downloaded an app called stop music..it's free and does the same thing! http://www.windowsphone.com/s?appid=39e41093-de5d-47d3-be63-017be09451ba

Free tile but $4.99 for it to really function ? - brilliant.

no more having to worry the battery running out of juice.
Only thing the app doesn't run in the background. Paid version.

Except that Pandora and songza stop by themselves, I always wake up and find no music playing. I prefer it be continuous.

Besides Stop the Music! there is also Snooze It! Both have a problem for me in that they mess up the volume about 1/2 the time when you use them. The volume gets stuck and doesn't change even though the numbers displayed on the screen for the volume changes. I assume it is a Windows Phone bug since it happens with both apps. I rarely listen to music while going to sleep; I listen to podcasts. I use Podcast Picker which has a built-in sleep timer.

Looooove the design. Haaaaate the price.

There are already a couple of apps that do that. What I want is an app that slowly fade the music to silence over a couple of minutes. I don't know if I'm alone in this situation, but if I fall asleep while listening to music and the music suddenly stops it wakes me up... I need it to fade out slooooowlyyyy...

$4.99 is ridiculous for an app such as this. Especially when it has several apps as competition that do exactly the same thing and are free. I use "Stop Music" to do everything that this app does. http://www.windowsphone.com/en-au/store/app/stop-music/39e41093-de5d-47d...

Stop+Clear is better, it does the same job and it's FREE. :)

4.99$?cm player pro can do it for free :S

$0.99 I'd be sold, but $5 is a tad preposterous for this functionality... (good idea though)

Seriously, why even pay attention to a dev that charges $5 for an app like this? They don't deserve this kind of recognition when they're charging 5 times what the app's really worth.